On the first anniversary of our hands-free homing service, meet some of the cats who found new homes during lockdown
When the first national lockdown began in March 2020, we sadly had to close our adoption centres and put the rehoming of our cats on hold in order to keep everyone safe. However, behind the scenes we quickly got to work on a brand new way of rehoming cats, completely hands-free!
One year on and our pioneering hands-free homing service has meant we have been able to find new homes for 20,000 cats during the COVID-19 pandemic. 
Cats Protection's Head of Operations Susannah Pritchard said: "We worked incredibly hard to get hands-free homing off the ground when our centres closed so that we could continue to rehome the cats in our care, but it's been more successful than we ever imagined. 20,000 cats found their forever homes - and provided people with much needed lockdown companionship."
Hands-free homing essentially means that the whole adoption process has moved online. Prospective owners browse for a new pet on our website and following approval by the adoption centre team, cats are delivered to their new homes across the UK.
Meet just a few of the 20,000 cats who are happily settled into their new homes thanks to hands-free homing…
Frances and Molly
Frances Jeater, an actress from Richmond in Surrey, was one of the first people to adopt using hands-free homing.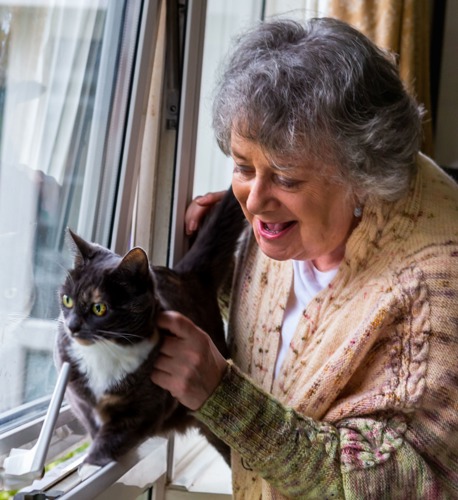 Frances and her new feline friend Molly 
"My beloved cat Bertie died in January last year at the ripe of age of 13," said Frances. "I swore to myself that I wouldn't get another cat but as the weeks passed I realised how much I was missing having a cat in the house.
"When we went into the first lockdown and all the adoption centres closed, I thought I'd missed the boat until a friend mentioned hands-free homing.
"I went onto the Cats Protection website and immediately spotted five-year-old Molly. Obviously I couldn't go and meet her but the lovely Cats Protection team provided lots of information about her personality.
"A week or so later, Molly was delivered to my home and settled in beautifully straight away. She is utterly enchanting and makes me laugh every single day. I live alone and I'm not in a 'bubble' so if it wasn't for Molly, I wouldn't have touched a living thing for over a year. Touch is so important to humans and being able to stroke and pet Molly has been wonderful.
"I have also found that having a routine with Molly – from nap times to feeding – has given much needed structure to my days over the last 12 months. Lockdown without Molly would have been very grim indeed."
Claire, Cooper and Wilfey
Claire Blekkenhorst and her 12-year-old son Cooper from Sutton in Surrey adopted Wilfey in April 2020.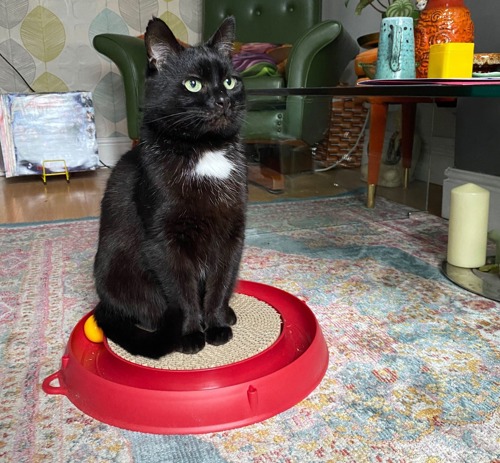 Wilfey not quite getting the hang of his new toy. Credit: Claire Blekkenhorst
"It feels like Wilfey has always been here and he is adored by all four of us – and he knows it!" said Claire. "He is extremely playful and will go nuts in the evening by running around, chasing his tail and pouncing all over the place. He will usually sit at the table next to me at dinner when we sit down to eat and is ever hopeful it is his favourite - roast chicken.  
"Despite having a lovely fancy water bowl he will only drink out of the glass next to my bed so I have to always make sure it is full.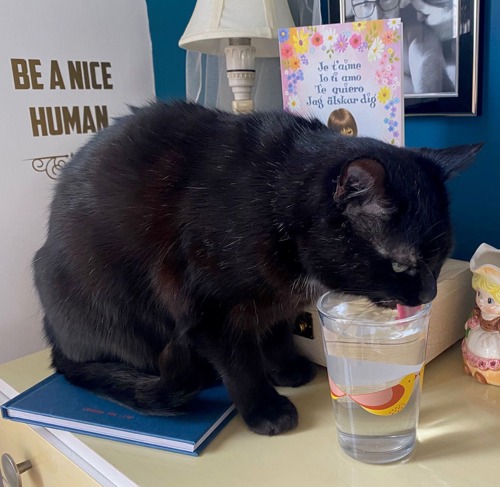 Wilfey enjoying a drink from his owner's glass. Credit: Claire Blekkenhorst
"Wilfey has given us so much joy and made us laugh with his funny antics and his weird Elvis tooth. He has a favourite armchair and if anyone sits on it he will sit and look at them until they move. If not, the minute they do get up, he will steal the seat.
"He really shares his time between us moving from bedroom to bedroom at night so we all get Wilfey love and he knows for sure if anyone is sad or feeling poorly as he will sit with you.
"He is utterly worshiped as cats should be and even has his own Instagram page @King_wilfeofsutton."
David, Daniel and Neptune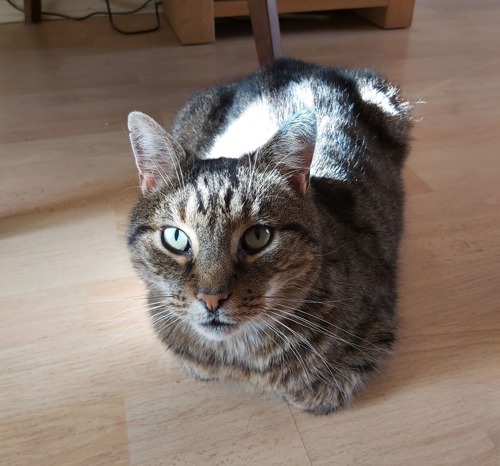 Neptune getting comfy in his new home. Credit: David Barratt
David and Daniel Barratt adopted Neptune in May 2020 from our Exeter Axhayes Adoption Centre.
"Neptune was extremely nervous and shy when we first welcomed him into our home," said David. "In fact, he spent the first few weeks hiding under our bed. Many rehomed cats need a lot of patience and understanding in order to regain confidence and make sense of their surroundings and Neptune, being a particularly nervous cat, was no exception.
"We allowed him to take things at his own pace and gradually he began to emerge and start to explore his safe room, before building up the courage to explore the rest of the house. Eventually, he began tentatively to step into our garden. There were some set-backs: he once went missing for a few days but, again, the wonderfully supportive Cats Protection were on hand to help us and we soon found him and brought him home.
"Rehoming a cat as nervous as Neptune is not easy – it takes a great deal of patience and commitment - but the end result is so rewarding. One year on and Neptune has built such a strong bond with my husband and me, and his love has really helped us get through lockdown.
"He even joins us on Zoom calls with our friends! It has been wonderful to see him build his confidence, develop his own personality and extend his territory. It's really incredible, the progress he has made. I would definitely recommend adoption - be prepared for some hard work but also for an incredibly rewarding and loving experience."
To find out more about hands-free homing and how you can adopt a cat from us, visit www.cats.org.uk/adopt-a-cat