The feline stars of Cats Protection's Cats Calendar
We think it's safe to say we're all hoping for a brighter and more normal 2021, and what better way to celebrate the dawn of the New Year than with the official Cats Protection calendar!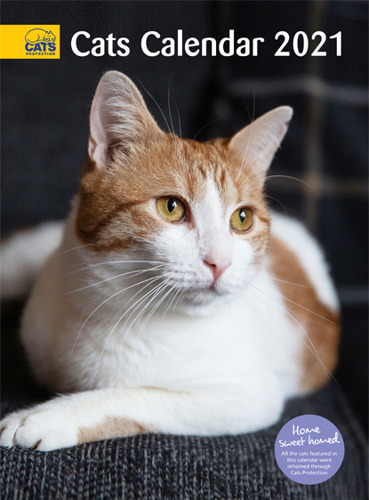 A must-have for any moggy lover, the 2021 Cats Calendar features 12 gorgeous cats who have been adopted from our branches and centres across the UK. Here are just a few of the fabulous feline stars…
Miss April – Poppy
18-year-old Poppy has come into her prime since being rescued with her brother, Happy.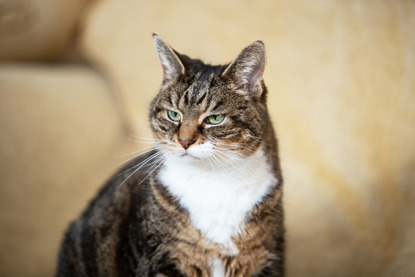 Pretty Poppy as Miss April in the calendar
The siblings had been in care for months when they were spotted at our Downham Market Adoption Centre and won the heart of cat care worker Tracey Lawrence.
Tracey said: "I immediately fell in love with them. From the moment I saw Poppy and Happy, I knew I wanted to give them both a home.
"Poppy has come out of her shell so much since I adopted her. She is very chatty, chirping away when I speak to her and has to have a cuddle while I have my first cup of tea of the day.
"She is an absolute joy and every evening she has a mad half hour play, before settling in front of the wood burner for a nap. She is adorable, full of life and loves sleeping on me at night, licking and chewing my PJs as she sleeps. I feel so lucky to have them in my life."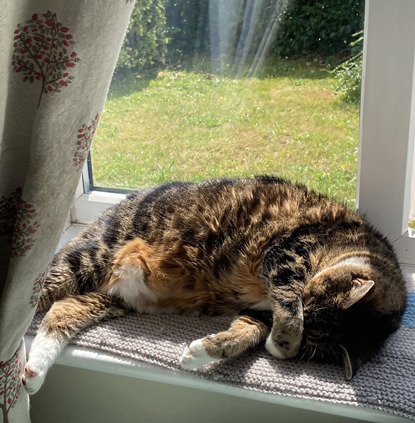 Poppy is a bit more camera-shy when she's not modelling for Cats Protection
Poppy isn't just a cat with a pretty face and a heavy dose of charm. Like many people, Tracey has found comfort in her cat while spending more time at home alone during the pandemic.
Tracey said: "I shielded at home for five months during the first COVID-19 lockdown and Poppy was the most wonderful company. I live on my own and she was my work buddy, sleeping on the bed in my office while I worked. I really can't imagine life without my pudding." 
Mr June – Percy
Percy arrived at our Downham Market Adoption Centre with an untreated jaw injury, which had left him with a wonky jaw and his tongue sticking out. Despite his cute look and gorgeous grey coat, the cat care team struggled to find him a new home.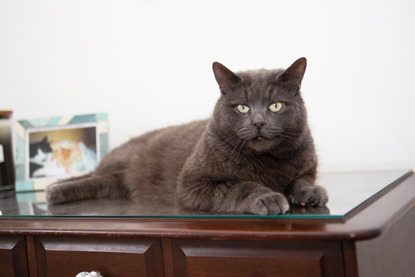 Handsome Percy is our Mr June
That is until Natalie Boyle came along. From the moment she set eyes on his characterful face, Natalie could see that Percy was a fine feline. Now that he stars as Mr June, Percy can poke his tongue out at those who couldn't see beyond his quirky features.
 
Natalie said: "You don't have to be perfect to be beautiful. Percy embodies that so well. From the moment we saw him he was so cuddly and loving, it was clear that Percy was a special boy. Thanks to his page in this calendar, everyone will see Percy for who he is.
 
"Percy is very much enjoying his new home and we love having him very much. He's become a big part of our family and we know we are going to be together from now on."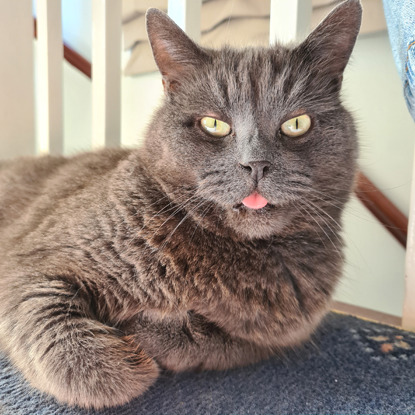 Percy showing his true self 
Seven-year-old Percy isn't just a wonderfully charming face, he's also been a huge comfort to Natalie during the pandemic.
 
Natalie said: "Percy has been good to have around during lockdown, a great co-worker while I've been working from home. He's becoming quite a screen star as he likes to make himself known every time I take a video call. Everyone loves Percy." 
Mr August – Draco
Nine-year-old Draco had been at our Haslemere Adoption Centre for months suffering from an eye infection before he was finally well enough to be rehomed and spotted by Clare Parker and her family.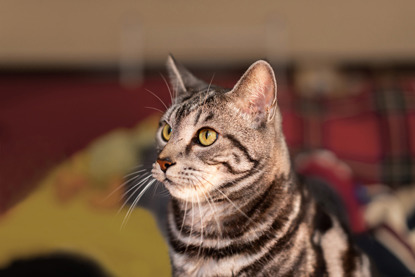 Meet Mr August, the gorgeous Draco
Clare said: "We were looking for a younger cat but Draco adopted us straight away. There wasn't any question in it; he decided that he was coming home with us. He arrived on the morning of our daughter's first day at primary school and he was stretched out owning the sofa by the time she came home.
"Draco has been part of the family for over five years now. He is playful, mischievous and loves attention. He has a friend to share his home with, too; Merlin, a black cat we also adopted from Cats Protection. We're a family."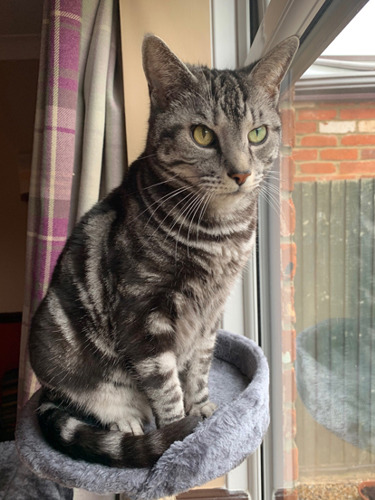 An off-duty Draco in his favourite spot
Clare, who recently moved to East Yorkshire from Farnham in Surrey, believes Draco's new-found fame is well deserved as he is a real fine feline with plenty of character.

She said: "Over the summer we moved to Flamborough near Bridlington and both Draco and Merlin have settled in to their new home extremely well. Everyone who sees him thinks Draco is extremely handsome. And Merlin is quite a looker, too. We're proud to share our home with Mr August.
Cover star – Mylo
Originally taken in by our Birmingham Adoption Centre, four-year-old Mylo had been found struggling to walk around a garden not far from where his original owner lived. He had a severe injury to his leg and sadly it became apparent that he had been abandoned. The kind person who found him arranged for his vet treatment and for him to be taken into the charity's care.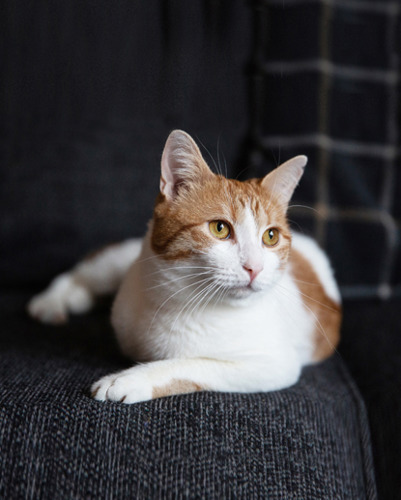 Mylo gets pride of place on the cover (Credit: Linda Scannell)
Unfortunately Mylo's injured leg had to be amputated but he has never let it hold him back. He enjoys nothing more than making new feline friends in his neighbourhood, exploring his home in search of treats to sample and boxes to sit in or posing for more than 1,100 followers on Instagram who tune in to find out his latest antics.
Owner Sarah Gooding explains: "I came across Mylo on the Cats Protection website. He was very shy when I met him back in 2018, but within a couple of hours at home, was purring away on my lap. He's now my shadow and very agile on his three legs, although a bit wobbly when he first wakes up!
"Since moving to Kempsey, Mylo has been adjusting well to his new surroundings. Our new house has a gravel drive which he was a bit unsure on, but he seems to have it mastered now.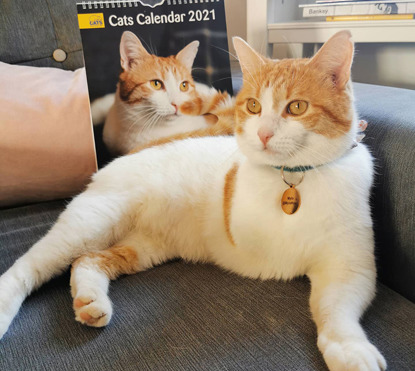 Mylo approves of his cover star appearance (Credit: Sarah Gooding)
"My partner and I have both been working from home since March, and Mylo has definitely been making the most of it – he now comes in and out of the house several times a day, and has regular naps under my chair while I'm working. He also seems to quite enjoy the sound of Zoom calls, as he normally falls asleep and snores through them!"
You can read more about three-legged Mylo in our blog post here.
 
To get your paws on the 2021 Cats Calendar, visit our online shop or pick it up in one of our charity shops if COVID-19 restrictions allow.
2021 Calendars are on sale early December 2020 through to January 2021.