Ex-animal testing facility cat Frost features in Cats Protection's 2018 calendar.
Frost, one of the cats rehomed by Cats Protection from a former animal testing facility in the Republic of Ireland, stars as February in the official Cats Calendar 2018.
A total of 140 cats from the facility are being transferred in small groups by the ISPCA to Cats Protection's Belfast Adoption Centre and so far 60 have been successfully rehomed.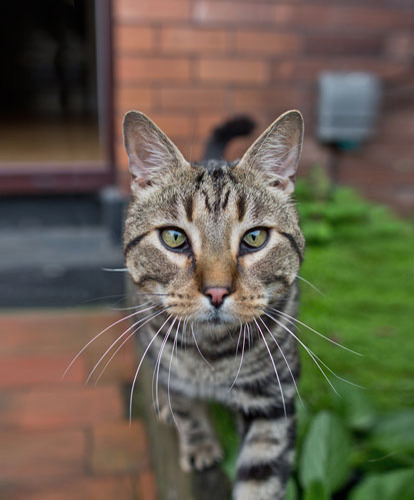 Frost the cat stars in Cats Protection's 2018 calendar. Credit: Laurence King
Cats Protection's Northern Ireland Development Manager, Siobhan McHaffie, said: "As soon as we heard that the cats would be needing new homes we were delighted to offer our help. We believe it is the first time the charity has been approached to rehome such a large number of cats from one place, and we are delighted with the response we have already had from prospective owners and are confident we can find loving homes in Northern Ireland for all the cats."
When news of the cats was featured in the local press, the centre was inundated with rehoming requests from the public, at one point leaving all of their pens empty during a thank-you tour for the charity's sponsors.
Frost's new owner Klaus said: "I chose Frost due to his very friendly and affectionate nature. Following CP's guidelines on how to introduce cats, Frost and my existing cat Big Tom soon settled in well together. Their favourite evening pastime is sitting where their treats are stored and staring at me until a treat is provided. We're all really glad I brought Frost home."
Siobhan added: "The cats which have already been rehomed have settled into normal life extremely well. As they are adult cats which have never been outdoors, many of them will require indoor-only homes, though we are happy to discuss this on an individual basis with prospective adopters. They all come with a full history and we provide our own vet's summary to their new owners as we do for all cats adopted through us."
If you would like to get your paws on the official Cats Protection 2018 calendar you can order one from our online shop.
Anyone interested in rehoming one of the remaining testing facility cats should contact the Belfast Adoption Centre on 02890 480 202 or belfast@cats.org.uk