Looking back over 200 years of legislation that protects animal welfare and how Cats Protection has campaigned for cats
As the UK's leading cat welfare charity, the welfare of our feline friends is at the centre of everything we do.
As well as rehoming and neutering cats, a big part of our work is educating people about cat welfare and speaking up for cats on important issues.
2022 marks 200 years since the introduction of the first law protecting animal welfare and we've certainly come a long way since then.
However, there's still a lot of room for improvement and our Advocacy team continue to work closely with politicians and key decision makers to campaign for a better world for cats.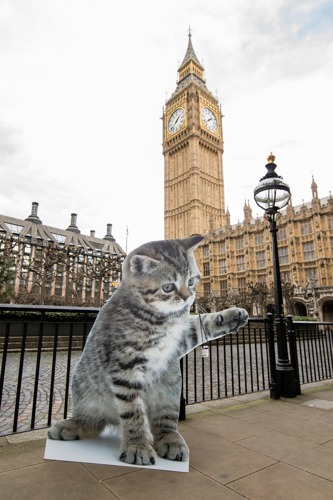 Timeline of animal welfare laws
1822: Richard Martin's Act to Prevent the Cruel and Improper Treatment of Cattle is passed, making this the first Parliamentary legislation for animal welfare in the world. It paved the way for future legislation protecting cat welfare.
1835: Joseph Pease's Cruelty to Animals Act consolidates Martin's Act, extending it to dogs and other domestic animals, facilitating further legislation to protect animals, create shelters and set up veterinary hospitals.
1876: The Cruelty to Animals Act is amended to regulate, and limit the practice of, animal experimentation.
1911: The Protection of Animals Act is passed establishing the concept of 'causing unnecessary suffering' to animals, protecting them from ill-treatment, negligence and cruelty.
1927: The Cats Protection League is founded by animal welfare campaigner Jessey Wade to raise the status of cats in society and champion their rights.
1951: The Pet Animals Act (amended in 1983) protects the welfare of animals sold as pets.
Overcrowding and low standards of hygiene in pet shops could result in the loss of a licence. A requirement of licensing was that kittens should not be sold at too early an age nor to children under the age of 12.
1960: The Abandonment of Animals Act means that any person in control of an animal who abandons them such that the animal suffers, is guilty of cruelty and liable to a fine and/or imprisonment.
1963: The Animal Boarding Establishments Act requires such establishments to be licensed by the local council and regularly inspected.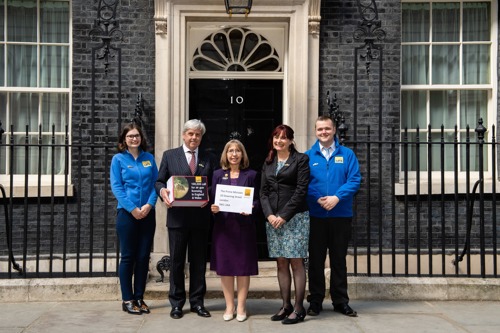 The Advocacy team deliver a petition of over 100,000 signatures calling for the licensing of air guns in England and Wales to 10 Downing Street

2006: The Animal Welfare Act is the principle law relating to animal welfare and places a duty of care on owners to ensure they take reasonable steps to meet the five welfare needs of their animals.
2014: The Anti-social Behaviour, Crime and Policing Act introduces community protection notices and includes guidance with specific reference to their use to prevent a dog attacking a cat. This reference to cats came about as a result of Cats Protection's advocacy work.
2014: The Care Act, Clause 1 (the wellbeing clause) provides that local authorities have a duty to promote the wellbeing of an individual. Earl Howe, in the House of Lords, confirmed that a pet might be so important to an individual that their emotional wellbeing would depend in some way on their pet.
2018: The Animal Welfare (Licensing of Activities Involving Animals) (England) Regulations under section 13 of the Animal Welfare Act 2006 replaces some existing licensing regimes but crucially bans the commercial sale of kittens under eight weeks old. It also closes loopholes, ensuring that those running commercial businesses selling kittens require a licence. This was the focus of Cats Protection's True Cost of Kittens campaign, which saw our supporters send 47,000 emails and postcards to the government on this issue.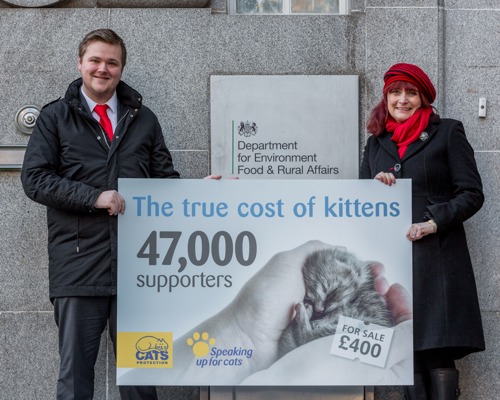 The Advocacy team deliver 47,000 signatures to Defra calling for a ban on the sale of kittens under eight weeks of age
2019: Lucy's Law, made under the Animal Welfare Act, means that kittens can no longer be sold by a third-party seller, such as a pet shop or commercial dealer, unless they have bred the animal themselves. This was the result of a major campaign supported by Cats Protection.
2021: The Animal Welfare (Sentencing) Act states that animal abusers could face up to five years in prison, a significant increase from the previous maximum sentence of six months. This bill was campaigned for by Cats Protection and we wrote to the then minister Michael Gove on this issue and encouraged MPs to attend the debate.
2022: The Animal Welfare (Sentience) Act makes provision for an Animal Sentience Committee with functions relating to the effect of government policy on the welfare of animals as sentient beings. Cats Protection fully supported the introduction of this bill alongside other animal welfare charities.
On the horizon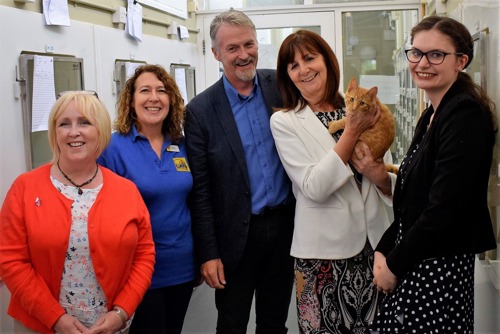 Lesley Griffiths MA, minster for Rural Affairs Wales visits our Bridgend Centre to learn about our campaign calling for compulsory microchipping in Wales
Later this year, the compulsory microchipping of cats is due to become law in England. This is something Cats Protection has campaigned for over many years. Our supporters sent 22,000 emails to the government during a consultation on this issue and our petition has had over 40,000 signatures. We are continuing to campaign for compulsory microchipping in Wales, Scotland and Northern Ireland too.
The upcoming Renters Reform Bill will give all tenants the right to request a pet in their house, which the landlord must consider and cannot unreasonably refuse. This has been the key ask of Cats Protection's Purrfect Landlords campaign, which calls for more cat-friendly tenancies to allow more people to rent with cats.
A new Animal Welfare (Kept Animals) Bill plans to prevent pet smuggling but these proposals exclude cats. It also includes plans for a new offence of dog abduction but not for cats. Cats Protection is currently campaigning on both issues to have cats included.
Looking to the future
There are still lots more improvements we would like to see for cat welfare, here's some legislation we are currently campaigning for:
licensing of commercial cat breeding and banning the commercial breeding of extreme breeds
licensing of air guns in England and Wales to be in line with Scotland and Northern Ireland
a ban on the use of snares
restricting the unplanned use of fireworks
introducing a specific offence within existing legislation on dangerous dogs to allow for prosecution of dog owners whose dogs attack, injure or kill cats
To find out how you can get involved with supporting our campaigns, visit www.cats.org.uk/campaigning