Despite losing a leg, unneutered stray cat Weasley recovers and finds a home.
This post has been written with the help of Cats Protection's Bracknell & Wokingham Branch.
Gorgeous ginger cat Weasley came into the Bracknell & Wokingham Branch of Cats Protection in April after living as an unneutered stray in Wokingham for several months. He was spotted limping badly and appeared to be injured. After sightings of Weasley were reported to the branch by passers-by, he was eventually captured in a humane trap and bought into the branch for treatment.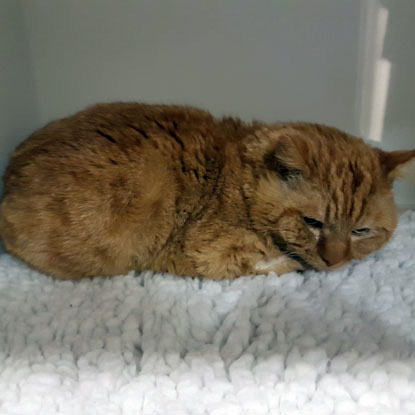 Weasley was then neutered and his leg was x-rayed. This unfortunately showed a break in his rear left leg that needed treatment. After a visit to the vet, Weasley was given pain relief but sadly it was advised that if this did not work, the best solution would be to amputate the leg.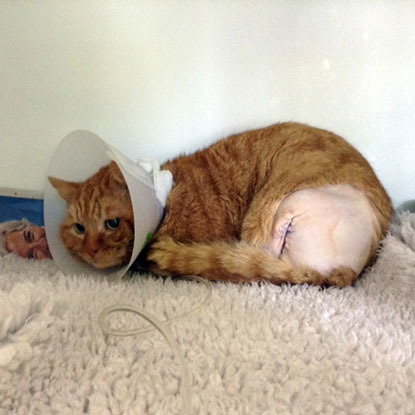 As Weasley was in so much pain, it was decided that he'd be operated on straight away. After a short period of recuperation, he spent time in an outdoor pen. He was then moved to an indoor pen to allow him time to recuperate and also to give him more space.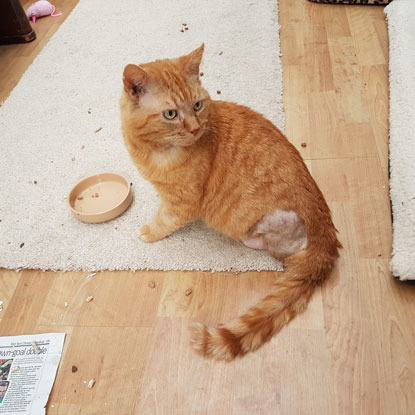 Weasley has since turned into a loveable cat who loves human company. Adapting particularly well to life on three legs, he is now enjoying his time in the home of a local fosterer. He is even jumping onto the sofa and finding his way around. Luckily, Weasley is now going to be rehomed by a long-time supporter of Cats Protection – a happy ending, after all!