Gaunt and scraggy ginger tom Harrison bounces back and thrives in his new home.
Ginger cat Harrison was rescued in a dreadful state from a multi-cat household but has fought back to become a much-loved family pet.
The scrawny moggy was brought in to Cats Protection's Wrexham Adoption Centre following a plea for help from a vet who was dealing with a case of a house full of 29 cats. Although the owner loved the cats, they had become overwhelmed and realised they could no longer cope.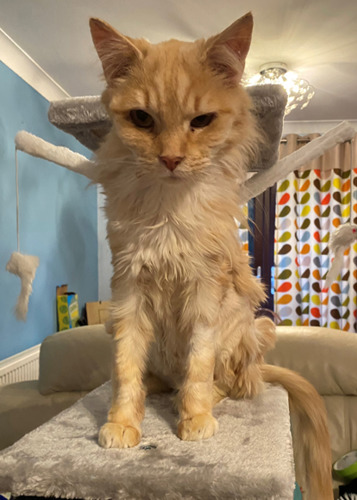 Harrison when he first arrived in his new home
The cats, who were in various stages of health, were transferred to a number of Cats Protection centres, with one of the most poorly arriving in Wrexham.
After a worrying first night, in which Harrison wanted nothing more than to curl up in a ball and sleep, the centre team were eventually able to examine him more closely, discovering a weepy eye, matted fur, bald patches and rotten teeth. He was also so skinny his bones were visible.
A vet confirmed Harrison needed dental surgery to remove 15 teeth, which required two separate operations, as well as treatment for cat flu, fleas and worms.
Over time, and with lots of care and attention, Harrison began putting on weight and getting stronger until he was eventually ready to rehome.
Although he was well enough, he still looked dishevelled and threadbare as his fur had not grown back fully, leading to concerns that he would struggle to find a new home.
But worries were allayed when two days before lockdown came into force, Sharon Rogers and her partner Wayne Price came to meet him. Having recently lost their 18-year-old cat Jet, they desperately missed having a feline companion.
Sharon, who lives in Summerhil, said: "With lockdown approaching it looked to be a good time to settle a cat into the household. I decided to go to Cats Protection's Wrexham page without realising the following day the centre would be closed for lockdown.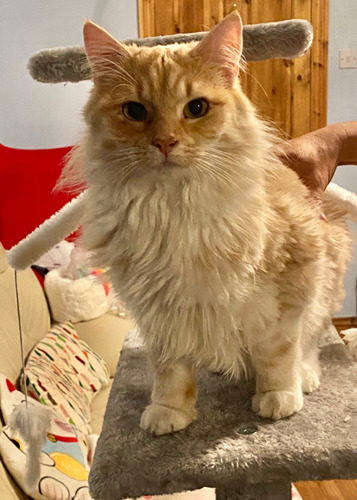 Harrison now looking much happier and healthier
"He's settled wonderfully. It took a couple of days for him to come out of his carrier but after a couple of weeks I think he realised he'd found his new home. Having no teeth doesn't seem to faze him as he guzzles down both wet and dry food. He has put on a couple of kilos since he arrived in our house and we try to keep the weight down with his love of a ping pong ball."
Wrexham Adoption Centre Manager Suzan Kennedy said: "When we saw the pictures of Harrison two months after he was adopted he looked like a different cat. His fur was long and fluffy, he looked healthy and his eyes glowed. It just shows what a difference a loving home can make to a cat when owners can understand and meet a cat's needs.
"It made the team cry with happy tears when we saw the picture of him in his new home and it reminded us of why we do what we do."
Harrison will soon be joined in the Rogers' household by Ringo, who came from the same multi-cat household, and has been recovering at the centre.
Sharon added: "I would recommend everyone to check out a rescue centre for their pet. The knowledge of the charity helps to ensure that the cat will be going to the right home, reducing the chance of further abandonment.
"There are so many cats who have been abandoned or taken to a shelter through no fault of their own, all with their own personalities and love to give.
If you would like to offer a cat a new home and a fresh start in life, visit www.cats.org.uk/hands-free-homing to see if there are any cats available in your area under our new hands-free homing initiative.