A Cats Protection branch has homed four kittens found nestled in a plant pot.
Our Stoke & Newcastle Branch was called out to a rented house in early September – the tenants had been feeding a stray cat then discovered her litter in their yard.
At that point, all the branch Fosterers' pens were full so Welfare Officer Alan Bentley created a temporary shelter to keep the kittens safe with their mother while homes were found for them.
While the mother cat was taken for a health check and neutering, branch volunteer Tracy Slater uploaded Alan's photos of the kittens – one tom and three queens – to the branch's website and Facebook page.
"To promote some interest I started asking people how we should name them," said Tracy.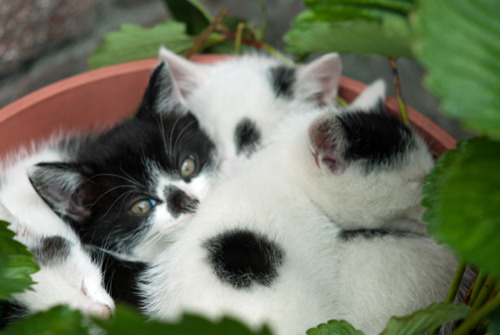 Tracy asked Facebook followers to name the kittens. Photo: Alan Bentley
Tracy first posted about the plant pot kittens on 12 September – by 28 September, new owners had come forward for all of the kittens. They were named Zero, Fifi, Pip and Milo.
"I was so elated when I heard that they'd all been found homes," said Tracy. While the new owners were sought, Alan had visited the kittens regularly and phoned the tenants frequently to check on the kittens' progress.
All of the kittens are now settled into their new homes. As they were a little younger than the usual minimum rehoming age of nine weeks, Alan visited the kittens' new owners regularly during the first few weeks of adoption to give them a helping hand.
"We'll carry on visiting them until the kittens have been neutered, to make sure all the processes have been followed," Tracy added. "And also as a way of saying thank you and giving the new owners some extra support."
After she was neutered, the kittens' mother was adopted by a kind neighbour - a happy ending for both kittens and mother cat.