Jess continues to spend a day in the life of a Cats Protection volunteer.
Jess Hall of our Volunteering Development Team continues her report of spending time with her local Cats Protection branch...
As part of my induction to the neutering role mentioned in my last post, I met up with Neutering Volunteer, Angie Ellingford. As well as working as a Veterinary Receptionist, Angie maintains an up-to-date record of neutering statistics and produces reports for the branch and the National Cat Centre in support of grant applications. To support Angie in her role, I have taken on the management of incoming neutering enquiries. This involves phoning into the branch inbox voicemail inbox and listening to any messages that have been left and dealing with accordingly, as well as providing members of the branch neutering vouchers as and when required.
Angie provided me with a great induction to the role, giving me everything I needed to get started. I was a little nervous at the beginning, just because dealing with the public can be… unpredictable, to say the least! The majority of messages I have picked up from the inbox so far have been from people requiring help from Cats Protection in the neutering of their cats. My role is to respond to these people, find out a bit more about where they live, their cats and to issue them vouchers, to cover the cost of neutering.
These are the majority of enquiries, however I also receive some random ones from time to time… ranging from unwanted cat food, feral cats found in people's gardens, to delightfully in-depth toileting issues! These, I must point out, I gladly pass on to the Welfare Team Leader, Jean Bailey. Thanks Jean!
When talking through with people how the neutering voucher scheme works, I often have to answer questions about preparation for the operation and what is involved. To help me answer these questions and to learn a bit more about how the branch works with local veterinary practices, I met with Anja Silvani, who fulfils the Veterinary Liaison volunteering role, as well as working full time as a Veterinary Nurse at one of the vets used by the branch.
Meeting at Anja's house, I was also very honoured to meet Petal, the smallest kitten in Surrey! Confirmed as a 'dwarf,' Petal was extraordinarily small for her age, making her perhaps the cutest kitten I have ever seen! Anja was fostering Petal until she was well enough to go to a good home.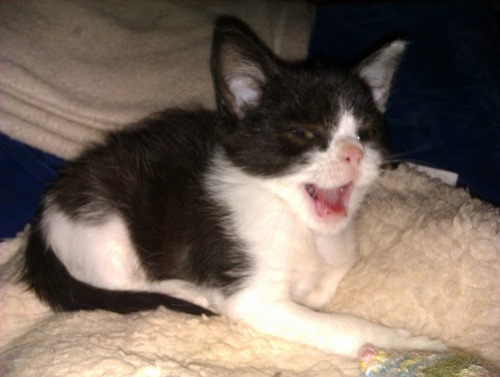 Petal
Maintaining a good relationship with local vets is vital for the health and welfare of the cats in CP's care. Anja plays a huge part in maintaining these relationships, liaising with the vets, she ensures that they are adhering to Cats Protection veterinary guidelines, she also maintains an accurate account of veterinary stock levels, making sure that the practices never run short, ordering new products via the National Veterinary Service (NVS) as and when required. As well as this, Anja also provides a vital support to all of the Fosterers in the branch, offering help and advice whenever she can.
Learning about this vital aspect of the branch was a real eye opener for me. To help me in my Neutering volunteering role further, Anja, very kindly let me observe two operations; one female spay and one male castration. So I donned on the hygiene mask, what looked like a shower cap and watched in complete fascination! I couldn't believe how fast the male operation was, just literally, 'pop, pop' and it was over!
The female one was slightly trickier, but still a relatively simple operation. It didn't take the cats long to come round either, seemingly unfazed by the whole affair, they were soon up on their feet again and begging for food! I had a great day at the veterinary centre, and would like to say a huge and heartfelt thanks to Anja and the team. I will close on some good news… Petal has now been homed and is doing really well. She has grown a lot and is now best friends with her owner's resident deaf cat, Roxy. Anja assures me that she is very happy and could not have found a more perfect home!
Oh, and if you're looking for an extra Christmas stocking filler, check out the Caterham, Redhill & East Surrey Branch's 2012 Calendar Girls calendar!