Meet the winner of our National Black Cat Day 2016 competition: Caspar.
We're very pleased to announce that the winner of our National Black Cat Day 2016 competition is Caspar!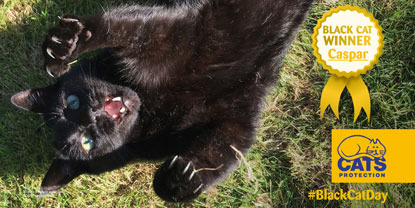 This year's celebration of black and black-and-white celebrates the uniqueness of black cats and focuses on what makes them individually special. After all, beauty is more than fur deep. So we asked cat lovers to help us demonstrate this to the world by sharing the photos that best showed their black cats' personalities.
We received thousands of entries so it wasn't easy to pick a winner but we think that Caspar was the top cat! With his sleek fur, sparkling eyes and winning personality, we hope our new feline pin-up will inspire more people to adopt a monochrome moggy, which typically wait longer to find new owners than other cats, such as tabbies and gingers.
Owner Jane Scott, of Wallington, Surrey, said she and husband Andrew were delighted Caspar had been chosen as the feline figurehead for black cats.
She said: "Caspar is a truly lovely cat – he is very friendly, playful and loves to be around people, so we're thrilled he has been chosen as the face of Black Cat Day 2016.
"If anyone is thinking of adopting a cat, I'd say give black cats a chance. There's no telling what a cat will be like based on the colour of its fur, although all the black cats I've met have been super friendly, just like Caspar."
Cats Protection's Social Media Manager Gemma Croker said Caspar was a great ambassador for black cats throughout the country.
She said: "Sadly, black and black-and-white cats like Caspar wait around 22 per cent longer to find a new home than other cats such as tabbies or gingers. It's heart-breaking, as they can be just as fun-loving, playful and affectionate as any other cat.
"Caspar just goes to show just how special black cats can be and we hope he will inspire more people to open their hearts and homes to a monochrome moggy.
"We hope this year's National Black Cat Day will help people understand that beauty really is more than fur deep and that black and black-and-white cats have just as much to offer as any other cat."
The 'Beauty is more than fur deep' theme brought out the romantics in us, too! Our brand new National Black Cat Day video has an online dating feel, watch it here:



We couldn't resist having some fun with our favourite competition entries by turning them into cute dating profiles that showcased the featured cats' brilliant and most appealing qualities. Here are our competition runners up: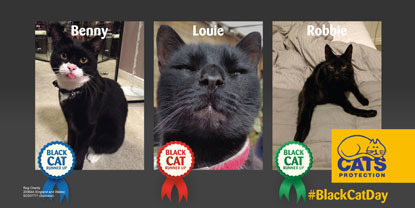 Two-year-old Benny from Wickford, Essex was rescued after being dumped in a cardboard box. Owner Kate Mills says: "I adopted him when he was eight weeks old and he is a little ray of sunshine. He is incredibly sociable and will always greet me at the door and follow me about whatever I'm doing."
Louie was adopted 11 years ago from Battersea Dogs & Cats Home and his owner describes him as their "rock", adding: "I can't imagine coming home and not having him there to greet me."
Robbie's owner said: "This is Robbie. We rescued him as a tiny 'pipe cleaner with legs' from the RSPCA two years ago. Since then he has developed into our best friend. He talks with us all day long and loves cuddling up to us whenever possible. He has so much love to give!"
If you'd like to give a black cat a home, visit https://www.cats.org.uk/adopt-a-cat to meet needy felines in your area.