Could you write a winning poem to raise funds for our Bedford & Biggleswade Branch?
Budding poets and first-time rhymers are encouraged to enter a poetry contest to raise cash for unwanted kitties.
Whether you see yourself as a wannabe Pam Ayres or bend more towards the youthful exuberance of George the Poet, this is your chance to satisfy the itch to rhyme (or not).
Cats Protection's Bedford & Biggleswade Branch was overwhelmed by the community support for its inaugural feline photo contest, which raised more than £500 and was won by Best in Show cat Niamh, owned by Nicola Taggart.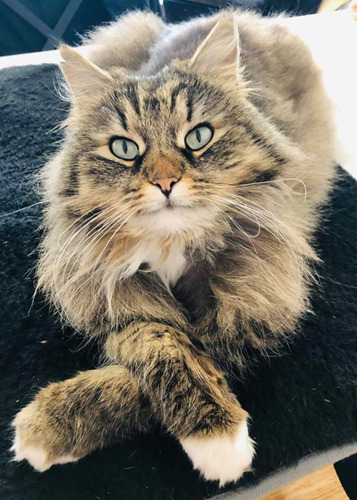 Nicola Taggart's gorgeous cat Niamh won Best in Show
Organisers needed to go big for their next fundraising effort, so they have put out a call for the county's creative wordsmiths to come forward with their finest poems about cats and more.
Branch Coordinator, Tamsin Eastwood, said: "We were amazed when our photo contest raised so much but that money only goes so far. We needed a new idea to tap into the creative spirit of our friends and supporters. Personally, I can't wait to read all the wonderful poems. As they say; everyone's a poet, even if they don't know it."
As an incentive, all entries will be considered for a booklet to raise even more funds for the branch. Established poets Joseph Parsonage and Ruth Caddick, who are not members of Cats Protection's Bedford Branch, will judge the contest.
Although only accepting emergency cases during lockdown, work goes on for cats already in the branch's care. Money raised by the poetry contest will provide vital funds to help the volunteer-led branch care for cats and kittens in need.
Tamsin said: "We are unable to take in more cats, but we have cats in care who still rely on the hard work of our volunteers, as well as the generosity of the people of Bedford and Biggleswade who allow us to remain #HereForTheCats."
Winners will receive a rosette and certificate, while runners up will get a certificate. The overall winner will be awarded a rosette, certificate and a Cats Protection notebook and pen.
Categories (split into adults and children aged 16 and under):
Cat poetry:
In praise of cats
My cat(s)
The cat who visits
Big cats (ie lions, tigers etc.)
General poetry:
Learnings from lockdown
Friendship/kindness
The countryside
Things I appreciate
Poems on one side of an A4 page should be submitted to fundraising@bedford.cats.org.uk before the closing date of 22 June. If the flow just won't stop once the muse is released, entrants may submit as many poems as they wish, costing only £1 per page.
To find more ways you can support the work of Cats Protection during the COVID-19 crisis, visit www.cats.org.uk/support-us