How owning a cat can help you find a date – it worked for these loved-up couples!
We know that owning pets can bring you happiness – a cat's purr is widely recognised as having therapeutic benefits for humans and curling up with a feline friend is even known to lower blood pressure.
But can cats also lead the way to love? These cat owners sure think so…
A decent proposal
Nicky Jennings from Warwick met her partner Patrick in August 2003 through an online dating website. "I have to say that the thing that most attracted me to him was the fact he was a cat lover and dad to a pair of cats: Olive and Jasmine," says Nicky. "The most important thing in my life was my cat, Smudge, a then ageing, black-and-white boy."
It was Patrick's photo that initially attracted her to his dating profile. "The fact he had two cats was certainly the clincher that made me decide to initiate contact!"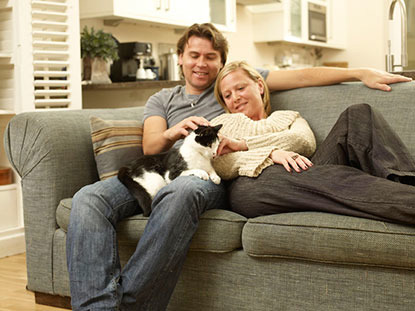 Cats can bring a couple together! Photo: CP Library
They swapped many emails – including stories and photos, about their feline friends for about three or four months before they met. "It seemed like ages before we got an opportunity to meet up, living so far apart," she says.
When Patrick went to visit for the weekend he met both Nicky and Smudge. Smudge approved of her choice wholeheartedly. Nicky then made the 150-mile trip from Sudbury, Suffolk to Warwick the following weekend to visit Olive and Jasmine. By October, Smudge and Nicky had moved across the country to live with Patrick and 'the girls'.
Nicky says they made introductions between their cats gradually with Smudge staying in the spare room for the first few days and began by exchanging scents. "As expected, Olive, who's a real 'daddy's girl', was most put out – with me, as well as Smudge I think! – and there was some mutual growling when they first met, but fortunately no fighting."
It was hugely important to Nicky that Smudge approved of Patrick. "I think cats are very astute judges of character and Smudge took to Patrick and let him fuss him straight away – unlike some previous boyfriends who he would never let near him!"
She explains that the relationship would have lasted if Smudge hadn't liked Patrick: "I certainly wouldn't have moved in with him," Nicky says. "Smudge's happiness and welfare was always paramount in my decision making."
On New Year's Eve, Patrick proposed. He had planned to place the ring on a loose ribbon hung over Smudge's head – like Mr Jinx wears in Meet the Parents. "We had previously watched the film together and are fans of Mr Jinx. I remember commenting at the time that I couldn't think of a better way to propose – I wasn't hinting, honest! It must have struck a chord with him too".
The mog of approval
Debbie Thomas got in touch with us via our Facebook page to tell her story. "My partner and I didn't exactly get together because of cats, but they cemented our relationship."
She explains that her cat Ellie adored her partner. "She only let three of us ever pick her up, me, my mum, and him.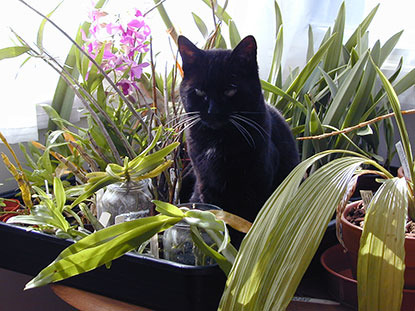 Debbie Thomas' cat Ellie approved of her new partner
"The first time I took her with me when I went to visit him she cried all the way. But when we got there and she realised he was there she was so happy. From then on she would cry in the car for the first five minutes, which is how long it takes to drive to the vet. Once past that point she figured we must be going to see him and she didn't make another sound – but she cried all the way every time we came home!
It was Ellie's approval that led the way to love.
"Her opinion was good enough for me, but he sealed it when we were talking on the phone one night. He asked me to wait because his cat had just gifted him a whisker and he had to go and put it in his whisker jar. I knew then he was the one I'd been waiting for."
Unfortunately Ellie has since passed away. "The day I knew I had to say goodbye was the saddest day of my life," says Debbie. "But she will always be in my heart."
Debbie isn't the only one who sought her pet's approval of her new partner. Catherine Gwilliam told us: "[My cat] told me he was 'The One' when she met him. She is no longer with us but I'm convinced she waited until she knew I was safe and sound with my Mr Right."
Similarly, Tina Hackett said: "I had to pass the 'Tigger test'. If [the cat] hadn't liked me 43 years ago, I wouldn't have stood a chance with her owner!"
A chance romance
In December 1995 Chris Orton's black-and-white moggy Gizmo went missing. She describes it as an awful time, explaining that he had always been an 'outdoor' cat but came home regularly for his meals. So when he went missing for 10 days all Chris wanted for Christmas was for Gizmo to come home safely.
On Christmas Day, Gizmo appeared at her patio window. But he had a big problem – most of his tail was missing. Chris had to find an emergency vet and Gizmo became an amputee. The vet suspected Gizmo had been trapped by his tail and finally pulled himself free.
Over the next month, Chris was back and forth with Gizmo to the vet. "It had snowed very heavily at this time and I looked like the abominable snow woman, trudging to the bus stop through the thick snow to take Gizmo in his carrier to the vet," Chris says.
One day while waiting for the bus, a man started chatting to her. It turned out Kieron was also a cat lover and lived just round the corner from Chris. Kieron later told Chris that part of the 'attraction' to her was that someone had told him she was involved with cats – she had fostered for her local Cats Protection branch for years.
As they got to know each other better, Kieron often went to visit her at home. He had never owned a cat and loved playing with Chris's two, Gizmo and Lucky – and they loved him. He firstly fell in love with the cats, and Chris soon followed! Chris and Kieron have been together ever since, thanks to Gizmo.
Can your cat help you find your Mr or Mrs Right? Get mog on the case!
Excerpts of this article originally appeared in the Spring 2010 issue of The Cat, Cat's Protection's official supporter magazine. Subscribe to The Cat here.