Black-and-white cat Gus is adopted by an MP... and here are some other cats with political owners!
Upon being asked to name pets from high-profile households in the United Kingdom, most people would probably picture the Queen's corgis pottering around the grounds of Buckingham Palace. However over the past six months it's been cats, rather than dogs, that have found themselves curling up on the country's seats of power.
When black-and-white longhair Gus found his forever home in September after a spell at Cats Protection's Mitcham Homing Centre, he became the latest in a growing number of moggies making the headlines for joining prominent political households.
Gus, who won the hearts of MP George Eustice and his wife Katy after making a beeline for them when they visited the centre, quickly made himself at home at the couple's residence, with the MP for Camborne, Redruth and Hayle reflecting: "Gus, the newest addition to our family, took all of 20 minutes to settle into his new home and stretch out on the sofa. All the team at Cats Protection were fabulous. Charities like this do great work."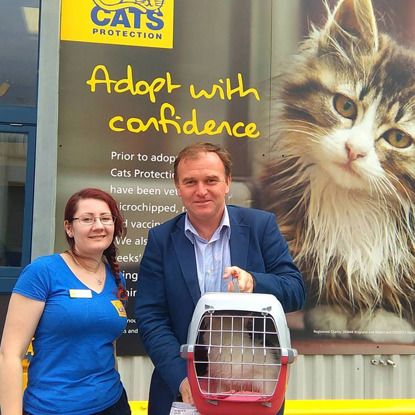 George Eustice MP leaving the Mitcham Homing Centre with Gus
However, the three-year-old puss was simply following in the well-trodden paw prints of a number of adopted cats who have recently reached the national consciousness through the celebrity of their political owners.
As Minister of State at the Department of the Environment, Food and Rural Affairs, Mr Eustice MP would have already been familiar with Larry, the Chief Mouser to the Cabinet Office. Adopted in 2011 from Battersea Dogs & Cats Home to solve number 10's rodent problem, Larry shot to fame when David Cameron, apparently stung by suggestions that Prime Minister and Prime Mouser didn't get on, name-checked the brown-and-white tabby in his final speech as PM, producing a photo showing Larry stretched across his lap as he discussed matters of state.
Presumably impressed by the fine job Larry was doing across the road, the Foreign Office adopted its own moggy. The impressively-named Palmerston, also from Battersea Dogs & Cats Home, arrived on Downing Street only a couple of months before some of its more high-profile residents were moving out.
Unfortunately, like furry neighbours across the country, Palmerston and Larry have sometimes struggled to come to terms with their new situation, and their regular confrontations have been highlighted by the throng of reporters permanently stationed outside the country's most famous black door.
These altercations will have undoubtedly been stressful for both cats, but they did at least prompt a surge in nationwide interest about cat behaviour, with experts from organisations including the British Veterinary Association being invited by the world's media to share their expertise and provide advice to owners experiencing similar situations.
Some suggested they were merely two 'social, bold and confident' cats battling for territory while others wondered whether the disruption caused by the change of Prime Minister and subsequent Cabinet shuffle could have unsettled them.
Away from the headlines, however, the pair must have been carrying out their primary duties with aplomb as a third Whitehall department, the Treasury, also decided to adopt a cat. Pictures of 18-month-old Gladstone are regularly shared on his very own Instagram account. The black moggy even received a public welcome from his new boss, Philip Hammond, when the incoming Chancellor of the Exchequer sent him a tweet.
With the increasing number of pusses padding around Whitehall – there have been rumours swirling since August that the Cabinet Office are considering adopting a moggy who will go by the name Cromwell – it seems that staff at the Houses of Parliament are beginning to feel a little left out and the request to 'get us a cat' scrawled on a poster advising on how to address the building's rodent problems is perhaps understandable.
Whether or not we'll soon see another political puss warming up the benches of Westminster is anyone's guess. However, it's great to see politicians setting a good example by adopting their feline colleagues – especially black and black-and-white ones, who tend to get overlooked by many potential owners.
In the meantime, Larry, Palmerston and Gladstone will continue carrying out their vital ministerial paw-tfolios, which will presumably include exerting their stress-busting influence over Whitehall residents with demanding jobs.
As Rosie King, the Deputy Manager at Cats Protection's Mitcham Homing Centre, observed about gorgeous Gus: "Like many cats, Gus has a lovely, calming presence so we know he will be well-suited to a political household. We're thrilled they've found each other and wish Gus all the best in his new life."