For Volunteers' Week (1-7 June) we meet some of the dedicated charity shop volunteers representing Cats Protection on the high street
At Cats Protection we're incredibly thankful each and every day for the 10,000 volunteers who bring their passion, skills and time to the charity.
Volunteers' Week is just another week in which they'll continue with their vital activities helping cats across the UK, but it gives us an opportunity to say an extra special thank you for all that they do, especially during what has been an incredibly difficult year.
Sadly, much of our volunteering had to be put on hold during the various lockdowns of the COVID-19 pandemic. Our number one priority was keeping our people safe during this time, but we know it was difficult for those who were still desperate to help out in any way they could.
One group of volunteers who were particularly disrupted was our charity shop teams, as our shops had to remain closed for much of the year. But now that our doors are open again, their support is vital in helping us raise funds for our work and awareness of the charity on the high street.
We caught up with some of our retail superstars to find out what volunteering in our charity shops is like.
Jodie Harper – Stourbridge shop, West Midlands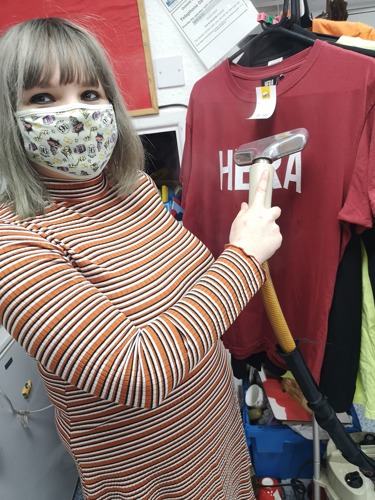 Jodie started volunteering for our Stourbridge shop in 2016, when she popped into the store to ask about how she could help. At the time she was unemployed and had just lost her beloved 17-year-old cat Chuckie, who she'd had since she was 10 years old, and so wanted to volunteer for a good cause close to her heart.
"I enjoy interacting with the customers and providing customer service," said Jodie. "I also enjoy the social aspect of volunteering and have made some good friends through volunteering with Cats Protection. I have been promoted to 'key volunteer' because of the length of time that I have been with Cats Protection and the skills I have picked up through volunteering.
"I suffer with depression and anxiety, so when I'm ill I sometimes struggle to get to the shop on time, but the management team are very understanding of this and allow my volunteering times to be flexible at those times.
"The management team have been very supportive during the pandemic. Disposable masks and hand sanitiser are always readily available to help us work safely and we have been trained to work to government standards."
If you're thinking about becoming a retail volunteer, Jodie's advice is: "Seriously, just go into your local Cats Protection store and ask about volunteering, you won't regret it!"
Clare McCrum – Shipley shop, West Yorkshire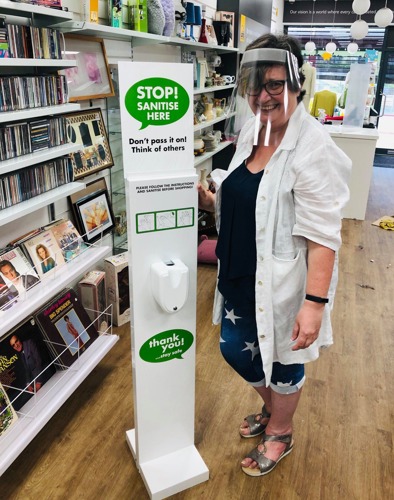 Clare was the very first volunteer recruited for the Shipley shop when it opened in 2017. "I turned up with my arm in a sling as I'd had a slight accident and fractured my elbow!" said Clare, but that didn't stop her from getting stuck in to the role.
"I help out with donations, putting products on the shop floor, working the till and also greeting our customers as they come through the door. As my volunteering role has progressed I have become a key holder having the responsibility of looking after the shop ie opening and closing and doing the banking at the end of the day.
"One of my favourite things about volunteering is not every day is the same and you learn different skills. It also gives me a sense of purpose. And it's a lovely way to meet people.
"In 2017, shortly after I started volunteering, I was diagnosed with cancer. I thought I would no longer be able to do it, but with the support of Jon and Diane, the shop managers, I was able to continue on my good days.
"During the pandemic we had Zoom calls, messages and phone calls to see if we were ok. We were also kept up to date with when we were able to open again.
"If you are thinking of volunteering for Cats Protection I would say go to your nearest branch and speak to them. It's the best thing I did. It's helped with my confidence and you meet lots of new people. Cats Protection is like extra family."
Christine Lohan – Cleveleys shop, Lancashire
In 2019, cat lover Christine joined the Cleveleys shop team as she was looking for a role that would help her gain more confidence. A friend had recommended volunteering for Cats Protection and Christine got stuck in right away. She's now a shop key holder and helps with merchandising, organising and coaching new volunteers.
Christine's favourite things about volunteering at the shop are meeting people, socialising and helping raise money for a great cause. She's also pleased with the support she's received from Cats Protection, including training, feedback and guidance, as it's helped her gain new skills and confidence.
When she's not volunteering in the shop, Christine goes above and beyond to make cat keyrings and face masks to sell in-store, helping to boost kitty.
Christine said: "Cats Protection is a great organisation, with lovely people and a happy environment, happy team and lots of support available."
If you would like to join the Cats Protection team as a volunteer, visit https://www.cats.org.uk/support-us/get-involved-volunteering to see what opportunities are available.