Injured feral kittens helped thanks to a concerned cat lover and Cats Protection.
Three homeless cats in Nottingham are now living a happier and healthier life after an eagle-eyed cat lover called in Cats Protection for help.
Thomas Curtis noticed the three cats in his garden last summer, naming the mum cat Tabitha and her two young kittens Memphis and Phoenix.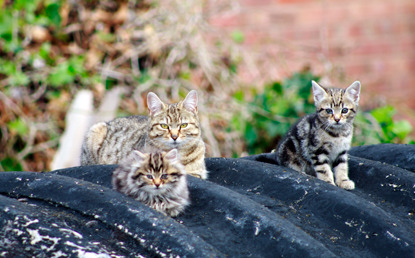 The feral family sitting on Thomas' shed. Credit: Thomas Curtis
"I'd seen the mum cat around for a while and assumed she had an owner," says Thomas. "However one day I noticed her and her two kittens sitting on the roof of my shed and realised they weren't owned because the kittens were far too small and were suffering with appalling eye injuries.
"I left water and food in spots where the three could eat safely and contacted Cats Protection for advice."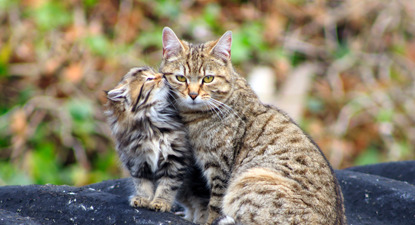 Wash time for Pheonix and Tabitha. Credit: Thomas Curtis
It soon became evident that Tabitha was a feral cat, meaning she had grown up in the wild and was fearful of human contact. Carol Hallam, a volunteer with our Nottingham Adoption Centre, went round with her humane cat trap and with a lot of patience, managed to trap them and get them to a vet.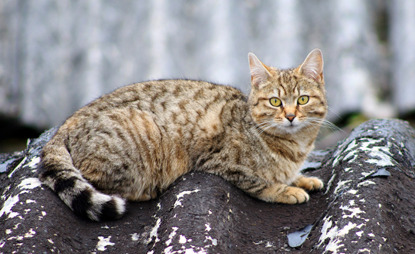 Mum Tabitha would not be suited to living indoors. Credit: Thomas Curtis
"It took over a month to catch all three as they were incredibly skittish," says Carole. "Thankfully the mum cat Tabitha was ok health-wise but the kittens' eye injuries were caused by a combination of conjunctivitis and cat flu so we were pleased to have got to them when we did.
"We found a fourth feral cat who we think was the dad of the family but sadly he had to be put to sleep as he was seriously ill."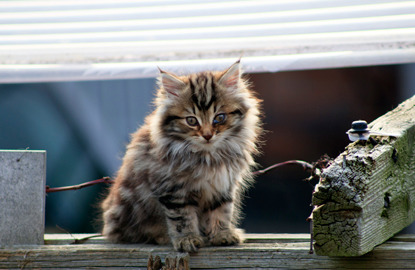 Pheonix the kitten had his eye fixed up. Credit: Thomas Curtis
Two-year-old Tabitha was neutered, vaccinated and given a health check, then returned to her familiar territory where Thomas will continue to keep an eye on her and give her food.
The kittens Memphis and Pheonix were found to be around eight to 10 weeks old and were much more comfortable with human contact than their mum. After being neutered, vaccinated and microchipped, they went on to become much-loved pets with new owners.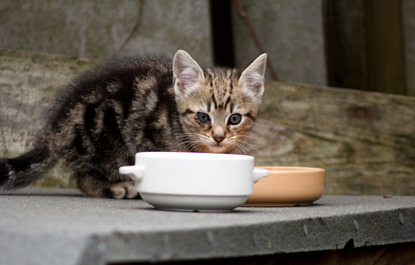 Memphis the kitten received all the care she needed. Credit: Thomas Curtis
"Though we were able to bring about a happy outcome it should be remembered that feral cats like Tabitha, Phoenix and Memphis are the offspring of stray cats or abandoned domestic cats," says Carole.
"So if owners neuter their pet cats they can assist us to drive down the number of feral cats needing help in the future.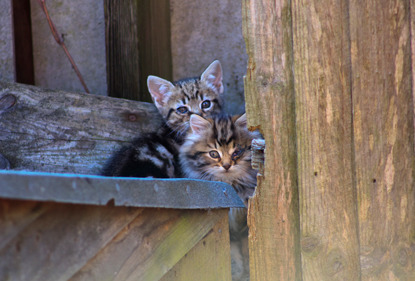 Pheonix and Memphis are now safe and cosy in loving homes. Credit: Thomas Curtis
"Bear in mind too that Cats Protection can help some owners on limited incomes with the costs of neutering their pet so we hope this adds an incentive for cat owners to do the right thing now."
For advice on neutering and to find out if you are eligible for any financial support, please visit https://www.cats.org.uk/what-we-do/neutering