Potato-loving cat Oliver reunited with his family thanks to his up-to-date microchip.
While many of us are likely to be steering clear of the carbs this New Year, it hasn't stopped potato-loving cat Oliver.
The twelve-year-old black cat Oliver doesn't have a taste for potatoes, although he does seem to have a taste of adventure. In fact, he has stowed away on a potato harvest tractor three times in the last seven years.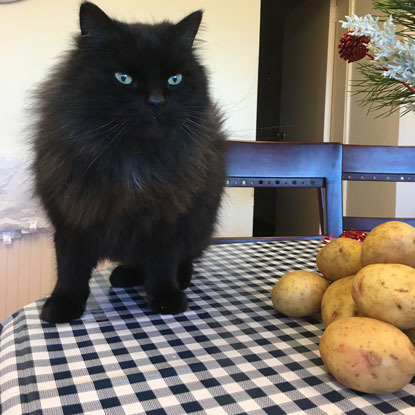 Located in Carmyllie in Angus, Oliver has repeatedly gone missing, only to be found in Arbroath, six-and-a-half miles away from his home. Thankfully, due to his up-to-date microchip and the help of Cats Protection's Arborath & Canoustie Branch, he has now been reunited with his worried owners.
Oliver's owner, John Preston, said: "Oliver's jaunts started seven years ago when he went missing for five months. We were distraught and had almost given up hope of ever seeing him again when we heard from Cats Protection that he had been found."
"He's a friendly cat but quite timid with people he doesn't know, so we think the reason it takes a while for him to be identified is that it takes him time to trust people enough to let them get close to him."
In 2013, Oliver went missing for a few weeks before being returned home. It was hoped that his wandering days were behind him, until he disappeared again last October – this time, for two months.
John said: "Even though this was the third time Oliver had gone missing, it doesn't make it any less worrying. As the weeks go by you do start to fear the worst, so we are incredibly happy to have him home safely again."
Sharyn Wood, Co-ordinator of Cats Protection's Arbroath and Carnoustie Branch, said: "This is a great example of how important it is for cats to be microchipped. We'd love all cats to be chipped to ensure many more happy returns."
Find out more about microchipping your cat.