How to cope with pet-related grief – part 2
Cats Protection understands just how much your cat means to you and what you may be going through if your pet is missing, had to be rehomed, is nearing the end of their life or has recently passed away.
To support cat owners at this difficult time, Counsellor and Pet Loss Specialist Julia Dando took to our Facebook page to talk to them about their grief.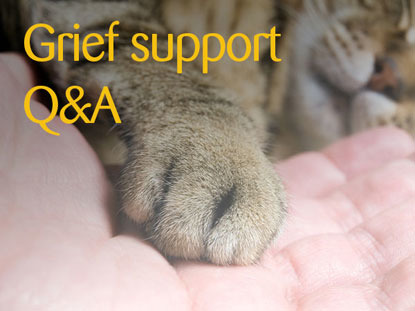 Here are just some of the queries she helped with:
My cat was put to sleep on Saturday due to lymphoma of the gut at almost 12 years old.
I'm struggling in general with grief and don't know what to do. I have to be at work this week, but need time to get over him. My other cat doesn't seem to be missing her son, but how do I tell?
I'm so very sorry to hear of your loss. It can be a really difficult thing to deal with, especially when the world expects you to 'just get on with things'. It's sad that we most often don't get the same consideration when our pet dies than when another family member dies. It can be difficult to focus on work at a time when you are grieving such a loss.
With regards to your other cat and whether she is missing him too – it can be difficult to tell, especially with cats. Sometimes you'll see a change in behaviour, sometimes you won't.
Most often cats do adjust quickly to changes like this and sometimes surviving cats in a household might even become less inhibited and more affection-seeking from you without their companion around. Keeping an eye on her and noting any great changes in her behaviour will help you to determine how she is doing generally. We have a leaflet about this topic, which you may find useful: Grief in surviving pets.
As a result of kidney disease we had to say goodbye to our boy just before Christmas my husband sobbed... he and the cat had a lovely bond.
We were talking about him the other day and my hubby started to cry. He's really cut up over his buddy, he thinks he's soft but I've told him that it's OK to cry.
So sorry to hear about your cat. It does sound like your husband had a very special bond with him. Crying and sadness is a very common response to grief and certainly men can find it harder to feel like it's OK to show their emotions – it's a societal thing. It sounds like you're being really supportive and being a great listener for your husband.
My little one went eight weeks ago to cardiac arrest.
He was being looked after at a pet hospital at the time and was 'comfortable and happy' so it was really sudden. Now I am really struggling and feel so guilty – I wasn't with him when he went and wasn't offered the chance to say goodbye. I feel part of me has gone. My daughter reckons it's time to get over him but I don't know how to. He was only four. It's just so unfair.
Such a sudden and unexpected loss – I'm sorry for your loss. Circumstances such as these can have a really significant effect on how you grieve the loss of your little one. Not being there can leave you with feelings of guilt and overwhelming sadness that can last for a significant time. Grief has no time limit – it is unique to everyone and it can be really hard when the people around you are experiencing the grief in the same way that you are. Give yourself time. You know, these little cats are our family, there's such a strong bond between you and that means their loss with be significant too. Loss hurts – it's meant to – it's how you know he was special to you.
Not being able to say goodbye can leave you stuck in your grief so maybe find a way to say goodbye to him – in his favourite place or with his favourite toy. Do consider phoning the Paws to Listen Grief Support Line on 0800 024 9494 and speak with one of our trained listeners. The line is open from 9am-5pm Mon-Fri.

Whether you are facing the heartbreak of your cat passing away, want help with difficult issues like euthanasia, a cat who has gone missing or need someone to talk to about your loss: we are here for you.
The Paws to Listen service is a free and confidential phone line, that you can call to talk to one of our trained volunteer listeners. While we are unable to offer counselling, we can provide you with a sympathetic ear at this difficult time. Call us on 0800 024 94 94. The line is open 9am-5pm, Monday to Friday (excluding bank holidays).
As well as the phone line, there are a number of free online guides and leaflets to help owners deal with grief-related issues: https://www.cats.org.uk/what-we-do/grief