Ginger and Simba have been waiting patiently to find a new home together after suffering ear and dental problems
Ginger and her son Simba arrived at our Derby Adoption Centre nearly six months ago, and a routine vet assessment found they were suffering ear and dental problems which were likely to be causing them significant pain.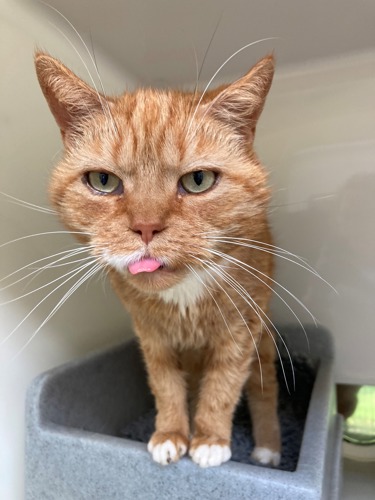 Cheeky Ginger needs an indoor home as she can no longer hear
Eleven-year-old Ginger was the more poorly of the two, with both ear and teeth issues that needed to be addressed immediately.
Cats Protection Field Veterinary Officer Naomi Williams said: "Chronic ear problems are often the result of cats having repeat ear infections throughout their lives that either haven't been treated or have been difficult to treat, which leads to the thickening and closing in of the ear canal, or in some cases it can be due to polyps or other growths within the ear.
"The procedure Ginger had is a total ear canal ablation, where the entire ear canal is removed. This takes away all the diseased and painful tissue and makes the cat much more comfortable therefore vastly improving quality of life."
Ginger had the intricate operation performed on both ear canals, leaving her completely deaf but free from pain.
Thankfully, deaf cats adapt to their surroundings surprisingly well and easily compensate for their lack of hearing by using their other senses more. She will, however, need to be an indoor cat because she will no longer be able to navigate dangers such as roads.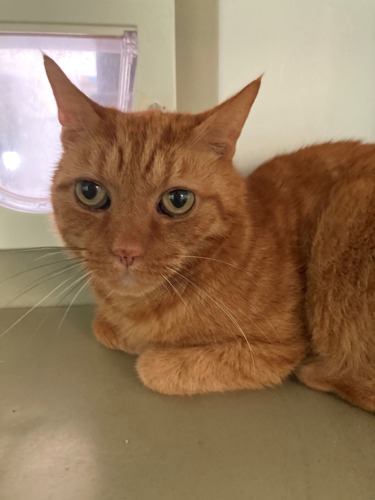 Sweet Simba has recovered from his ear treatment
Her 10-year-old son Simba's ears were not quite as affected and although he needed treatment he did not require surgery. His new owner, however, will need to keep a close eye on him to check infection does not return.
Now after nearly 200 days in care the pair are ready to start their new lives in a secure and calm environment.
Derby Adoption Centre Manager Helen Wood said: "They were both very good patients when they needed their treatment and are now ready to find a new home together. They are both very friendly and affectionate; Ginger is quite playful and enjoys chasing her stick toy. 
"They spend a lot of time together, with Ginger the more confidant of the two. They would probably be best suited to a home with adults or maybe older children."
Anyone interested in welcoming Ginger and Simba into their home can visit the Debry Adoption Centre website or call 01332 824 950 to find out more about the adoption process.
To find cats available for adoption in your area, use our Find-a-cat tool to search for your new feline friend.