For Careers Week we find out how getting involved with Cats Protection can help you land your dream job
There are lots of different job roles available at Cats Protection, from caring for the cats in our centres and branches, to working behind the scenes at our Head Office to keep the charity running.
No matter what role you're in, there are also lots of opportunities to develop your skills and gain useful experiences to help you progress in your career.
To celebrate Careers Week (7-12 March 2022) we spoke to some Cats Protection employees about how they got to where they are now thanks to the training and support provided by the charity.
Climbing the career ladder
Lesley with her cat Bella
As Interim Head of Retail & Trading, Lesley Cross oversees our chain of over 100 charity shops, as well as the range of goods we sell online. She first joined Cats Protection as our Hitchin Shop Manager back in 2016 and has managed to work her way up the career ladder thanks to the support provided in her roles.
"The online training provided by Cats Protection helped me to embed into the charity and gave me a fantastic insight into the policies and procedures," said Lesley.
"After a year the opportunity to apply for the Assistant Area Retail Manager for the East of England came up. This was a great opportunity to develop my skills and grow my relationship with the team and wider charity, so I applied and was successful! I was supporting the Area Retail Manager with shop openings, training, area development etc. as well as managing the shop."
Lesley then stepped up into the role of Area Retail Manager, before becoming a Senior Area Retail Manager and taking on more project work, including rolling out our eBay shop so that we could sell donated goods online while our shops were closed during the COVID-19 lockdowns.
In 2021, Lesley successfully applied for the position of Retail Business Manager and within a few months had stepped up to be Interim Head of Retail & Trading.
"Cats Protection has supported me with my career development from when I first started with them, through my journey to where I am today," said Lesley. "The training opportunities have been fantastic, but the biggest support is the people. The team has been amazing and really make you feel part of the family, all working together to support cats who need our care."
From volunteering to employment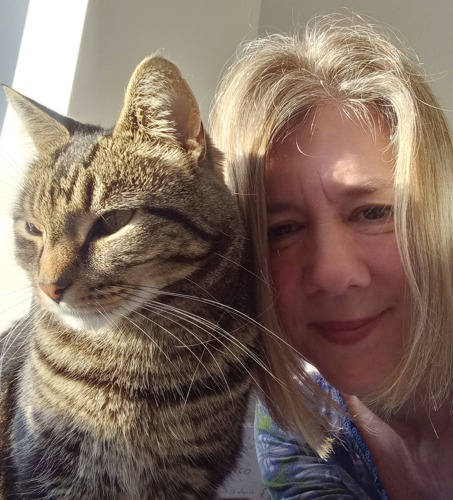 Nicola with her cat Oscar
Nicola Shepherd currently leads the Brand & Marketing team at Cats Protection, but she first joined the charity as a volunteer home visitor for our Bedford & Biggleswade Branch in 2016. Volunteering is a great way to gain useful skills and experiences that can help you in your career, no matter what role you're interested in.
"With two rescue cats of my own I was keen to help put something back into the community and offer my time to support cat welfare in my local area," said Nicola.
"Working with the cats in our care and potential cat owners to ensure the perfect match was very satisfying and I also made some great new friends within the branch which was important to me as I was quite new to the area.
"My volunteering role expanded over the years as we were only a small branch so we all tended to be involved in more than our original role, so I trained and assisted with trapping feral cats, and did a bit of fundraising too!
"I moved house in 2020 so left the area and sadly the branch, but when I then saw the opportunity for my current role advertised it felt like the perfect opportunity to reengage with the brand and to continue to help support cats and cat owners albeit in a different way.
"To anyone considering taking up a volunteering role at Cats Protection I would say that the opportunities are endless as there are a number of different roles you can try, all of which enable you to learn new skills.
"Being a home visitor may not be a role that you think could equip you with skills that you could use elsewhere but it is! It teaches you about people, the importance of communication and building relationships, all of which are very worthwhile and important for any career that you may enter.
"Being a part of a charity like Cats Protection and gaining the experience as a volunteer sets you up well for any roles which may arise as you have a solid foundation to build on."
To find #YourPurrfectJob with Cats Protection, visit our careers page to see our current job vacancies, or find out more about volunteering.