For National Careers Week (1-6 March) Cats Protection employees explain how the charity, and their own pets, have supported them through the COVID-19 pandemic
There's no doubt that the way a lot of us work has changed a great deal over the past year. From adjusting to working from home, getting used to video calls and spending more time with our animal colleagues, there has been a lot to get to grips with.
At Cats Protection we've been very mindful of the stress and anxiety all this change can cause, and have made sure to carefully balance looking after the wellbeing of our people with looking after the welfare of cats.
If you're looking for a new place to work, you can be sure that Cats Protection will provide all the support you need to settle in to your role and find a good work-life balance.
To find out more about what it has been like to work for the UK's leading cat welfare charity over the past year, we caught up with some employees (and their pets) from across our network.
Rob Hall, Area Branch Development Manager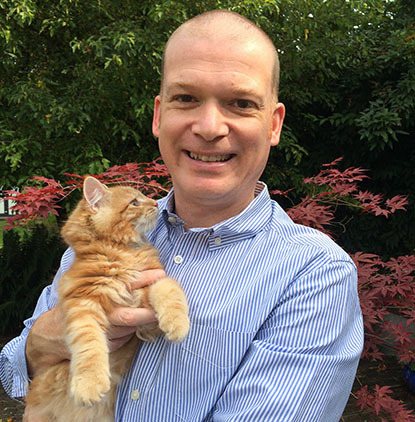 Rob with his cat Tovey
"I love working with volunteers who are so passionate about what they do, and who have chosen to be part of a sector-leading organisation that always put cats' needs at the forefront of its work.
"Having to adapt almost everything that we do has presented many challenges, but also plenty of opportunities. We've shown that we can successfully offer day-to-day support and training remotely, and our hands-free homing has been particularly successful (who would ever have thought that adopting a cat without first meeting it would work!?)
"It feels like we have upskilled our employees and volunteers to be able to make more use of technology – even if that has been of necessity rather than choice. Of course, face-to-face meetings are still sometimes the best approach and I do look forward to actually leaving the house and meeting volunteers again soon.
"If you're considering applying for a role at Cats Protection, go for it – it's a great place to work, with lots going on and where your ideas are welcomed. Cats Protection is striving to be better and it's been great this year to be instrumental in setting up the Pride network for LGBT+ employees and allies - the charity's first employee network.
"I have two Cats Protection cats at home – needless to say they have been largely disinterested in the fact that we're now at home all day, every day! Working for an animal welfare charity does mean that it's very much welcomed that pets will join in online meetings – we've become used to seeing cats, dogs and all manner of other animals. At this time, when we're not able to meet in person, it does help with breaking the ice and 'getting to know' the person on screen, and people outside of the charity love it when a cat wanders up to the camera!"
Beni Benstead, Volunteer Team Leader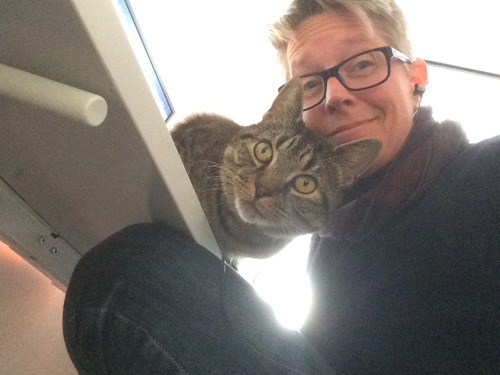 Beni with her cat Bill
"Cats are at the heart of everything we do and in my role working across two adoption centres and with cats in the community, I get plenty of cat contact! I'm not only surrounded by cats, but by people who love cats and are happy to talk about cats all day, every day! It's also a great place to be an employee or a volunteer because the exceptional care we give to cats extends to our humans too. We've launched a Pride network for LGBT+ employees and allies, with the intention that every colleague should feel supported and able to bring all of themselves to work.
"Good communication has been especially important this past year: to keep in touch, check in with the wider volunteer team, keep everyone up to date and do my best to help everybody to feel supported. I'm also on hand at the centre to muck in with cleaning litter trays or transporting cats – whatever the team needs.
"It's been a difficult time for all charities but at Cats Protection, I feel everyone has rallied extremely well. You'd think that lockdowns and social distancing would hinder relationships but in my experience the opposite is true! I love how the charity as a whole has used the situation as an opportunity to develop smarter ways of working, and I see a lot more flexibility within many people's roles as they adapt what they do and how they do it to support the wider team and the bigger picture. We've all become adaptable, resilient change masters! I've no doubt we'll emerge from this time much more connected, united and stronger than we went in.
"If you're passionate about cats and people, this is a fantastic place to work. There are generous benefits as well as plenty of training and career development opportunities. In my role with the adoption centre teams in the North West, we work exceptionally hard and pull together to do our best for each other as well as for the cats and kittens in our care. And we have a lot of fun while we do it!
"At home, I've got two cats, Bill and Ted, who came from our Warrington Adoption Centre. I'd only been in the role a fortnight before coming home with two cats; it's a hazard of the job they don't warn you about at interview! My boys have been brilliant company and have provided plenty of comical moments and welcome distractions. Bill is a particular favourite at team video meetings and often sits right in front of the camera or covers me with dribbly kisses when I'm trying to talk. Ted is a bit more shy but likes watching other cats on the computer!"
Matt Vincent, Legacy, Cat Guardians and In Memory Manager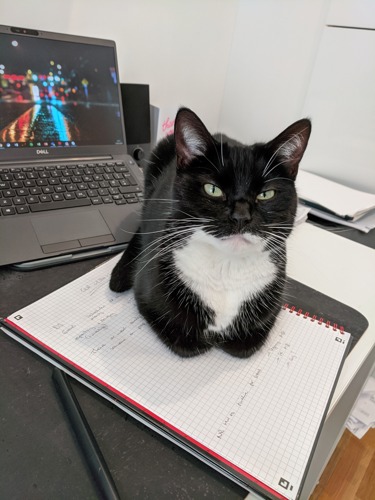 Matt's cat Zoe
"There are two things that always leap out to me when I'm asked why I love working for Cats Protection. The first is simply being part of a charity that is so incredibly passionate in its work and delivers such wide-ranging impact to improve the lives of the cats (and people) that our work helps. The second is the uplifting effect of the people I work with! Whether they be close team members, colleagues in other departments or our volunteers, everyone is genuinely lovely at Cats Protection – you certainly don't stay at an organisation for more than 10 years if you aren't surrounded by good people!
"As someone leading a team based out of the offices at our National Cat Centre, remote working has taken some getting used to. Given we were thrown into this situation at short notice, and the initial expectation was for this to be a short-term situation, I think everyone has rallied around brilliantly. There has been a real understanding that we're all dealing with similar challenges (both in and out of work), so while some aspects have naturally felt a bit artificial at times, we've all embraced the need to support each other in a huge array of different ways – everything from daft team socials over video call through to the provision of much needed wellbeing support.
"We are a brilliant organisation to work for, so if you have a skillset that would help us reach our ambitious goals to help even more cats in the future, then dive right in!
"It likely won't come as much of a surprise to hear that there is lovely black-and-white cat called Zoe that is a key member of the Vincent household. Adopted from Cats Protection, obviously, she's always a delightful part of the family, although us all being around more in the daytime seems to have turned her into a master mouser, so it's a good thing she's so charming the rest of the time to make up for it."
Jane Gould, Head of People: Partnerships & Wellbeing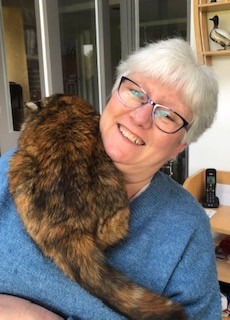 Jane and her cat Pickle
"The thing I love most about working at Cats Protection is the passion of our people to do as much for cats as we can no matter what role we perform.
"During the pandemic we have been very aware that the amount of time spent in online meetings can be draining, so we constantly encourage downtime and ensure people can take proper breaks for lunch, exercise outdoors, etc. Greater flexibility around working hours to be able to balance home and working lives has been important too, especially for all those parents trying to juggle home schooling with their role responsibilities. It's not always easy in an organisation where people's roles vary hugely. It's often a delicate balancing act for us between meeting the needs of cat welfare and people welfare.
"Wellbeing has been a big area of our work for the past year. It was important before, but how we respond as an organisation has really been pushed up the agenda. We've developed a lot of strategy in action, and that is still emerging as the pandemic goes on.
"Pickle, our nine-year-old foster tortie, provides constant affection and amusement at the moment. She's a calming influence amidst all the mayhem."
Ella Tyson, Contact Centre Advisor – joined Cats Protection in 2020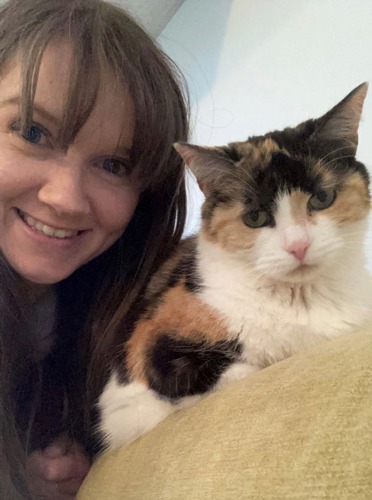 Ella and her cat Maisie
"I applied for the job because I adopted my cat from the National Cat Adoption Centre just over a year ago and was really inspired by seeing the great work that the employees and volunteers at the centre do to rehome all of the cats in their care. It made me want to be a part of it and do something to help so when I saw the Contact Centre Advisor role come up it was the ideal opportunity for me.
"I have received lots of support from Cats Protection despite not being able to actually go in to the office. I've had virtual inductions with many of the different departments at the charity, as well as support from other people in my team through Microsoft Teams chats. I received all of the equipment I needed before my start date and received lots of communication from the HR team before I started as well.
"Everyone is so friendly and helpful and genuinely wants to do everything that they can to help cats both inside and outside of our care. If you love cats and are passionate about helping cats to have loving and caring homes then Cats Protection is an enjoyable and supportive place to work.
"My cat Maisie is such good company, even though she is not the most affectionate cat! She is full of character and provides us with a continuous source of entertainment. It is also great having her in the house with me now that I'm working from home as I don't feel lonely knowing that she is here with me."
If you're looking for #YourPurrfectJob, take a look at the current roles available at Cats Protection on our website.