Kind donation from Support Adoption For Pets helps neuter feral cats.
A donation of £50,000 from Pets At Home charity Support Adoption For Pets is helping Cats Protection branches get more cats neutered.
Our Swansea & District Branch is just one of the branches that has welcomed the funding, as it will help with their valuable trap, neuter and return (TNR) work.
"Last summer three of our Swansea & District Branch volunteers had been trapping, neutering and returning a large number of cats from a colony in a rural part of Swansea," said Branch Coordinator Fran Christie.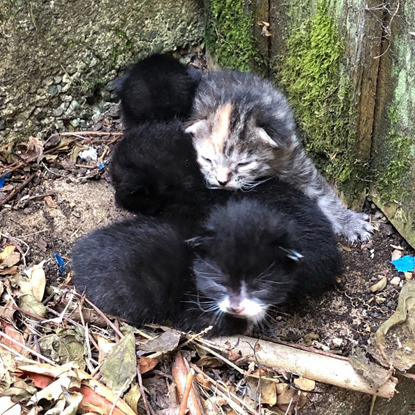 Some of the kittens trapped and neutered by Swansea Branch
"It's an idyllic spot and a wonderful place for any cat to live – especially in the summer. But this colony had become far too large to be sustainable and safe for the cats, and our intervention couldn't have come soon enough.
"We worked to manage the colony for a number of weeks and thankfully made inroads. The cats were beautiful – many were young and if left unneutered the colony would grow and grow exponentially. On the first day of trapping our volunteers were incredibly fortunate to trap three kittens who were young enough to socialise and prepare for loving homes.
"Feral kittens are so vulnerable to disease, predators, adverse weather conditions and lack of nourishment from their often very young mothers. This is challenging and vital work, and we will continue to support feral colonies for as long as there are funds to sustain us and volunteers to deliver the support needed.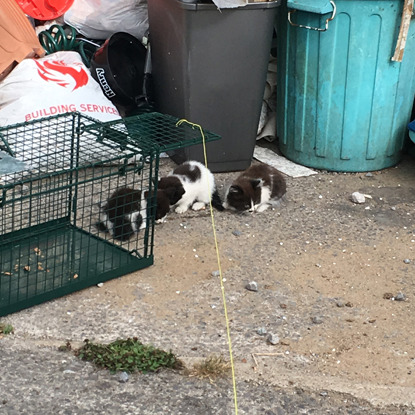 Swansea Branch trapping kittens from a feral colony
"These funds will massively help the Swansea Branch with our ongoing neutering and TNR program. As a branch we are passionate about neutering community cats together with new and existing feral colonies.
"It has been interesting times recently and we are now busy playing catch-up on known hot spots which will include the 50+ colony that we are dealing with in the middle of Gower. Thanks to the commitment and hard work of our volunteers we are starting to make progress with bringing the colony under control."
The generous donation from Support Adoption For Pets has been distributed to our most in-need branches to help with neutering costs over the next six months. This includes the resumption of TNR for feral and stray cat populations. We anticipate that £50,000 will enable our branches to neuter approximately 1,100 cats within their local areas.
Fundraising continues to be particularly challenging for our branches, so this generous donation will make a huge difference.
"A huge thank you to Support Adoption for Pets for these vital funds," said Aimee, Branch Coordinator at Milton Keynes Branch. "It will go a long way to helping the local people neuter their cats and stop unwanted pregnancies and abandoned litters which we have seen so much of recently."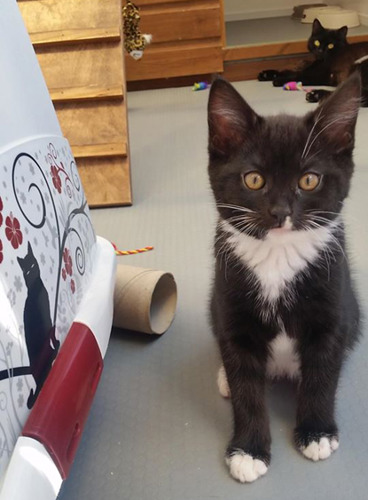 One of the kittens looked after by Milton Keynes Branch
"The timing of this gift is fantastic," said Andrée at Downpatrick Branch. "The difference this will make for the cats is magnificent. At such an important time, we are so grateful, thank you so much."
At Cats Protection we know that we would not be able to carry out the huge amount of our grassroots cat welfare work without our 11,500 volunteers. This wonderful donation for our volunteer branches will be a lifeline for them and reward our volunteers in the best possible way – by helping them to help many more cats.
"Cats Protection branches have benefited from incredibly generous funding from Support Adoption For Pets for many years now for which we are so grateful," said Director of Operations Mark Beazley.
"This support means a great deal to our volunteers and to all of us at Cats Protection – we have been able to help thousands of cats in need as a direct result. Funding this year, in light of the current situation, will enable us to help many more cats as our dedicated volunteers continue to do what they do best – working with communities and cat owners to improve cat welfare and most importantly, being there for cats."
To find out more about Cats Protection vital neutering work, visit https://www.cats.org.uk/what-we-do/neutering