Harrow Homing Centre is appealing for help to cover the costs of Monty's care after his painful ordeal
Ten-year old stray cat Monty arrived at our Harrow Homing Centre in April with a cat bite abscess on his leg. He was prescribed a course of antibiotics and pain relief, but although his leg looked as though it had healed, he continued to limp and his leg was swollen.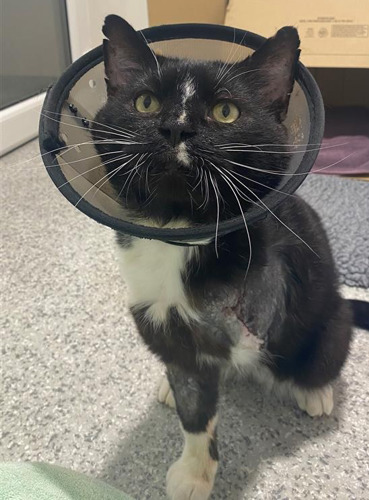 "Sadly, the medication wasn't working for him," said Centre Manager Lydia Sawyer. "Although Monty tried to be tough and hide his pain we could see how uncomfortable he was on that leg so we took some x-rays to see if there was anything else going on."
As Monty's cat bite abscess had been left untreated for so long before he came into the centre, the bone had become infected and was deteriorating away.
Lydia added: "After consultation with our vets, it was decided that the best treatment for Monty was to remove the infected leg and give him time to heal and recuperate. Monty also needed some dental work as several of his teeth were broken and painful.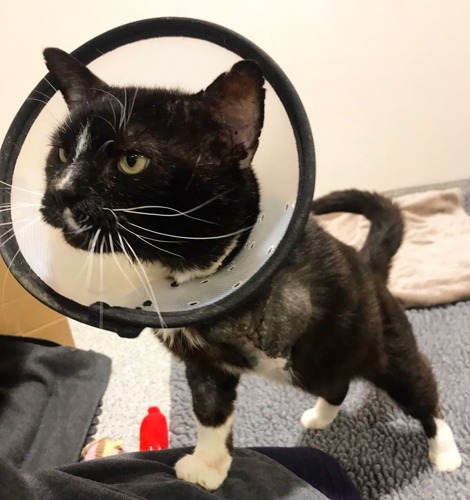 "We are delighted to say that following his operation Monty is healing really quickly and adapting to life on three legs. We are so pleased that once fully recovered Monty will no longer be in pain and will be able to live a happy and healthy life. We are extremely grateful to our amazing vets and cat care team for all their support and excellent professional care at this difficult time."
Monty has now found his purrfect forever home where he can get all the love he needs, but the centre is still appealing for help to cover the cost of his care while he was with them. 
"As you can imagine, a leg amputation, dental work, and the day-to-day care for a cat costs a significant amount for our charity," said Lydia. "In this instance, it has cost nearly £1,000 to treat and care for Monty.
"Cats Protection receives no government funding, therefore we rely solely on the donations of kind supporters to ensure cats like Monty get the best chance in life. We never put a healthy cat to sleep and Monty now has a happy life ahead of him. We would very much appreciate any donation you feel you can give to the Harrow Homing Centre for Monty's care. Every penny helps."
If you would like to donate to Harrow Homing Centre's appeal for funds towards Monty's care, you can visit their JustGiving page. Any money raised above and beyond that needed for Monty's care will be used to help other cats and kittens in the care of Harrow Homing Centre.
To find out more the work of our Harrow Homing Centre, visit https://www.cats.org.uk/harrow