Kingston University film students hope to raise funds with the story of Potter, a stray cat who kept them company in lockdown
Sophie Buckley and Freyja Crisp have produced Stray, a charming animated film about a cat who left his pawprints on the hearts of five Kingston University students, in the hope it will raise much-needed cash for the Cats Protection branch that helped him.
Potter, as the students named him, certainly landed on his paws when he turned up in their garden in summer 2020. As the country languished in lockdown and the students entered their final year at university, Potter's presence made quite an impact during a difficult year.
Sophie, aged 23, who previously adopted a kitten from her local Cats Protection branch in Truro, Cornwall, said: "I'd seen him around but assumed he was one of our neighbours' cats. There was nothing to suggest he was a stray. Then one day, I came down to find him outside our backdoor, with one paw placed tentatively over the door frame. It was so sweet, both daring and shy, and he melted our hearts.
"We noticed he didn't have a collar, wasn't neutered and was underweight, which led us to believe he was a stray, so we got some food, which he wolfed down, and he stayed for a couple of hours sat in the garden with us, which is largely how the rest of our summer went.
Freyja, 22, from East Sussex, added: "Being a cat lover but never able to own a cat, I was over the moon when I moved in to be greeted by a sweet cat who began to visit quite often. We looked forward to his visits and would check the back door to see whether he was waiting.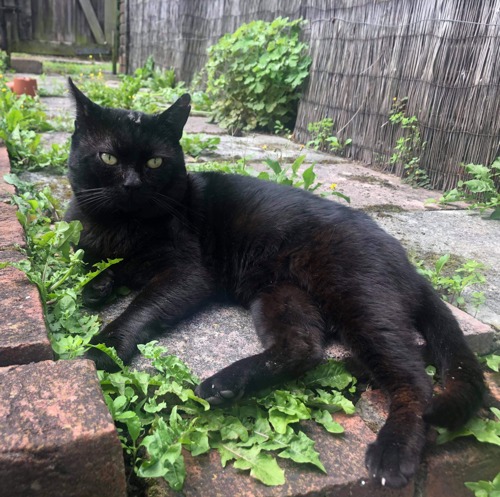 Potter, the star of the Stray animation 
"We fed him, but it's as if he enjoyed our company and chose to stay and hang out with us, too. He'd go to sleep on the chair, lie on the doormat and sometimes on the sofa. He had his quirks, which we loved, and after a while he even allowed us to stroke him.
"He made a huge impact on us and, before long, it felt as if he was my cat, my companion. We kept each other company. I had a very emotional connection to him and truly loved him as much as you would love your own pet. It's sweet as it started off as him coming to us because he was malnourished and starving, but then he decided that he liked us and stayed."
Sophie agreed: "He would turn up for food, sleep in our flower beds or at our feet and then slink away again. As time went by, he started to look healthier and made himself at home. He was a real tom cat in the area, an absolute Don, but he was a complete baby towards us."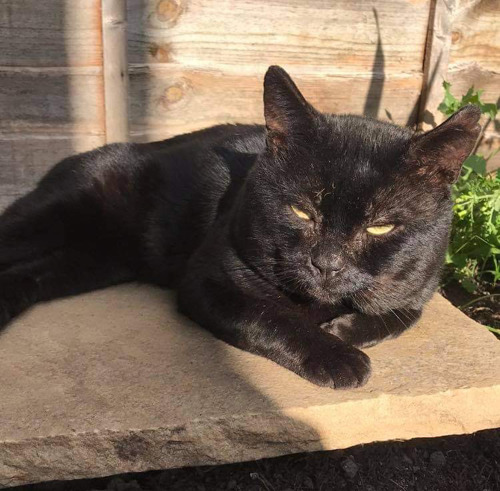 Potter relaxing in the students' garden
As time went by and they were able to observe him up close, the girls feared that Potter needed medical attention, so sought advice from their local Sutton, Kingston & District Branch. Shortly after, volunteers collected the cat, arranged and paid for essential veterinary treatment and have since rehomed him.
Freyja said: "We noticed he had problems with eating and what we thought made him quirky - his dribbling, noises, leaking eyes and nose - were possibly signs of infection. We decided he needed to be checked out so called Cats Protection. Within a week we had to say goodbye."
Sophie said: "It's sad having to part ways with a cat because you can't explain it to them. They can't possibly know how much you love them. But we knew that come the end of the academic year we were going to move out and we wanted to ensure he was safe and had a real home.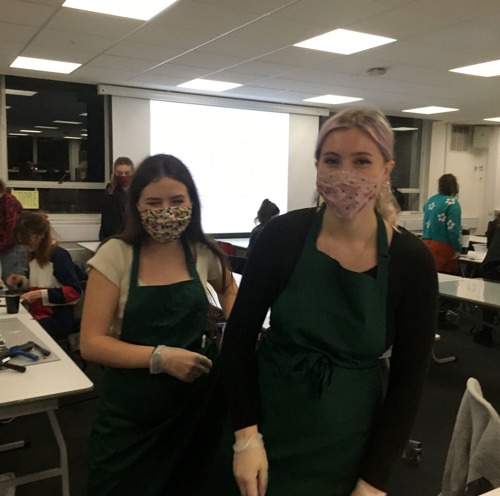 Freyja and Sophie at the Kingston School of Art
"My favourite memory is the first time he meowed at me. He had meowed in the garden after months of not making a sound and later he croaked out a meow at me, which was magical."
Cats Protection's lead animator Rasoul Hudda provided guidance and input on the final work, which features a soundtrack from singer songwriter Fenne Lily.
Catherine Cottrell, Cats Protection's Director of Income Generation, said: "We are always amazed by the creativity of our supporters and this wonderful animation from Freyja and Sophie is a fine example of how young people can make fundraising a part of what they do.
"We are excited and very grateful to be working with such talented students to tell their wonderful story of time spent with this gorgeous moggy. Cats have played an important role in the life of many people in lockdown and hopefully some of those will be moved to help our ongoing work for cats in need."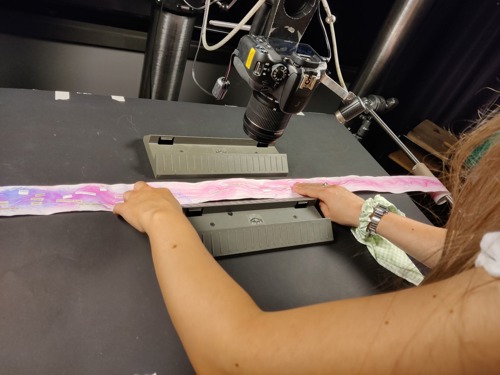 Sophie working on the animation
Simon Tofield, award-winning creator of the Simon's Cat animations has also praised the short film. He said: "I really liked the animation style. It brought out emotion and reminded me of my old cat, Hugh."
Sophie said: "It feels good to share an uplifting story that reminisces positively on a difficult year. This project gave us a good place to put the love that we could no longer give him directly.
"We hope the film will raise funds to help other stray cats and support the volunteers who got Potter medical care and found him a home. This is our legacy to a summer in lockdown."
Freyja added: "We were lucky to spend our final year at university with Potter. He made 2020 memorable for more reasons than the pandemic and we want to share his story with the world."
If you would like to donate to Freyja and Sophie's Stray fundraising appeal, visit their JustGiving page. 
To find out how you can support the vital work of Cats Protection, visit www.cats.org.uk/support-us