For Volunteers' Week, Newbury Adoption Centre celebrates helpful volunteer for going the extra mile
Volunteers' Week (1-7 June) is an annual celebration of volunteers across the UK. At Cats Protection we are incredibly thankful for our more than 10,000 volunteers, who are involved in so many aspects of our activity helping cats.
Of course, it's important to thank and recognise our volunteers every week of the year, but Volunteers' Week is a great opportunity to reflect on the sheer range of roles that volunteers carry out across the charity.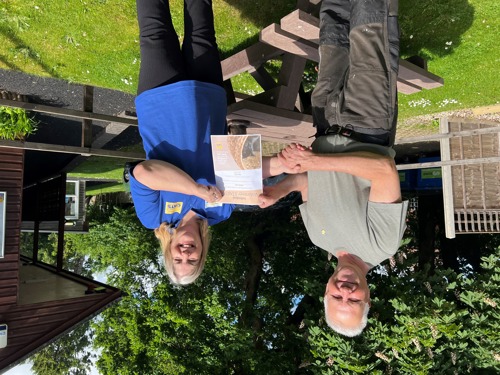 From fosterers giving up space to care for cats in their own homes, to the education speakers carrying out cat welfare talks to schools and community groups, to the branch committee members, the charity shop assistants, fundraisers and Paws to Listen volunteers; we are truly thankful for all that you do.
At Cats Protection we have a volunteer recognition scheme, where volunteer managers can put forward volunteers to thank them for going the extra mile. Recently, Cate, the Volunteer Team Leader of our Newbury Adoption Centre, nominated her volunteer Brian for an Exceptional Contribution award for all he does at the centre.
Brian is a DIY and 'green fingers' volunteer, who originally joined the team in 2019. From his first induction tour, he created a list and spreadsheet of odd jobs and tasks he could assist with, getting stuck in straight away! He has painted fences, tidied up planters and cleared the car parking bays, fixed doors and signs and painted the vet room.
"It's amazing how the little things being fixed brightened up the place up, inside and out!" said Cate.
Brian was presented with a certificate by Centre Manager Karen, and was delighted to be recognised for all his efforts. He joked that when it comes to the gardening, Karen sometimes still has to shout a warning if his weeding gets too close to the clematis!
"I am lucky to be able to come and volunteer!" said Brian. "Karen and Cate tell me what needs doing, and I get on and do it."
Brian's volunteer efforts in this 'behind the scenes' role have really contributed to making the centre look and feel a welcoming place for volunteers, employees, the public and of course cats! Thank you, Brian.
Find out how you can join our team of cat-loving volunteers.