Celebrity judges and the public had the tough job of choosing the winning cats from a selection of truly heart-warming tales
From raising the alarm when their owner has a seizure, to providing invaluable comfort during times of illness and grief, cats really are incredible companions.
To champion the special moggies in our lives, we've been hosting the Virtual National Cat Awards 2021 – an online version of our annual star-studded awards ceremony.
Over the past few weeks on our social media channels, we've shared amazing stories of cats who have transformed their owners' lives, and now we can reveal the winners!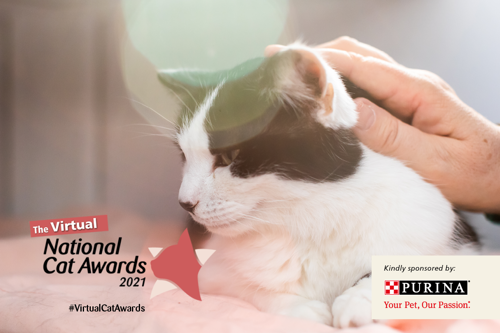 Three of the category winners were chosen by celebrity judges; actress Tuppence Middleton and comedians Bob Mortimer and Russell Kane, while our Purina Better Together category was voted for by members of the public via our website and revealed by Dragons' Den star Deborah Meaden. The awards were kindly sponsored by our friends at Purina.
The overall National Cat of the Year was chosen by our panel of celebrity judges including; The Chase's Jenny 'The Vixen' Ryan, BBC TV weather presenters Owain Wyn Evans and Elizabeth Rizzini, journalist Camilla Tominey, Grammy-nominated singer/songwriter Laura White and regular National Cat Awards judges, David and Frankie Seaman.
All of the Virtual National Cat Awards winners receive a trophy, a £100 pet store voucher, a year's subscription to The Cat magazine and three months' supply of Purina cat food!
And the winners are...
National Cat of The Year and Furrever Friends - tales of friendship between children and cats
Winner: Minty from Holywell, Wales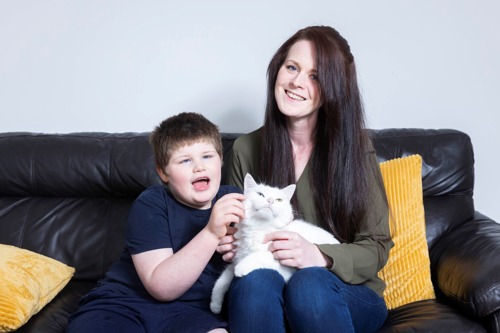 Six-year-old Connor Raven has severe learning difficulties and a range of medical conditions affecting his physical, mental and emotional development. Everyday life is made easier thanks to Minty, his nine-year-old cat who is always on hand when Connor is struggling. Minty calms Connor during emotional meltdowns, provides fun and companionship and even helped Connor learn to climb the stairs.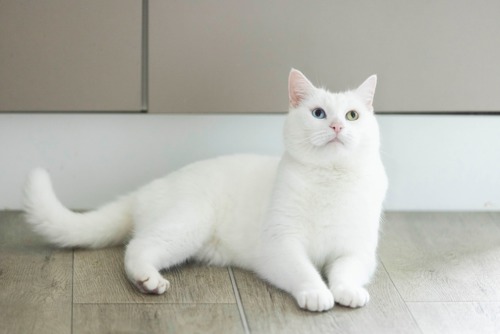 Judging the category was comedian Russell Kane, who said it had been almost impossible for him to choose a winner and he wanted to thank them all for sharing their families' personal stories. He added: "They were all amazing, but what clinched it for me was Minty's nature, the fact that he's a three-legged moggy (that's when I started sobbing), the way it shows that cats can be working animals… I truly believe cats aren't used enough in teaching companionship in therapeutic ways and so for me, because it drives forward the species argument that cats are wonderful creatures, not just for them being furry and being stroked, but for the emotional benefits and the teaching benefits and the assistance they can bring to people's lives…so congratulations, well done, Minty!"
Connor's mum, Siobhan, said: "Connor has grown up alongside Minty and they have become inseparable. Minty is always by Connor's side and seems to understand he is a little different. We would be lost without him and he deserves to be recognised for being such a special fur brother."
Elizabeth Rizzini, one of the National Cat of the Year judges, said: "I'm choosing Minty for his dedication to Connor, his best pal, and for not ever giving up on him. But it was a tough decision!"
Most Caring Cat - cats that have had a positive impact on an owner's health or wellbeing
Winner: Penelope Farthing from Shrewton, Wiltshire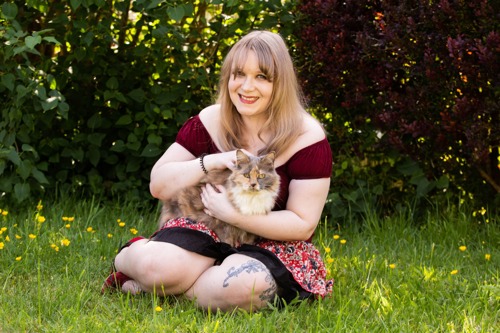 Everyday life is unpredictable and frightening for 28-year-old Zoe Elliott, who suffers from a range of medical issues. The conditions mean Zoe is prone to breaking or dislocating bones and suffers terrifying seizures. Thankfully, help is at hand in the form of Penelope, who senses when Zoe is about to have a seizure and raises the alarm.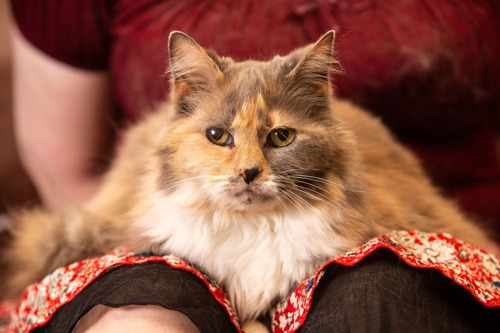 Actress Tuppence Middleton, who judged the category, explained her choice of winner: "I was really, really touched by Zoe's story and moved by how much Penelope helps Zoe every day of her life. I really understand what amazing company and comfort cats can be when you're feeling low or stressed or sad. And I feel that she is a very deserving winner for this category because it's seems like it would be a very hard thing for Zoe to cope without Penelope and I was really moved by what a great team they are."
Outstanding Rescue Cat - felines adopted from animal welfare organisations
Winner: Mikey from Southend-on-Sea, Essex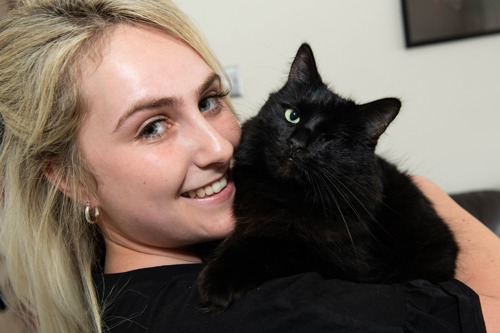 After her baby boy was stillborn in July 2017, 27-year-old Jessica Barnard shut herself away and became overcome with grief. But after taking in one-eyed stray Mikey, the darkness began to lift. As Jessica nursed Mikey back to strength, he helped ease the pain of grief. Four years later, Jessica and partner Connor have now welcomed a new addition – their son Jenson.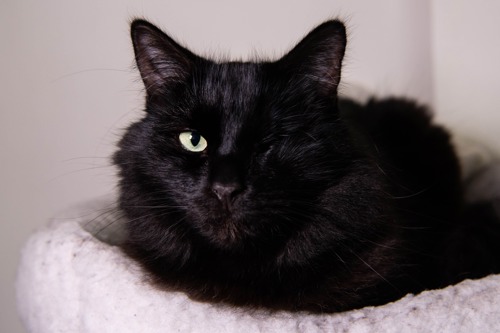 Jessica said: "My cat is my life-changing charm. We found each other at the perfect time of our lives. He brings nothing but pure love, our bond is so strong and he knows when I'm feeling down as he will follow me all the time showing his love. Mikey really is the best cat in the world to me."
Category judge Bob Mortimer said: "Well done, Mikey and Jessica! I chose Mikey because both Mikey and Jessica helped each other in equal measure."
Purina Better Together - the special bond that has transformed and enriched the lives of both a feline and human
Winner: Boris from Blackheath, London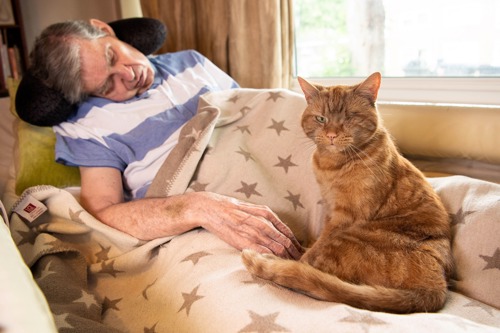 When 80-year-old Alex Tullis suffered a catastrophic stroke in 2015, it was the thought of being reunited with Boris which kept him going during three months of hospital treatment. So, when Boris was hit by a car, Alex was determined he should get everything he needed to recover. With Alex now confined to bed, Boris is a constant source of comfort and companionship.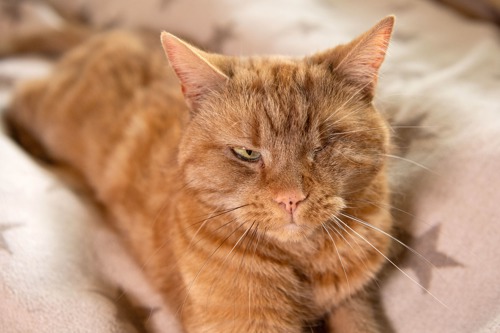 Alex's daughter, Caroline said: "Boris is my dad's best friend and companion and he gives us both an abundance of affection and laughs. Dad's face lights up when he knows that he is on his bed. Without a doubt they are both survivors who have a special bond that keeps each other going."
Alex and Boris were chosen at the winners by a public vote, and cat lovers on social media commented:
"Never give up! Boris and Alex have shown us all that love conquers all."
"I can confirm this made my eyes leak."
"This just melted my heart and brought tears to my eyes."
To find out more about the Virtual National Cat Awards 2021, visit www.cats.org.uk/nca