Here are the different ways you can foster cats and kittens in your home, garden, and even if you have other pets
The waiting list of cats needing to come into Cats Protection's care is longer than it's ever been, as the cost-of-living crisis is causing more owners to give up their cats, and fewer people to consider adopting them.
We can only take in cats if we have a space for them in our branches and centres, and unfortunately that space is limited.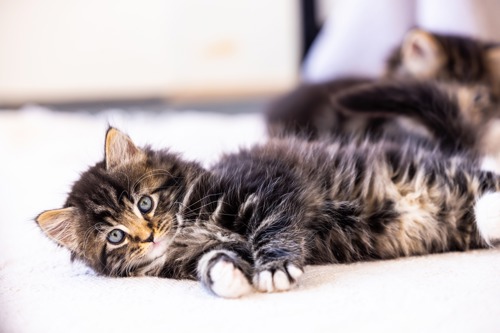 That is why we're calling for more people to volunteer as cat fosterers, so we can give more cats a place that feels like home, until we are able to find them a forever home.
Fostering for Cats Protection is flexible, fun and incredibly rewarding, as you'll be giving cats the safety and care they desperately need. Plus, we cover all the costs, so all you need to give is your time and lots of chin rubs!
There are many different ways you can help us to care for cats, so you can find the option that best suits you.
What are the different types of cat fostering?
Most of Cats Protection's volunteer cat fosterers are linked to their local branch or centre, and care for cats in their own home or garden until the cat finds a new forever home. They provide the cat with all the food, play and attention they need (all paid for by Cats Protection) in a clean and safe environment, and help match them with a new owner as soon as the cat is ready.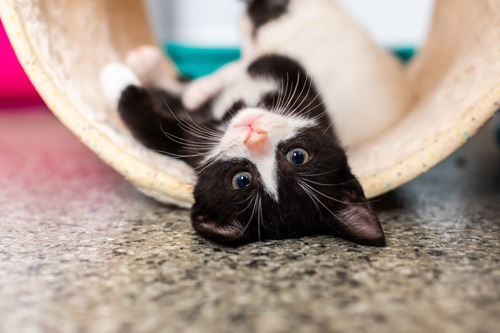 Most fosterers care for adult cats, but those who have lots of time to give may foster pregnant cats and kittens too. These cats need more attention than most, especially orphaned kittens who require hand-rearing, so fosterers may need to be available day and night to keep them happy and healthy. All that adorable playtime makes it worth it though!
Another option is to become a fosterer for our Paws Protect service, which supports people fleeing domestic abuse. Paws Protect fosterers care for the cats of survivors while they leave an abusive situation, providing updates on how their feline friend is doing so that they know they are being well cared for. The service is completely confidential for everyone's safety, with all communication and cat transfers happening via the central Paws Protect team. Then once the owner has found a safe new place to live, their cat is returned to them so they can live happily together.
What space do I need to foster?
Outdoor pen
If you have a garden, you might be able to have one or more outdoor cat pens installed to house your foster cats. We'll pay for the pen and the costs of having it installed, plus the cost of heating it and kitting it out with all the essentials so that your foster cats are warm and cosy all year round.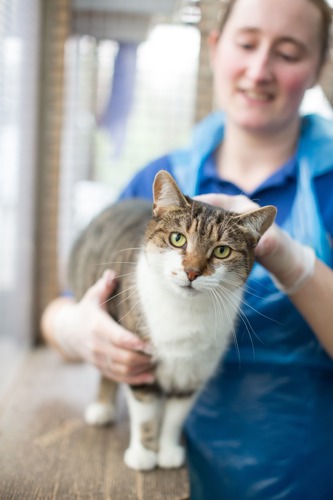 Indoor foster room
If you have a spare room in your house, then it could become the purrfect foster space for cats in need. To prevent the spread of diseases and to keep everyone stress-free, foster cats must be kept separate from any other pets in your home, so giving them their own secure, quiet room is required.
Whole-house fostering
If you don't have any pets of your own, and if you live in London, Hertfordshire, Bedfordshire, Berkshire, Buckinghamshire, Essex, Kent, Sussex, Surrey or Yorkshire, you could foster for Paws Protect. This is our service that provides foster care for the cats of people fleeing domestic abuse, until they are able to be safely reunited. Paws Protect cats require access to your whole house to help them feel at home, so to avoid stress and diseases spreading it must be a pet-free house.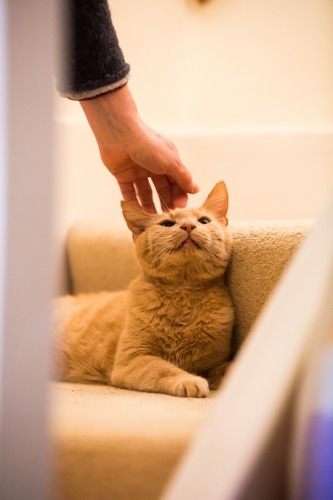 Cat care in our centres
If you're unable to look after a foster cat in your own home, you could volunteer to help care for the cats in your local adoption centre. Our teams are often in need of extra pairs of hands to help with cleaning, feeding and of course giving plenty of fusses to the cats. No matter how much time you have to give, there might be an opportunity available for you.
Find out more about fostering for Cats Protection.