Crafting expert Steffi Stern from The Makerss reveals how to turn wool into a felt feline friend!
With more time spent indoors during lockdown, we've got the perfect activity to keep you occupied while giving you the chance to help cats in need.
Learn how to make these cute needle felted cats
Join us for Craft for Cats, our first-ever virtual craftalong, and you can learn how to make your own needle felted cat from the comfort of your own home.
After signing up, you'll received a materials kit with everything you need to make two mini cats which you can even purrsonalise to look like your own cat!
This easy project is ideal for beginners and during the craftalong you'll be led by felting enthusiast, Steffi Stern who is co-founder of craft supply business, The Makerss.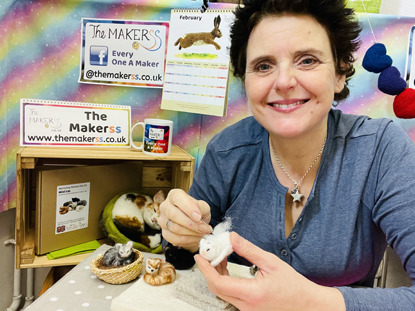 Steffi Stern is an experienced needle felter 
Steffi has written two books on needle felting with a third due to be published later in 2021.
She loves animals and currently has dogs, a tortoise, ferrets and chickens, but her two cats Georgie and Dolly hold a special place in her heart.
"I first tried the magical craft of needle felting over 15 years ago, making little decorations for my then-small children," she explained.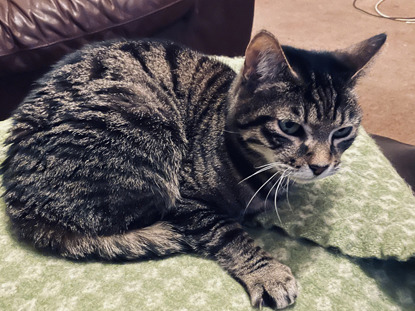 Steffi's cat Dolly
"I still remember my incredulity at how a small, innocent-looking felting needle could transform fluffy, shapeless wool into a cute animal!
"The mini cat project involves wrapping wool batts around a pipe cleaner, then 'felting' them down with the needle. The wool becomes less fluffy as the fibres are tangled tightly together until the texture is firm and the size has become smaller.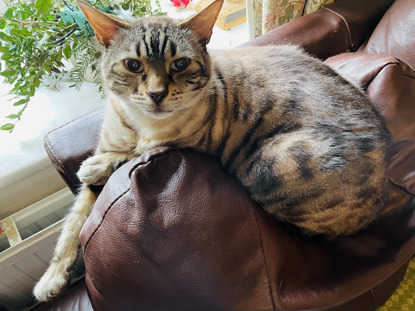 Steffi's cat Georgie
"Using a felting needle allows you to fully control the shrinking, dry felting process and you can add wool for bulk or to add features to make your creation completely unique. It truly is magical and can be quite addictive, but therapeutic too."
The Craft for Cats craftalong will take place on Facebook at 10am on Saturday 27 February and you can sign up now at: www.cats.org.uk/craftforcats
It costs £20 to take part which includes £10 to support our work to help cats and kittens in need.
So stay in, get cosy with a cuppa and enjoy making a lovely craft with cat-lovers across the country!