Kitten watch: Getting the kittens ready for adoption.
Follow the progress of Daisy and her kittens with our kitten watch series.
Daisy's kittens at Cats Protection's Bridgend Adoption Centre are starting to get used to new sights, sounds and smells in preparation for their new homes.
Preparing kittens for the sort of experiences they will encounter in their forever homes is vital for ensuring they grow up to be happy pets. The ideal period to carry out kitten socialisation is when they are between two to eight weeks old. At this young age their brain and sensory system is still developing and the experiences they encounter influence how their behaviours develop.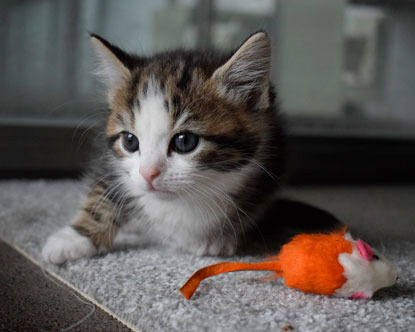 The kittens have been getting used to walking on different flooring
The team at the Bridgend centre have been following a socialisation chart, which includes everything from handling the kittens to introducing them to new toys. They have started to let the kittens explore their outdoor pen, which is helping them get used to feeling new textures under their paws. The cool concrete floor was a bit of a shock compared to their underfloor-heated indoor pen but they now happily scamper across it. They've also been walking on carpet samples and jumping into cardboard boxes as they chase their toys around.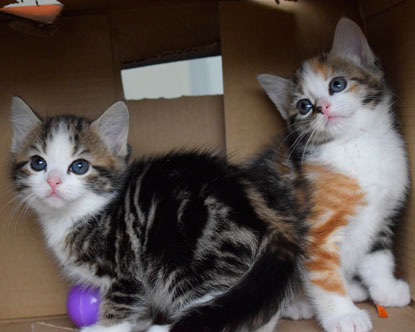 The kittens love playing in cardboard boxes
To make sure the kittens will be comfortable being handled by their future owners, and to help make future vet check-ups less stressful, the Bridgend team have been spending one-on-one time with each kitten, gently stroking them and touching their ears, paws and tail. They've also been playing a CD of household noises in the centre, to get the kittens used to the sound of vacuum cleaners, televisions and the hustle and bustle of family homes.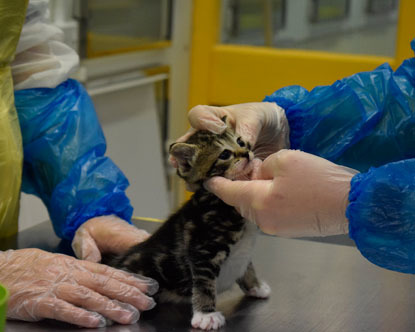 Handling the kittens prepares them for future vet visits
Another important task was training the kittens to use a cat flap, which they now happily use to get in and out of their outdoor pen whenever they please. Their new-found freedom means they are now only spending time with mum Daisy overnight, giving her a well-earned break during the day.
Over the next few weeks, we will keep you updated on Daisy's and her kittens' progress, but if you would like to help towards the cost of her care at the Bridgend Adoption Centre then you can sign up to become a Cats Protection sponsor. Daisy is one of our many sponsor cats, so from as little as 19p a day you can help us provide her with the shelter, food, medical care and love she needs and receive regular updates about her and the other cats you are helping in return.
Alternatively, if you would like to make a one-off contribution to Daisy's care, you can donate via Bridgend Adoption Centre's Just Giving page.
Although the arrival of kittens is exciting, giving birth can be incredibly stressful for a cat and the kittens would need to find new homes, so we recommend getting them neutered from four months old. There are already thousands of cats waiting to find loving homes across the UK, so neutering is the most effective way to reduce the number of unwanted cats coming into our care. Find out more about the importance of cat neutering.