Five tiny kittens rescued after being dumped in a bin.
Five helpless kittens were thrown into a bin and discarded like rubbish before being found by passers-by.
The one tortoiseshell and four black-and-white kittens, who are believed to be around two to three weeks old, were found inside a locked bin in Castle Bromwich, Solihull by quick-thinking mum Louise as she walked by with a friend and their families.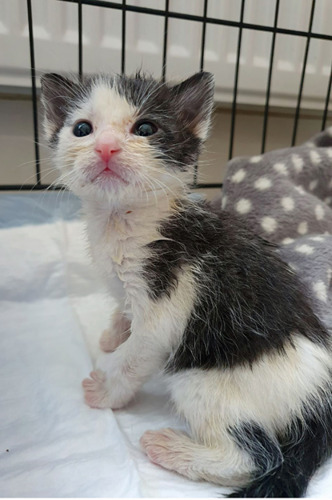 Louise says: "Whoever dumped these poor kittens in the bin at Parkfield should be ashamed. They were so tiny they weren't even ready to leave their mom. It's got to be someone close, it's not like they even put them in a box, they just put them in the bin one by one. Disgusting people out there. Vile."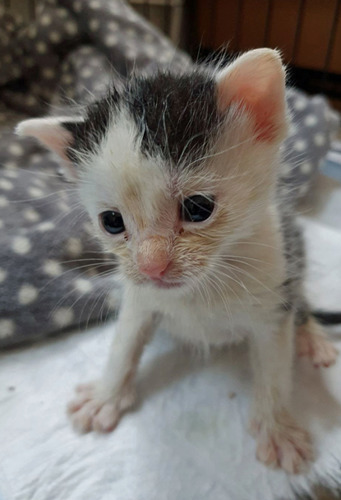 After fishing the kittens out of the bin where they had been crawling on dirty bottles and food waste, the group took the kittens to 608 Vet Practice in Solihull where they were checked over. The practice then contacted Cats Protection's South Birmingham Branch, who arranged for them to be taken into the care of the charity's Birmingham Adoption Centre in Hollywood.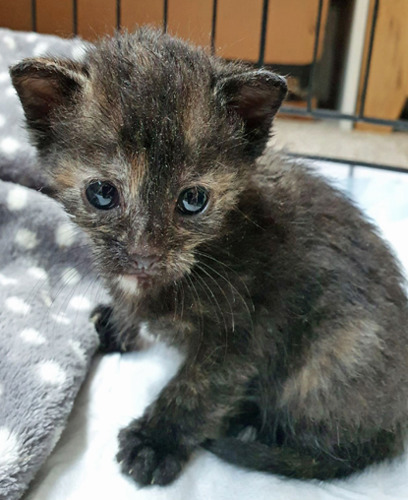 Louise added: "I'm just glad that we got the kittens out in time. It was a real group effort, it was my son, pal Sophie, her son and her niece. The kids were really brave, they were able to reach the kittens after we ripped the bag and pulled them to the top of the bin, then played with them while Sophie went home to get a box.
"It was cruel that someone had done that. They were meowing all the time, it was so sad, they only calmed down in the car when my kids were holding and cuddling them. I'm glad they are being looked after. I would have loved to keep one but I didn't want to separate them at such a young age, especially after they had been through so much already. It's nice to see the photos of them looking so much better."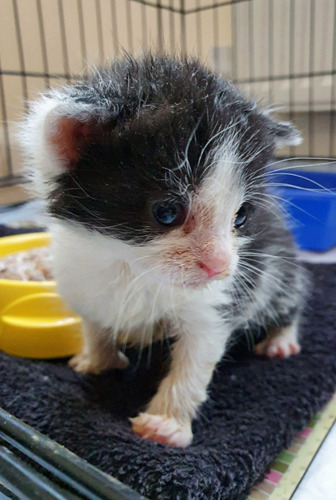 The kittens, three boys and two girls, have been named Spike, Giles, Xander, Faith and Willow after characters from TV show Buffy the Vampire Slayer, as the centre thought they could use a little slayer-inspired strength after their ordeal. They are receiving round-the-clock care from one of the centre's volunteer fosterers, who is also a registered veterinary nurse, providing them with bottle feeds to top-up their first tastes of solid food.
Deputy Centre Manager Paula Beswick says: "Seeing the video of the tiny, vulnerable kittens struggling on top of rubbish at the bottom of the bin is heart-breaking. They are so lucky that Louise, Sophie and the children not only heard them but had the patience and kindness to get them out and take them to the vet. They were still terrified when they came to us, screaming and covered in dust and dirt.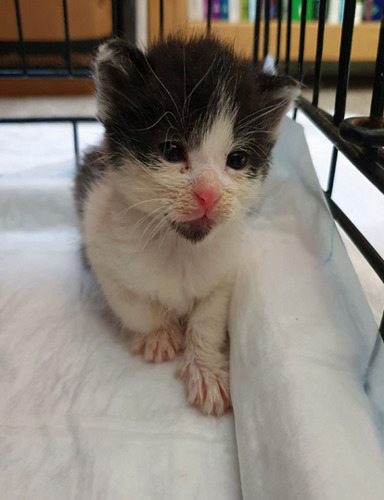 "We know having an unexpected litter of kittens is a shock and can be difficult but we would urge anyone in a similar situation to bring the kittens to us. We won't judge, we will just ensure the kittens are given the best care before finding them loving homes.
"We'd also like to hear from whoever dumped the kittens, anonymously if they wish, as we can support them to ensure the mother cat is neutered so that the same situation doesn't happen again. Luckily the five bundles of fur are now safe and well but the situation could have been very different."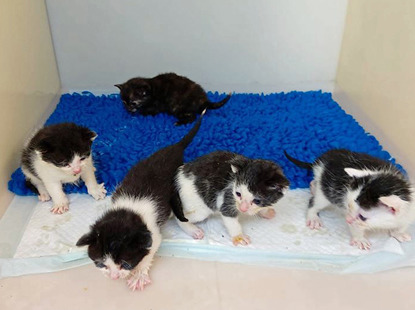 The kittens will be available for homing once they are at least nine weeks old. Anyone wishing to give the kittens a home should visit www.cats.org.uk/birmingham where details of the kittens' availability will be posted first.
Due to the current COVID-19 pandemic, some vet practices will not be neutering cats or kittens. With kitten season on the horizon, this could result in an estimated 84,000 kittens being born. To avoid unwanted pregnancies, and putting extra stress on over-stretched vets, find out how you can help prevent a kitten crisis at www.cats.org.uk/neutering-your-cat