Brave cat is finally back at home with her owner after going missing and sustaining a dreadful injury.
Tabby-and-white cat Kitty is now safely back home with her relieved owner after suffering a nasty injury to her tail.
It is thought she had been attacked, possibly by a fox, and was found cowering beneath bushes in Leigh in October 2017 by a member of the public, who called Cats Protection's Southend & District Branch for help.
Volunteer Jan Davies arranged for the cat to be taken to the local Vets4Pets, where she was given emergency treatment straight away. Her tail had been badly bitten and had become infected, one of her teeth had broken off and become wedged in the roof of her mouth and she was incredibly thin.
The vets weren't sure whether she would survive her operation, but the brave cat pulled though and after a few days was handed over to Cats Protection fosterer Rafe King. Rafe said: "The vets asked me to take her home as she needed lots of TLC. So I came home with a cat – I'd only called into the surgery to drop off the new issues of the branch newsletter!"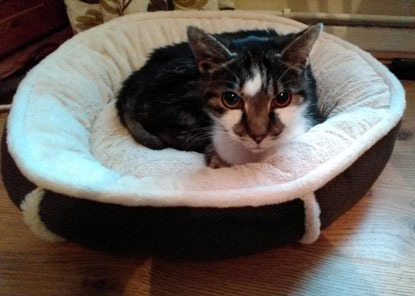 Rafe named the cat Kate, after the singer Kate Bush, because she had been found under a bush, and provided her with everything she needed while she recovered. However, a few days later he noticed that her tail was not getting better and so Kate had to go back to the vets to get half of it removed.
The operation was a success and Kate did not miss her tail, but she wasn't pleased to have to wear a collar to stop her licking the wound. Rafe added: "She looked at me to say 'And how do you think I am going to eat my food now?' Well, she was not going to be beaten. She scooped up her biscuits into her collar and then lifted her head right backwards to get the biscuits to roll down into her mouth. Who said cats are not clever?"
Throughout Kate's ordeal, volunteer Jan Davies had been trying to trace her owner, but as she had no microchip and there were no matches for her on the branch's Lost & Found register, she hadn't had any luck.
She put Kate's photo on the branch's website and within a week received a call from Barbara Peach, who thought the cat might be hers. She revealed that her cat Kitty had gone missing from her a garden a few weeks previously but after searching day and night for her she had started to lose hope.
Barbara went to visit the cat in foster care and immediately burst into tears. She said: "That's my Kitty. I can't believe she's still alive after all this time. It's not knowing that makes things worse."
As soon as Kitty's tail had healed she went home with Barbara and has since been microchipped. Barbara was so grateful to Cats Protection for helping Kitty that she presented the Southend & District Branch with a generous cheque to help them care for other cats in the area and has now become a member of the charity.