Why microchips give you the best chance of finding your lost cat.
In a recent survey over a quarter of owners reported that their cat had gone missing at some point, yet nearly 40% rely only on a collar for identification.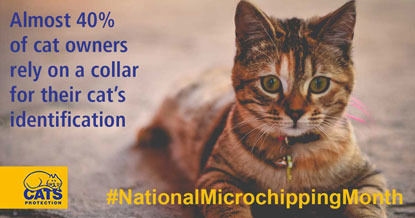 The preferred method of identification is an implanted microchip as this is permanent and safe.
Microchips don't come off, or put cats at risk of collar-related injuries. Each microchip has a unique 15-digit number linked to a database holding your contact details, allowing you to be quickly traced if your cat strays and is scanned for a microchip. A microchip is slightly smaller than a grain of rice and is inserted under the cat's skin between the shoulder blades. The procedure is very simple and is no more painful than an injection and the cat will not be aware of the microchip's presence once inserted.
If an owner also chooses to fit a collar with their contact details attached, we advise the use of a 'quick release' or snap opening collar in preference to an elasticated one. This means that your cat is less likely to be trapped should the collar become caught or tangled. The collar must be fitted correctly (two fingers should fit snugly underneath it when the cat is wearing it). A cat's leg or jaw may become caught in an elasticated or ill-fitting collar and this can result in serious injury.
However as a collar can come off, it's really important that your cat is microchipped. We microchip thousands of cats a year to increase the chances of missing cats being safely reunited with their owners and we're calling for new compulsory microchipping laws for cats as well as dogs.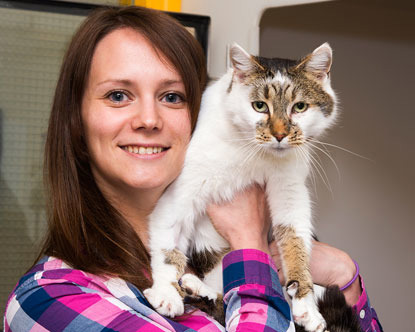 Chloe was missing for six years before being reunited with her owner, thanks to her microchip
We've countless stories of cats that have been reunited with their relived owners thanks to their microchips. Take tabby-and-white cat Chloe, who had been missing for six years. She was handed in to staff at our Bridgend Adoption Centre Adoption Centre who scanned her for a microchip and contacted her owner.
Or Tigger who had been missing for 17 months when he was finally reunited with his overjoyed owner.
Find out more about microchipping here.