We gave disabled cat Lucy the special home she deserves.
This post has been written by guest blogger Katherine Forrest
Both my partner and I grew up with cats and knew we would love to get a cat together. For a long time we lived in a small flat on a second floor and for us, it wasn't right to take on a cat. However, missing a garden and wanting somewhere bigger we soon found ourselves packing our belongings into endless boxes and moving to a flat with some more room and a garden. When viewing places to move to we jokingly talked about how suitable it would be for a cat: "It's very near a busy road, I'm not so sure" or "It's a very small balcony, it won't be enough space for the cat". Estate agents gave us strange looks when they asked about our cat only to be told that we haven't got one yet but were dismissing properties out of hand based on an imaginary pet…!
No sooner were the kettle and cups unpacked, we found ourselves on the CP website – a bit like the cat equivalent of 'Rightmove'; we were able to enter any special requirements and narrow a search to our local area. We had already visited our local centre on Junction Road in Archway to register and to find out if adoption was for us and found the help and advice extremely useful. Back to the app and I had spotted something that had caught my eye: "Look at this little one" I said – showing the profile of a girl cat Lucy, to my partner. Key for us was that she was ok with children – with four nieces who visit fairly regularly, we wanted our potential new four-legged family member to be ok about visiting children. Ah. Yes. More on the four-legged bit in a moment…
Lucy looked beautiful – there was something about her pictures and a lovely write-up for what seemed a smashing little lady cat in need of a home. Only one thing, and it was something we of course needed to know about before committing to adopt. Lucy was on a special diet. And has three legs.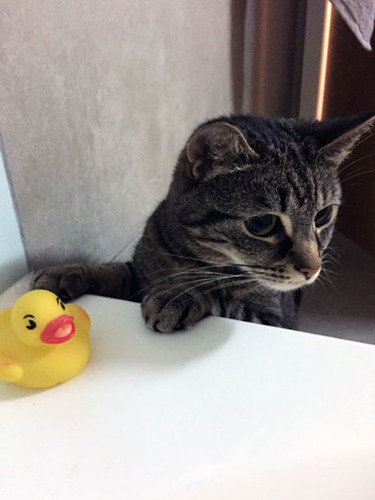 We couldn't stop thinking about Lucy. We contacted our local branch who took our details and told us a bit more about Lucy and how she came to be in the care of CP. They seemed to like us (thankfully!) and put us in touch with Lucy's foster mum Janet who was giving Lucy extra special care in her home. It turned out that Lucy had only lost her leg in January (by now it was May) and Janet was helping her get used to her new disability and adjust to her new life.
After speaking to Janet on the phone and telling her a bit about us, we arranged to visit. We were nervous about meeting Lucy – would she like us? Would she want to come and live with us and would we all get along? It took us less than half of a second to instantly fall in love with the little bundle of fur that sleepily looked up as we went in her room to meet her. A yawn and a stretch and then she sussed us out with a sniff and a head bump before having a scratch on her post and a look out of the window. We were smitten. Janet told us all about the practicalities of an amputee cat and cystitis which Lucy also had at the time, but which has since been resolved. We were experienced cat owners and felt it was something we would could take on and provide the necessary extra care that it might entail. Janet had been giving Lucy lots of care, attention and support as she recovered from a really tough time. Janet had clearly done an amazing job because Lucy was remarkable given all that she had been through. Janet gave us lots of tips and advice so we could carry on this good work. We couldn't be more grateful for her expertise and help.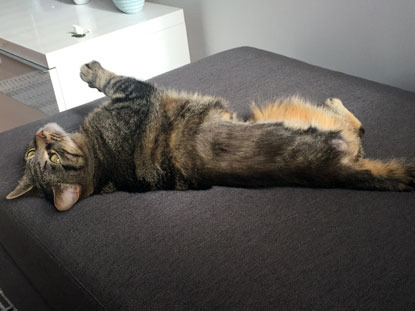 A few weeks later, we got to take Lucy home. We made a few adjustments in the flat so that she had everything she needed in the spare room. We had plenty of spare boxes after the move and made lots of hiding places for her. Turns out Lucy is a very curious little lady and quickly gave herself a full tour of her new home before she plonked herself down in a sunny spot on the sofa for a fuss.
We've had Lucy for about six weeks now – although it feels much longer – and in a good way. In such a short time she has brought so much joy into our lives. We miss her when we are at work and race to get home to see her. We hope we make her as happy as she makes us and would urge anyone thinking about adopting a cat to get in touch with Cats Protection to find out more. And don't be put off by cats that might have special needs like Lucy – they are often all the more lovely for it.
We couldn't be happier (or more in love!) with our lovely little Lucy.
This post has been written by a guest blogger. The views expressed in this post do not necessarily reflect the views of Cats Protection.