Cat-loving Facebook community has 1 million fans.
Former rock tour model Sasha Jordan has exchanged her leathers for seven cats and a hugely popular Facebook page.
Sasha, who used to tour with rock acts such as Ozzy Osbourne and Pantera retired in 2010 to settle down in Putney with her fiancé, Steven and a growing number of cats.
'The Magnificent 7 Cats' (later Mag7 Cats) Facebook page first came about in late 2012 after Sasha posted a few photos of her new Persian kitten, Tomerine, on her Facebook page. Tom, with his teddy-bear looks, googly eyes and cheese obsession was an instant hit so Sasha set-up his own Facebook fan page. Sasha's other six cats followed and Mag7 Cats was born.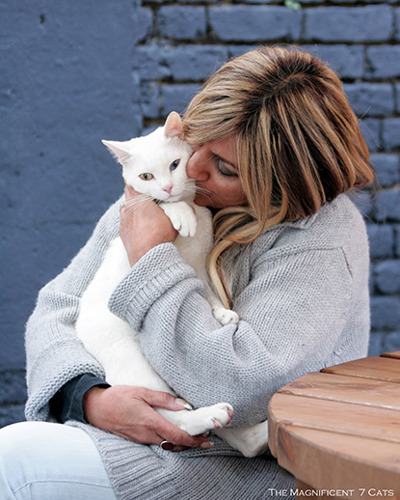 Sasha with gorgeous Junior. Photo by Sasha Jordan/Steven Croston
The page, which is known for its high-quality photography of gorgeous cats and the global community that's grown-up around them is now celebrating having gained its millionth follower.
"Cute cats are really popular," says Sasha. "Undoubtedly having pretty cats pop-up on social media feeds gives cat-fans a kind-of instant gratification. And having seven cats, all with different looks is great; it's a bit like a teenage boy band or group of superheroes: each has their own personality (or super-powers!) and you pick your favourite.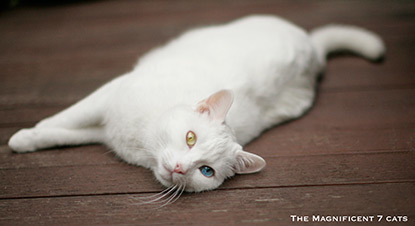 Sasha and Steven's cat Junior. Photo by Sasha Jordan/Steven Croston 
"But I think the success of Mag7 goes beyond cute pictures. The Mag7 community is very active. I post at least a couple of pictures every day and I read all comments. I think captioning pictures cleverly is very important and it's through captions and subsequent chat in the comments threads that we've been able to develop a distinct personality for each cat. The wondrous thing is that our fans get to know and understand this. They'll write to each cat with advice, witty comments or ticking them off for their behaviour. Some even 'pimp-out' their own cats as suitors!
"The Mag7 Cats page is a safe, very loving fantasy world where cats are in charge. Escapism it may be, but there's no harm in that."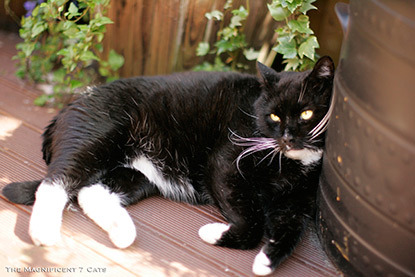 Mag7 Cat Rocky. Photo by Sasha Jordan/Steven Croston
The page has really been a force for good across the world, uniting cat lovers all over the world.
Sasha explains: "When cats or their people are in need it's quite usual for friends around the world to rally together in support to offer advice and share their experience."
"Late in December 2013, I saw an online advert for the sale of a two-year-old Turkish van with bi-colour eyes," Sasha recalls. "His owner no longer wished to keep him and intended to have him put to sleep if a home couldn't be found.
"I messaged one of our long-term friends in Ohio, USA. She'd always loved Turkish vans and went to the rescue. She faced a drive of several hundred miles, and then a visit to the vet for neutering, tests for FIV/FELV and full vaccination.
We set up an online appeal and very quickly raised the $400 required to get Beau his forever home. He's still there, happy and healthy and even has his own Facebook page!"