The filming of our neutering campaign video 'Tennis cats'.
Lee Bishop, Website Manager at the National Cat Centre gets creative…
Hopefully, most of you will have had the chance to check out the new Cats Protection viral video Tennis cats on YouTube – if not, why not? Click here to see it now!
But how did it come about and what on earth were we thinking?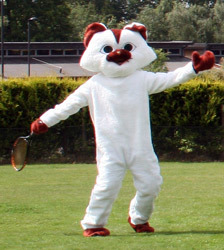 Working at Cats Protection means you need to at least try to turn your hand to anything. With this mantra, I decided to have a go at drawing the storyboard calling on long ago forgotten Art GCSE skills. This acted as an essential guide to which props we'd have to source and the location that we would shoot at. With a budget of around zero pounds, we begged tennis rackets from colleagues and the tennis courts of a local kindly posh hotel. The great British summer had other ideas…
On the morning of the shoot it was monsoon-like and, after an hour of crossed fingers and sheltering in cars, we accepted defeat. Unfortunately the hotel tennis court was booked up for the next few weeks so with Wimbledon looming, we had to lower our expectations, buy a cheap tennis net and pick a sunny day at the National Cat Centre to film in one of the adjoining fields.
You'll notice that we dubbed most of the sound effects over the top. This is for two reasons – firstly, while the day was sunny, it was also rather breezy which obviously upset the microphone. Secondly, watching your normally soberly dressed colleagues dive about in full cat costumes is unremittingly funny and my uncontrolled laughter would have been clearly audible!
With the filming 'in the can' – or rather on the tape as was the case –  it was over to our budding Sofia Coppola, Amy to cut all the footage together into something presentable which, considering my rudimentary directing skills, was no mean feat!
Once the final cut was down, we set about recording the cats' grunts and of course, Cat Pash's inspired – and occasionally rambling – commentary. This really pulled the whole thing together and helped turn a rather unfathomable video into a…erm… slightly less unfathomable one.
With the vid released just in time for Murray's big match we were pleased with the result, but one question remained: which sport for the next one?