Cats Protection's Cat Guardians service finds new homes for cats whose owners have sadly died, no matter how old they are
There are lots of reasons why an older cat might suddenly find themselves without a home, and sadly many may end up on the streets.
At Cats Protection we take in cats of any age, and do our best to ensure they're not left to fend for themselves, all alone.
One way we do this is with our Cat Guardians service, which promises to find loving new homes for cats whose owners have passed away.
Whether you've shared your home with your cat for a long time, or have only recently welcomed them into your life, you can register for this free service for peace of mind that we'll take care of your beloved feline friend for as long as it takes to find them a new home when you're gone.
You can even let us know what sort of home you think they'll like, and we'll do our very best to find their purrfect match.
Mature moggies are often in need of a peaceful retirement home with lots of cosy snoozing spots, and thankfully there are plenty of kind cat lovers willing to provide just that. Here are just a few of the senior kitizens Cat Guardians has given a second chance when their lives turned upside down.
Mister's seat at the table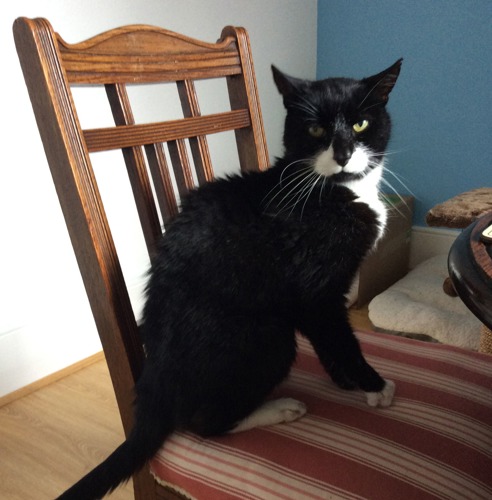 19-year-old Mister arrived at our Newbury Adoption Centre in July 2020 when his owner sadly passed away. He instantly charmed the team at the centre with his gentle, friendly character and after just 37 days he was in his new home with Daniel and Matthew.
They said: "We had talked about what type of cat we would like to have and after a discussion we decided that giving a home to an older cat was something we liked the idea of, as they are so majestic and characterful. We also love the fact that we can provide a calm and caring home for a cat in their later years.
"Initially we spotted a written description of Mister on the website, and at 19 years old we thought he would be the perfect older cat for us. As soon as his picture went onto the website we fell in love with Mister and his white furry moustache.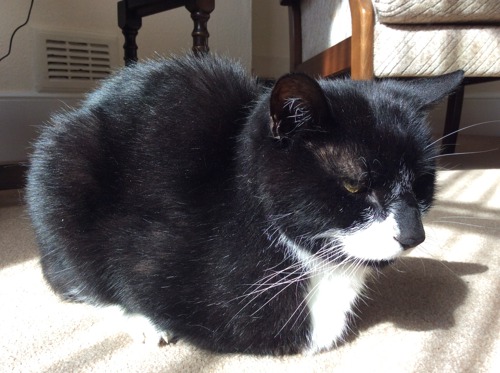 "We welcomed Mister into his retirement home and he has settled in very quickly and seemed to appreciate all the preparation we had made for him. He enjoys sitting in his cardboard house in the dining room and sunning himself in the lounge.
"Mister is also very fond of accompanying us around the house, with a regular meow to prompt a stroke and fuss being made of him, and working from home it is so nice to have a companion. In many ways we find it hard to imagine him as 19 years old as he is still so agile and in such overall good health."
Charley's devoted carer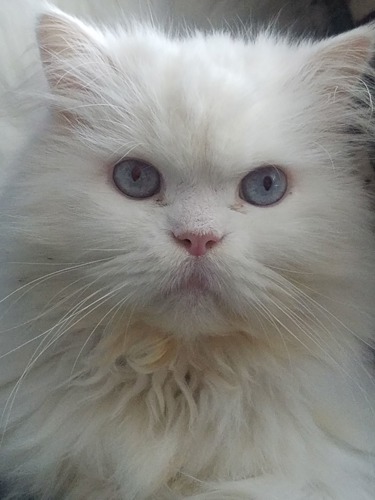 Persian cat Charley was 15 years old when his owner passed away and he came into the care of our Exeter Axhayes Adoption Centre through the Cat Guardians scheme.
Deputy Centre Manager Jackie said: "When Charley was in our care he was very worried to start with and spent a lot of time hiding. We would spend some time with him each day and he slowly started to come out of his shell. He did have to see the vet on a few occasions as he has military dermatitis for which he has to take steroids and a special prescription diet as well."
Charley needed a special home where he could receive lots of love and attention and his condition could be correctly managed. Luckily, he soon found just the place with new owner Margaret. She said: "I wanted to adopt an older cat and was attracted to Charley's beautiful pale blue eyes, and when he arrived home you would think he had been with us all his life!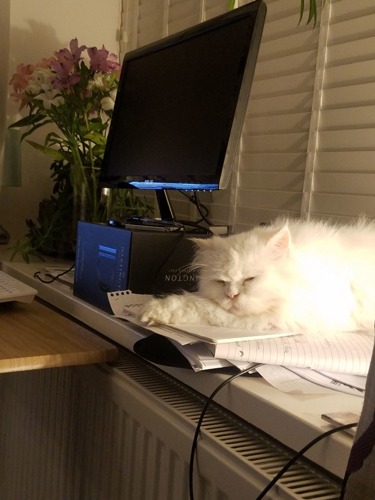 "He has settled in brilliantly and we have not had any issues with him, he loves to sit on my knee and be cuddled or brushed and shows his appreciation with a loud purr.
"Charley is a very cheeky character, he loves to be with people. When he is hungry he will let me know with a low meow and wake me up in the morning by jumping on my pillow and gently tapping my face to inform me it's breakfast time.
"Charley also enjoys to chase his tinsel balls round the house for hours on end and will take a cat nap anywhere from the comfort of the sofa to the window near where I am working in the day."
Jasper's relaxing retirement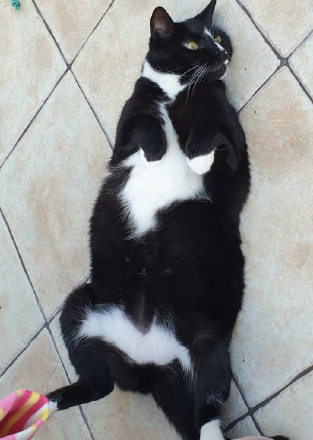 When 12-year-old Jasper's owner died, their daughter initially tried to take him in and give him a loving new home. However, Jasper had other ideas and kept making his way back to his old house nearby.
Fortunately his owner had registered him with Cat Guardians as a backup in case things didn't work out and our Mitcham Homing Centre soon found him a more suitable living arrangement with Andrew and Jenny.
Andrew said: "We have always had cats and after losing our last cat Pebbles from our feline family of four in April, we suddenly found ourselves with a quiet cat-free home. We had always talked about adopting an older cat after we had lost ours and with Jenny having worked for Cats Protection many years ago she was aware it can take longer for them to find their next forever home.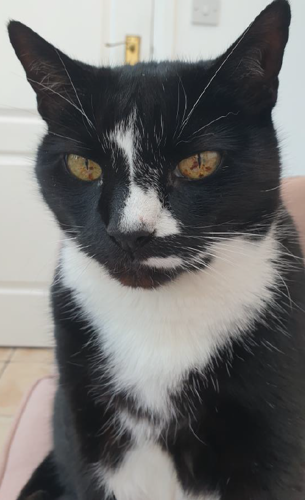 "We looked on Cats Protection's website and Jasper was the first cat we looked at who was available. We saw a photo and video of him and agreed he was the cat for us. We filled out an online enquiry form and the adoption process was underway, everything moved very quickly and he was delivered to us at home in June.
"He certainly is a very independent but affectionate character, he likes to welcome us home when we come in from work, loves to explore and relax in the garden and has multiple sleeping places throughout the house now.
"We have both loved the experience of welcoming a new cat into our house and can highly recommend to anyone that getting an older cat is just as rewarding as getting a kitten. We look forward to our future together and would like to thank Cats Protection for all their help in homing Jasper with us, especially during these unprecedented times for everyone."
Bonnie's purrfect playground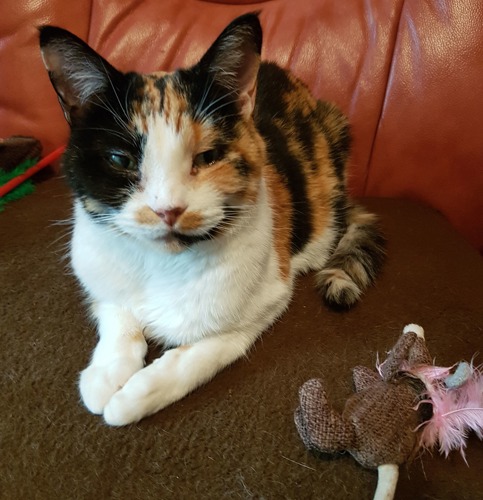 At 14 years old, Bonnie suddenly found herself without an owner, but thankfully a new one wasn't far away. Sharron adopted Bonnie from our Harrow Adoption Centre for her mum Elaine. She said: "I had been looking for a little cat to keep my mum company. We had lost my dad the previous year and my mum was terribly lonely and so quiet. She had wanted a cat for a long time but the timing hadn't been right.
"After contacting a few rescue centres I contacted Cats Protection and the team were so friendly and helpful. The adoption process was straightforward and after filling out an online form and having a call with the centre we were so happy to be able to go forward with adopting Bonnie.
"Bonnie was delivered to our doorstep by a very kind and helpful team member, following COVID-19 guidelines, and she settled in to her new surroundings and became at ease almost immediately. She loves to play; jumping about like a kitten and chasing her toys around the room, you would never believe she was an older cat.
"She is a very affectionate cat who has become a big part of our family, who is amazingly contented and loves a warm lap to sit on. We had regular contact with Cats Protection and they were able to advise us on feeding Bonnie and answering any questions we had.
"Some people may think their cat may be too old to be part of this scheme but I feel my mum's life has been totally changed by this darling little cat, she is totally in love with her and is very happy having Bonnie to care for.
"The Cat Guardians service is such a great idea and I would recommend it to anyone. We would never have had this opportunity to have Bonnie in our lives if she had not been signed up to the scheme. Many thanks to Cats Protection, who go above and beyond to ensure their cats find the right home."
To find out more about our Cat Guardians service and register for free, visit www.cats.org.uk/catguardians
If you have a mature moggy of your own, let us know by sharing their story with #MatureMoggiesDay on social media.