Thanks to better care and veterinary treatments, our pet cats are living longer than ever before, but what is a cat's average lifespan?
If you've got a pet cat, or are thinking about getting one, you might be wondering; how long do pet cats live for in human years?
A cat's life expectancy will depend on many factors, including health, diet and their environment, but the average lifespan for a domestic cat is about 12-14 years. However, some pet cats can live to be around 20 years old.
The world record for the oldest cat is held by Crème Puff, a cat from Texas in the USA who lived to be 38 years and three days old, but that's incredibly rare!
The good news is that advances in veterinary care and awareness of good cat welfare mean that pet cats are living longer than they used to. According to our Cats and Their Stats 2020 report, almost half (43%) of the UK's owned cats are considered 'old'.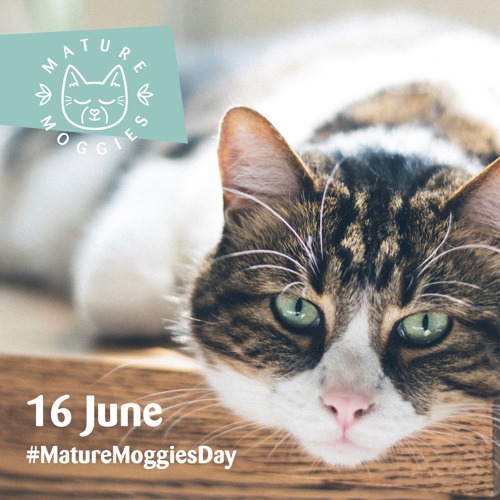 Sadly though, cats in our care aged 11 years and older take an average of one month to find their new forever homes, over three times longer than kittens who take just eight days.
To show that these senior kitizens still have a lot to give, Cats Protection is launching Mature Moggies Day on 16 June, encouraging people to share inspiring stories of their older cats with #MatureMoggiesDay.
When are cats considered 'old'?
Cats go through six life stages as they grow, and they start to be considered 'old' when they reach the 'mature' stage at age seven. However, they typically don't start slowing down until they reach the 'senior' stage at 11 years old. The six life stages of a cat are:
Kitten (0-6 months) – This is when cats grow quickest and learn the most about what is safe and unsafe in their environment. A six-month-old kitten is 10 years old in human years
Junior (6 months-2 years) – Cats grow to their full size during this period and continue learning important skills such as playing/hunting. A two-year-old cat is 24 in human years
Prime (3-6 years) – This is when cats are in the prime of their lives and usually at their peak of physical fitness. This period covers age 24-40 in human years
Mature (7-10 years) – Cats start to be considered 'old' when they reach this stage, and may start to slow down a bit and put on weight. This is when they're the human equivalent of being in their mid-40s to mid-50s
Senior (11-14 years) – At 14 cats reach the human age of 70, so they may not be as agile as they used to be and their health will need monitoring closely
Super senior/geriatric (15 years and older) – Some cats will reach this stage still with the energy of a kitten, but others will prefer a slower pace of life with lots of comfy spots for snoozing. At 15 years old they're 76 in human years and reach 100 in human years when they're 21
How long do indoor cats live?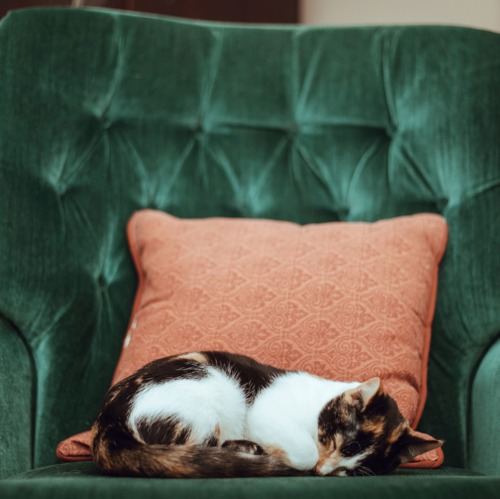 Cats that go outdoors are more likely to encounter risks such as road traffic accidents, fights with other cats and other dangers that could affect their life expectancy. However, they are also likely to get more exercise as they have more space to roam, which helps to keep them fit and healthy. If you do keep your cat indoors, they'll need plenty of opportunities to exercise with fun toys they can chase and catch. There are still other risks to house cats, so you'll need to monitor them closely to keep them healthy for longer.
How to help your cat live longer

There are six simple steps you can take to help increase the life expectancy of your cat.
Get them neutered – Neutered cats tend to live longer as it prevents them from picking up diseases through mating and they are less likely to roam far from home which decreases the chance of road traffic accidents and cat fights
Have regular vet checks – Taking your cat to the vet for a check-up at least once a year will help you to catch any health issues early so they can receive effective treatment
Get them vaccinated – Making sure your cat is up-to-date with all their vaccinations will help to protect them from any nasty diseases that could shorten their life
Encourage exercise – Whether your cat goes outdoors or not, try to spend a little bit of time each day encouraging them to play so they can get some exercise and stay physically fit
Feed a healthy diet – Make sure your cat is eating a complete cat food suitable for their age as this will contain all the nutrients they need for a long and healthy life. Avoid giving too many cat treats as these can be high in calories and cause them to put on weight
Keep then indoors at night – The risks of your cat being involved in a road traffic accident or fight with another cat are higher at night, so we recommend keeping them indoors when it's dark
For more advice on keeping your cat healthy, visit www.cats.org.uk/help-and-advice/health