Kind-hearted cat lover adopts senior 'kitizen' after hearing our Mature Moggies Day appeal on the radio
Elderly cat Molly found herself at our Derby Adoption Centre following the death of her owner, and during her stay was the oldest cat in our care.
Research scientist Robyn Bednall from Nottingham was moved by Molly's plight after hearing her story on the radio while out driving.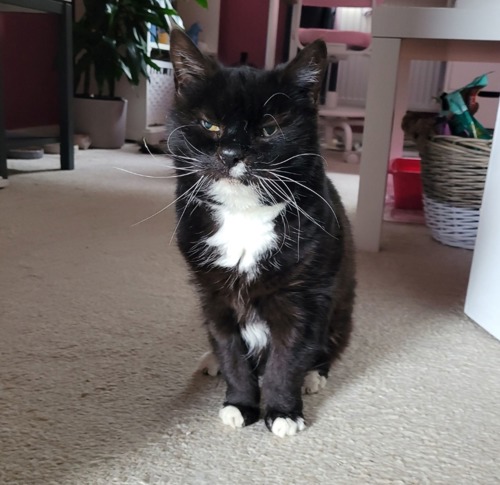 "When I heard about Molly I thought that her story was sad, then I saw the Facebook post with her photo and couldn't resist her little face," said Robyn.
"I wasn't particularly looking for another cat but it's something I've often thought about. I've always been a bit worried about how my other cat, Neville, would react as he's a bit of a spoilt only child type.
"It would have had to be a very special cat to join our home and she's fitted in perfectly, especially as she's not interested in stealing his food! She has the loudest purr and likes a good brush, she often comes out for an explore but likes to spend most of her time curled up asleep, as she should."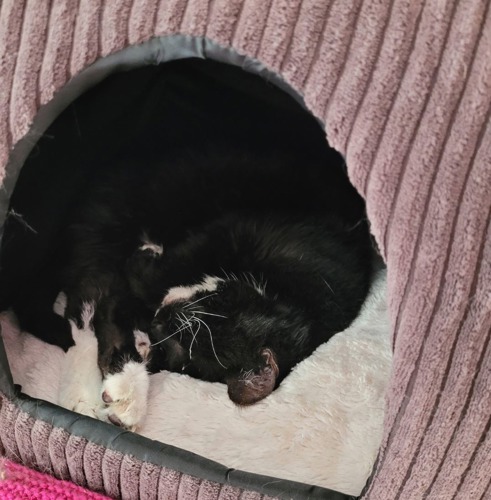 Molly asleep in her cosy bed
Mature Moggies Day (16 June) celebrates the benefits of older cats. Over the past five years cats over 11 years old in our care took three times longer to home than kittens, despite cats now living longer thanks to improved welfare and education.
"I would absolutely recommend adopting an older cat," added Robyn. "Molly is so happy and loves a fuss, she spends a lot of time asleep so is very easy going, sleeping next to me while I work.
"She's not as 'in your face' as a kitten would be which works so well with Neville as they are calmly getting used to each other. She's such a lovely old lady and has slotted in perfectly."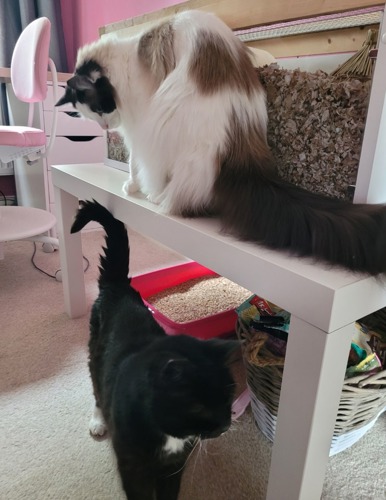 Molly and her new housemate Neville
Deputy Centre Manager Natasha Wood said: "Everyone here at the centre is delighted to hear that Molly has settled in so well, and it's been lovely to see the photos of her looking so content in her new home.
"Robyn has done an amazing thing in taking on an elderly cat, offering Molly a home where she can live out her twilight years. I hope they have lots more time together."
Derby Adoption Centre currently has a number of cats over the age of 15, who have unfortunately had to come into care either because their owners have died or have become too ill to look after them.
To find the cats available for adoption visit the Derby Adoption Centre website or call 01332 824 950.
Search for cats looking for new homes in your area with our handy Find a Cat tool.