Lucky escape for ginger cat hit by a truck on a busy road.
Ginger cat Matty is lucky to be alive after being hit by a truck on Whitehall Road in Gildersome.
The nine-year-old puss was picked up from the road by a member of the public who witnessed the incident, and was taken to Cats Protection's Gildersome Homing Centre.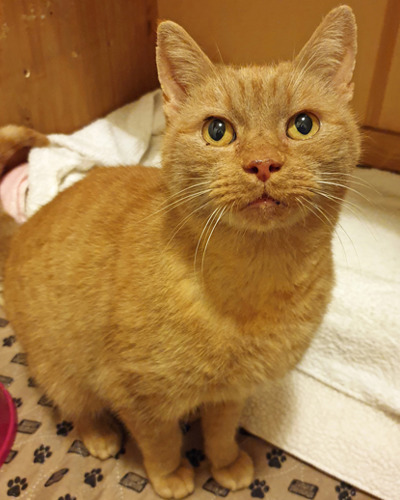 The centre staff initially feared the worst and rushed him to a vet, however they were delighted to discover that he had escaped with just a chipped tooth and some bruising.
"When we heard what had happened to him we were really worried about how badly he may have been hurt," said Volunteer Team Leader Laura Chamberlain, whose role is funded thanks to players of People's Postcode Lottery, who have raised £500 million for charities and good causes to-date.
"We couldn't believe it when the vet gave us the good news and we were able to take him back to the centre. He does seem to have had a lucky escape and has definitely used up one of his nine lives!
"We named him Matty after the gentleman who brought him in. It's reassuring to know that there are such kind-hearted people out there looking out for cats."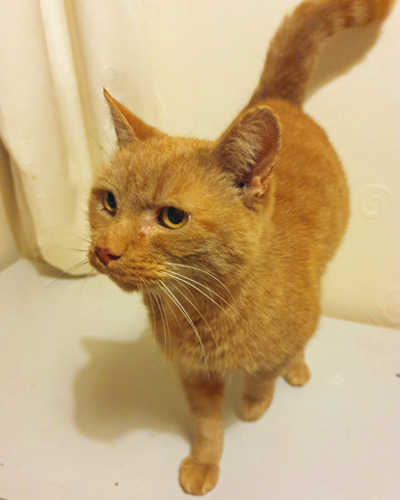 While staff and volunteers at the centre did everything they could to help Matty settle into his pen, he was showing signs of stress so was moved into the care of a volunteer fosterer where he is doing much better.
Matty's previous owner came forward but decided it was best for him to be rehomed away from busy roads, so he is now in need of a new home to call his own.
"Matty was a bit unsure of people at first but he is now showing his affectionate side and is always purring and demanding attention," said Laura. "He also loves his food and a nice brush!
"He would be best suited to a quiet home where he can be the only pet, to avoid any unnecessary stress. A rural setting, away from busy roads, would be ideal for him as he previously lived on a farm."
Anyone living in the Gildersome area who would like to enquire about adopting Matty can call Gildersome Homing Centre on 03000 12 15 05 or email gildersome@cats.org.uk 
To find cats and kittens looking for homes in your area, visit www.cats.org.uk/adopt-a-cat