Gorgeous George settles into his new home after being adopted via our COVID-19 hands-free homing process.
*Update – 2 September 2020*
George the one-eyed cat who came into the care of Cats Protection's Gildersome Homing Centre has settled into his forever home with his partially-sighted owner.
George arrived at the centre following the death of his owner, a lady who had rescued him as a young stray. A routine vet visit revealed he had cancer in his eye, and it was deemed in his best interests to remove it altogether.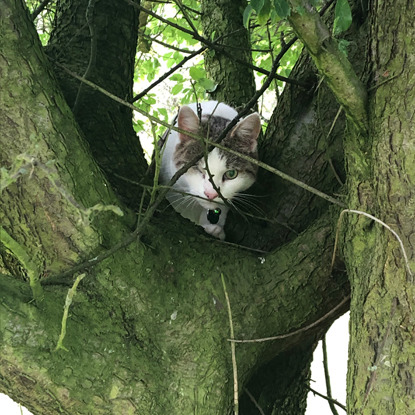 George loves exploring his new home and the surrounding trees
After a period of recuperation and adjustment, 11-year-old George was ready to be rehomed.
Step forward, Kate and her family from Gomersal, who were looking for a companion for their cat Spike, having recently lost their other cat, Joey.
"I saw George on the Cats Protection website, and having begun to lose part of my sight in the past few years I immediately fell in love with this gorgeous chap.
"I was recently diagnosed with Usher Syndrome, which is also to blame for my deafness as well as failing eyesight. It affects me seeing anything to the side or up and down. Pavements are a particular problem, as is seeing people that aren't directly in front of me."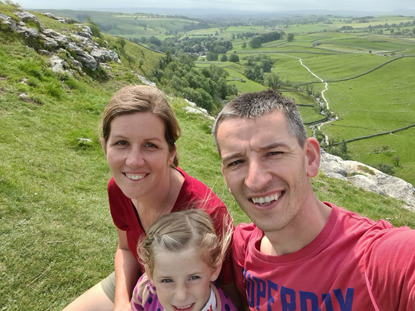 Kate and her family are thrilled with their new feline friend
Because of restrictions around COVID-19, Kate could not visit the Gildersome Homing Centre to see George before the adoption, but she was sent videos, and all checks and paperwork were completed online as part of Cats Protection's new hands-free-homing service.
Kate added: "George was delivered directly to our door and he settled in straight away, following us around and giving us cuddles. After eight days, we began slowly introducing George to Spike, who is also 11. It took Spike around three days to not see him as a threat, and now they are great pals.
"Having only one eye certainly hasn't held him back, and he's more active than Spike. He loves joining us for story time with my five-year-old daughter, and while he prefers to stay close to home, he's been out walking along fences and climbing trees. So far he hasn't had any trouble getting back down!"
The Gildersome Centre team are delighted that George has a second chance at a happy home.
Rehoming and Welfare Assistant Diane Armer said: "George was particularly popular with everyone at the centre, he has such a fantastic personality.
"It is so lovely to hear that George has settled in so well. He was previously a well-loved pet and it is wonderful that he is now with a new family who have opened up their home and hearts to their new feline friend."
Read on for our original blog post about George...
A cat who is learning to live with just one eye has found a loving new family following the death of his beloved owner.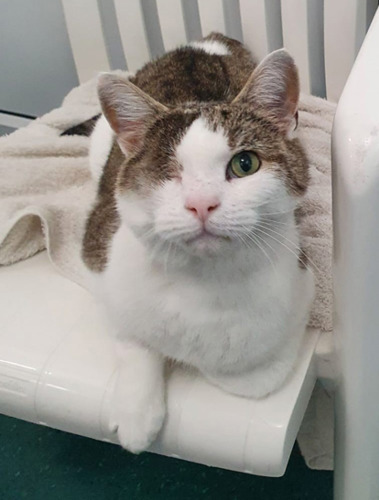 George was rescued from life on the streets as a youngster to become a much-loved pet. His owner had the foresight to sign up to Cats Protection's Cat Guardians scheme, which offers peace of mind to owners concerned about what will happen to their pet when they pass away, which is how he came to stay at our Gildersome Homing Centre.
While in care, a vet noticed a problem with George's eye and, after diagnosing cancer, decided it was in his best interests to remove it.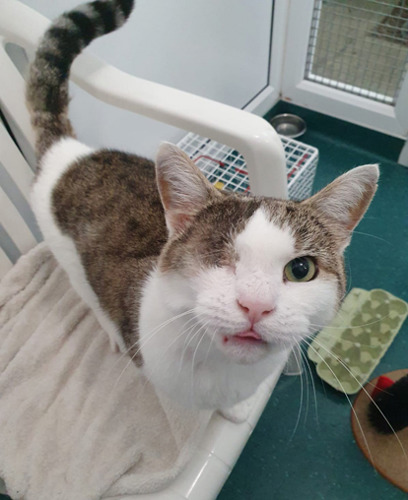 His carers at the centre noticed that although 11-year-old George initially walked in circles after his eye operation, he quickly adapted to his new condition and became a firm favourite with the team.
"George is one of our older cats, but while 10 years ago the household moggy could have been expected to live to around 13, today's life expectancy is much higher and we have seen many cats surviving to their late teens and early 20s in remarkably good health," said Rehoming & Welfare Assistant Diane Armer.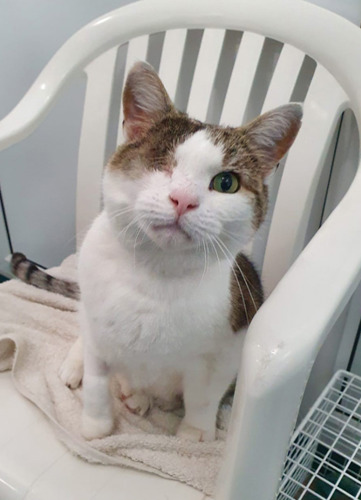 "He is a lovely boy and is very popular at the centre, it's amazing how well he has adjusted to having just one eye. He came in with a beautiful personalised blanket from his original owner, and this is something we'll be sending on with him to his new home.
"George has a cheeky and inquisitive character, he is super friendly, loves cuddles and to sit on your knee."
Gorgeous George has now found a home through Cats Protection's hands-free homing process, which has been introduced to comply with social distancing restrictions.
For further information on the Cat Guardians scheme visit https://www.cats.org.uk/what-we-do/catguardians