Family is overjoyed to find their cat after 17 months, thanks to a microchip scanner.
On Good Friday 2013, Jayne and Martin Everill's much-loved ginger boy Tigger wandered off through the cat-flap for a late-night prowl. Sadly, he didn't return to his home in Erdington. The couple were distraught.
They registered him as missing on Animal Search UK, put posters up around the local area, spoke with the local veterinary practices and did all the things we do when the worst happens and our pet goes missing.
A year passed and although they never gave up hope, in February they adopted a black-and-white cat called Susie. But even that didn't dim the memory of Tigger. None of Jayne's colleagues at work could mention him as she would break down in tears.
Earlier this month, Sheila Pennell, a volunteer at Cats Protection's North Birmingham Branch noticed an 'extra cat' taking a regular stroll through her back garden. As the days went by, he became a regular fixture on the garden bench.
While waiting for a microchip scanner from another branch, Sheila's husband Tony made a flyer about the cat and posted them around the neighbourhood. They also put a paper collar on him to see if the owners came forward.  Sheila then contacted Animal Search UK – and found a similar-looking cat missing in the area! She sent them a message about the ginger cat in her garden.
The Gull family drove straight round – but unfortunately within minutes realised he was not their missing cat Ginge. Nevertheless, they fussed and played with the puss.
Disappointed it wasn't Ginge, Sheila used a microchip scanner to find out whether the cat had a registered owner. The reader beeped and displayed a microchip number. They called the microchip register and they provided an owner's name, address and contact numbers. The operator said the cat was called Tigger and had been missing since March 2013 – 17 months!
When Tony phoned owner Jayne to say her cat was found she sobbed: "I've never given up hope and prayed every night for his safe return." And there were more tears 15 minutes later when she rang the doorbell – cat carrier at the ready.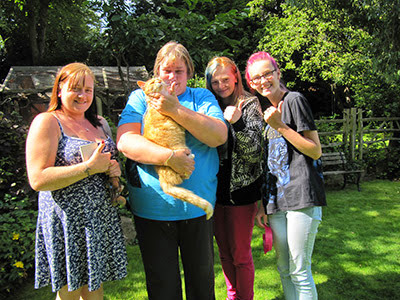 L-R: Keri Gull, Tigger with owner Jayne Everill, Machaella Gull and Antonia Gull
Jayne booked a vet appointment for Tigger to get him checked over. The vet treated him for a flea infestation, confirmed he'd lost weight and the condition of his coat reflected that he not received adequate care and nutrition.. But he's now wormed, booked in for vaccinations and is settling back into family life again.
Jayne's husband Martin says: "It's like seeing a ghost – I have to blink and look again. I can't believe Tigger's finally home at last."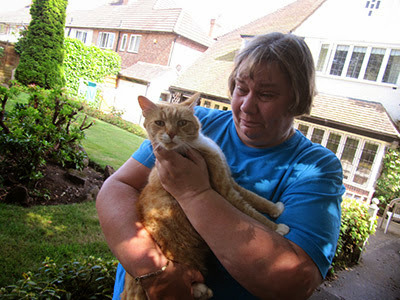 Jayne Everill's tearful reunion with Tigger
Microchipping offers cats a safe and permanent method of identification and increases the chances of a lost feline being safely reunited with his owner.
If your cat goes missing, thoroughly search your house and garden and ask neighbours to check their sheds, garages and outhouses. When searching call out your cat's name and use strong food smells to lure it out. Contact local animal rescue organisations and the local council, put up lost cat posters in your area (use a photo if you have one and include a telephone number). Don't give up hope, many cats return months after going missing!
Please note that Cats Protection recommends keeping your cat indoors at night to protect it from road hazards.