A volunteer at Cats Protection's Cheltenham Branch tells us what she does in her role as a Branch Co-ordinator.
Mary Wood, Co-ordinator of the Cheltenham Branch, gives us an insight into the day off of a typical Cats Protection volunteer...
8am – Cats Protection van is dropped off at my house by our volunteer driver John as he is going on holiday.

8.30am – Cleaned out the pen where I have four nine-week-old kittens. It's like painting the Forth Bridge! By the time I have finished, they have upset their biscuits, paddled in the water and all used the clean litter tray!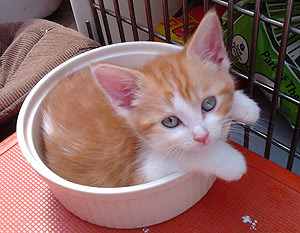 10am – Make some phone calls to potential homes passed on from our Kitten Officer. One couple are very keen and come over straight away to view the kittens. 
12.30pm – Call into our branch shop to catch up with Margaret the manager and her team, have a cuppa and buy a lovely new handbag. Margaret is a very good saleswoman as I didn't even need a new handbag!
2pm – Feed the kittens in the pen and retrieve a selection of toys from a now-empty water bowl. Meet with one of our vets to discuss holding our first Homing Day.
3.30pm – Take the aforementioned kittens to my local vets for their first vaccinations. Have to book a double appointment to make time for all the paperwork and for the vets to have a cuddle with the kittens.
4.15pm – Back home again. Follow up some leads from another branch regarding a good source of new goods to sell at our events – in addition to those from CP – and ask for some samples and price list to be sent. Start to make a list of volunteer roles that we need to fill and adapt job descriptions ready for recruitment drive.
5.30pm – Take a call from my friend Jenny who is also Homing and Welfare Officer. She informs me she has had a call from someone who has found five kittens in a shed with no sign of mum, so I take the van with a trap and basket, pick up Jenny and go round to investigate. Leave a trap in the shed to try to catch the mother cat.
6.30pm – Back to the vets again! The kittens are basically healthy but covered in fleas and ticks so, after a health check and lots of parasite treatment, back they come with me to a kitten cage in my dining room whilst we find a more permanent space for them – although two have stayed to join my clan.
7pm – Clean out the kittens in the pen again. More paddling and throwing of food...
7.30pm – Time for a nice glass of wine with dinner and sort out my clothes for work tomorrow after my relaxing day off...