This National Black Cat Day, tell us what makes your black cat a hero!
Who are your heroes? Are they super-powered comic-book stars? Or are they the unsung champions who improve your everyday life? Perhaps a friend or family member comes to mind - or maybe a beloved pet.
Sadly, not all heroes get the recognition they deserve. While black cats can be true friends and constant companions, they often go unnoticed compared to their colourful counterparts. Research from last year shows that black cats take on average 13% longer to rehome than a cat of any other colour.
This National Black Cat Day, that's all about to change.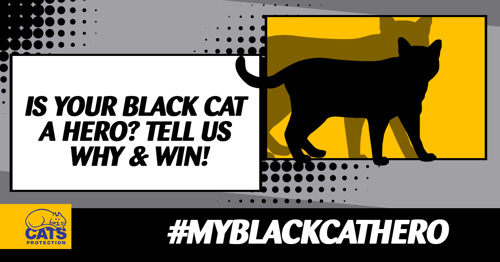 We're raising awareness about our dark-furred defenders by asking black cat lovers across the UK to tell us what makes their cats heroic. We've already had hundreds of entries across Twitter, Facebook, Instagram and our dedicated competition page.
We will choose seven intrepid cats to form a league of heroes, dedicated to raising awareness about black cats and finding them happy homes.
Our lucky winners will each get their paws on a selection of feline-friendly goodies including Cats Protection Shop treats, a FreakMEOWt catnip toy and more. On top of this, one supreme supercat owner will receive exclusive artwork from Simon's Cat and 2 x tickets to the National Cat Awards.
To get involved, simply submit a photo of your beautiful black or black-and-white cat and tell us why they're your hero to be in with a chance of winning. We'll choose our favourites and announce the winners on 27 October, National Black Cat Day. See full terms and conditions here.
If you don't yet have a black cat hero in your life and you're thinking of adopting, search for happy, healthy cats via our find-a-cat tool. Search by location and lifestyle and find the perfect supercat for you or your family.
You can also help support our black cat heroes by texting KITTEN66 to 70660 to donate to our heroic team of volunteers, or pick up a gift for a good cause in the Cats Protection Shop. From homeware to accessories, we've got everything you need to represent on behalf of black cat heroes everywhere.