The tale of a beautiful black cat who changed her owner's life for the better.
It's nearly National Black Cat Day (27 October), a chance to celebrate the monochrome moggies who often get overlooked by adopters because of the colour of their fur.
Here at Cats Protection, we believe that black is beautiful, and so we've created a collection of handy colour charts to help you identify your own black cat's true hue. Are they a Sirius Black, a Thunder Grey or even a Posh Penguin? Take a look at our fifty shades of black cat to find out!
We're also taking this opportunity to showcase some of the black cats waiting in our branches and centres for new loving homes. If you need convincing that a mini panther would make a wonderful addition to your life, have a read of this wonderful story of how a beautiful black cat called Melissa has changed her owner's life for the better…
Rachael Elliott and her partner Nick adopted eight-year-old moggy Melissa from Cats Protection's Croydon Branch in April 2018 and she has already become the centre of their home.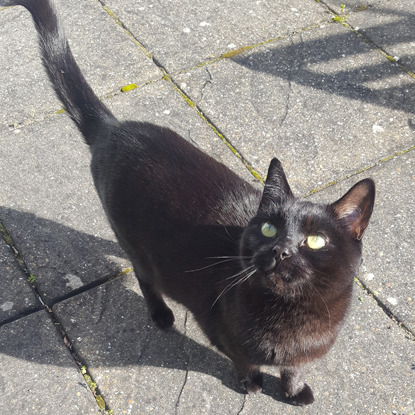 Melissa the cat enjoying some sunshine 
"She loves nothing more than snuggling on our laps, chasing her feather toy and cuddling my jumpers as the nights become cooler," says Rachael. "She talks all the time, to say good morning, to tell us about her day and she has the loveliest habit of tapping us with her dainty paw when she wants strokes.
"Not only is she the sweetest girl, she takes a wonderful photo too – contrary to some media articles I've read about black cats being 'unphotogenic' (as if!)."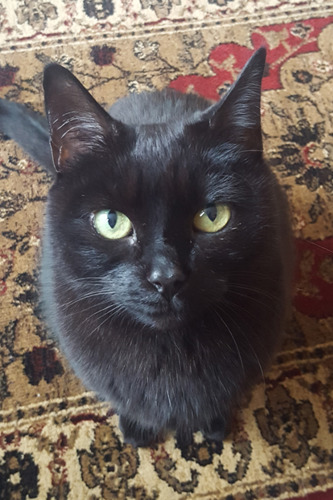 Melissa takes a beautiful photo
As well as bringing joy and purrs into her new owner's home, Melissa has also brought a new human friend into Rachael's life. When she went to visit her new moggy in Cats Protection fosterer Vanda's home, the pair soon got chatting.
"Since adopting Melissa, Vanda and I have become good friends," said Rachael. "We often meet in the local Croydon area for breakfast and really enjoy each other's company! What's more, Melissa loves Vanda. It's a true pleasure for us both to get together and spoil Melissa with strokes and attention.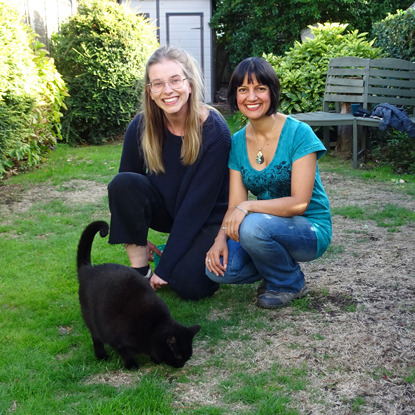 Rachael (left), Melissa and Vanda haveing a catch-up
"Melissa is the sweetest, gentlest, most beautiful girl and not only does she fill our home with joy, she also was the bringer of friendship between Vanda and I, two long-standing Croydon residents! What more could you ask for from an animal companion?"
If you would like to give a black cat a home, visit https://www.cats.org.uk/support-us/events/black-cats to see some of the monochrome moggies currently waiting for loving new owners.