Pet owners: Nominate your cat to be honoured with a plaque!
TrustedHousesitters, the world's biggest house and pet sitting business and official Cats Protection partner, has launched a new scheme dedicated to celebrating the nation's most amazing animals.
Green Pet Plaques, complete with ears, are being attached to houses up and down the country, commemorating the achievements of the amazing animal living inside.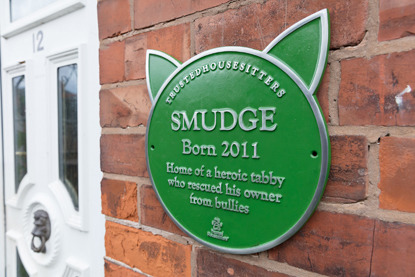 TrustedHousesitters has launched its green Pet Plaques 
Commemorative plaques such as the English Heritage blue plaque scheme, have honoured notable men and women for over a hundred years by placing a marker on the homes they worked or lived in, but there has never been a similar scheme solely dedicated to animals.
Pet owners across the country can now nominate their own pets to be honoured with a plaque, and some of the first animals to be recognised are previous winners and nominees of Cats Protection's National Cat Awards.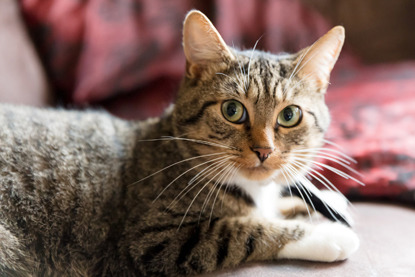 Smudge the cat protected his owner from bullies
Smudge the cat was nominated for the 2014 National Cat Awards Hero Cat category after he helped protect his owner from bullies.
When nine-year-old Ethan Fenton was being picked on, his heroic cat Smudge took action, pouncing on the chest of one of the bigger bullies who had pushed frightened Ethan to the ground. Shocked by Smudge's smart move, the boy and his friends then ran away finally leaving Ethan alone.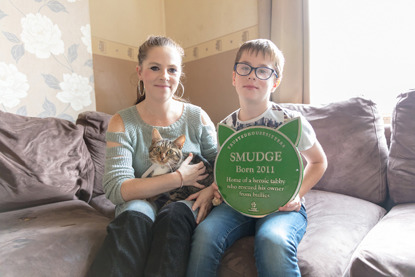 Ethan Fenton with his mum, cat Smudge and their Pet Plaque
Tim Lyons, Managing Director at TrustedHousesitters said: "There are countless stories across the country of pets who have a special bond with their owners or do something incredibly heroic.
"For over a hundred years we have honoured deserving people with blue plaques, we felt it was time to celebrate the nation's love for our animals by honouring them in a similar way. We're now looking forward to hearing more inspirational tales of cherished pets as the scheme continues to grow."
Over 20 plaques have so far been placed on homes all over the UK. For stories and locations of the current markers, or to nominate your own pet to be one of the next in line to receive a plaque, please visit: www.trustedhousesitters.com/pet-plaques