Cats Protection's partner Petplan helps to prepare for the opening of our new Homing Centre in Mitcham.
In July employees from our partner Petplan and the wider Allianz community kindly spent the day helping prepare our new Mitcham Homing Centre for its grand opening. This was an opportunity for staff from their different offices to meet and work together assisting the set-up of the innovative homing centre (read more about the opening of the centre here).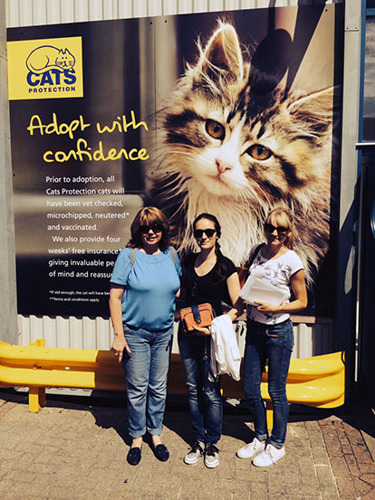 L-R: Mandy Halls, Commercial Woking, Manuela Georgieva, Finance Woking and Michelle Williamson, Commercial GHO
"I thought it was a great day away from the usual office routine, utilising different skills, working with different colleagues and where you got a sense that your efforts made a real-time difference in the run up to the opening of their new cat homing centre in Mitcham. A really worthwhile and life-affirming day for me." – Cathy Cutler
On the day the volunteers were split into two groups. One group helped the staff at the centre get the pens ready for the arrival of some cats arriving at lunchtime. This involved cleaning the pen area, setting up beds, food and water bowls and litter trays.
"I really enjoyed our productive day; cleaning, hoovering, setting up leaflet racks, removing packing waste for recycling but lots of hands made light work. It was an amazing insight into the amount of effort and dedication it takes to maintain high quality cleanliness and support in an animal homing centre. The staff manage a perfect balance of professionalism and real affection for the cats in their care. When I was in touch with the centre more recently, I was delighted to hear that 20 cats were homed in the first month. I like to think it was the 20 who were there from the start." – Julie Gallagher
The second group helped centre staff start building a row of shelving units for the store room. This is a vital area for the centre as it stores all the cat food, cat litter, toys etc. Other volunteers were preparing the reception area with leaflets and cleaning the windows. The support on the day was a great help. Even after leaving the centre the volunteers were still helping as they kindly posted leaflets in the local area to help promote the new centre!
"I thought the day was very rewarding. It was great how we all worked as a team to build the shelving unit and get the cat beds ready for the arrival of lots of cute fluffy cats which we got to pet at the end of the day." - Michelle Williamson
A big thank you to the employees from Petplan and Allianz for dedicating their time helping to get our new Mitcham Homing Centre ready for launch.