Four feral kittens have found a stylish new home, thanks to a Cats Protection branch in the south-east of England.
"It all started with a phone call asking if we would be able to acquire two outdoor cats or kittens for a house with a two-acre garden on the outskirts of Slough," said Ray Janes, volunteer field worker for Maidenhead, Slough & District Branch.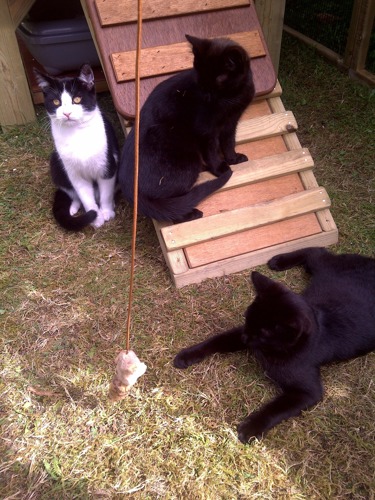 The kittens are settling into their new home
Later that day, Ray took another call – this time from a local homeowner asking the charity to rehome a feral mother and five kittens he'd been feeding in his garden.
The owner agreed to keep and look after the mother cat and one kitten, leaving Ray with the challenge of how to rehome the remaining four kittens. Luckily, the lady who'd phoned earlier asking for two outdoor cats agreed to take four!
Ray fed the feral mother and her kittens. Within five days they'd been checked over by a vet, treated for minor conditions and neutered. And four of the kittens were taken to their new home which has two acres of lawn surrounded by trees and hedges, far from any road.
They will soon be released from their specially-designed holding pen into the gardens, with access to snug sleeping quarters between the hedgerows.
Feral cats are those either born wild or that have lived so long away from humans that they can no longer be found new homes as pets. An uncontrolled feral colony will grow quickly; the cats will be susceptible to disease and may also become a nuisance.
Simply removing the cats is not a long-term solution, as a new colony will soon move in. Cats Protection will usually neuter the resident feral cats and return them to their original location.
If that area is inappropriate or unsafe, then the charity will aim to rehome them to another suitable place, such as a farm or stables, where they can be fed regularly and provide a useful role as mousers!