The team at our Warrington Adoption Centre have transformed Puddin from aggressive moggy into purring lap cat
Puddin arrived at our Warrington Adoption Centre in March when her previous owners could no longer cope with her aggressive behaviour. They felt they had no other choice but to give her up for adoption and so our dedicated team of cat carers took her on.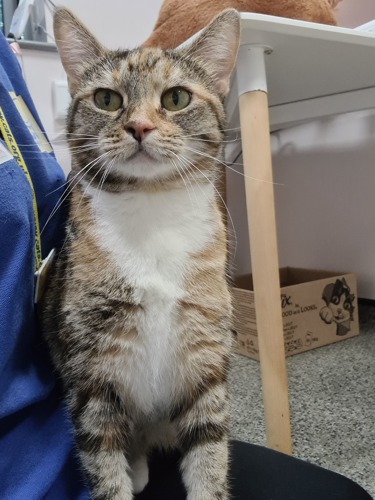 Puddin needed lots of gentle help and reassurance at the centre
The first step was to see if they could work out what was causing this three-year-old moggy's aggression, so to rule out any medical causes they got her checked over by a vet who ran some blood tests and got her neutered. When the test results came back clear, the team then consulted our Behaviour team for some tailored advice.
With lots of time spent in the dedicated 'Behaviour room' at the centre, and plenty of patience from the cat caring team, Puddin gradually began to turn a corner. She soon became a lap cat and really enjoyed a fuss and a brush, although still retained her sassy side.
After making so much progress, in August it was finally time to find Puddin a new home with a caring owner who would understand her quirks.
At first there was sadly very little interest, as Puddin needed a very specific home with no children or other pets. She waited patiently at the centre until, in November, the perfect new owner came forward.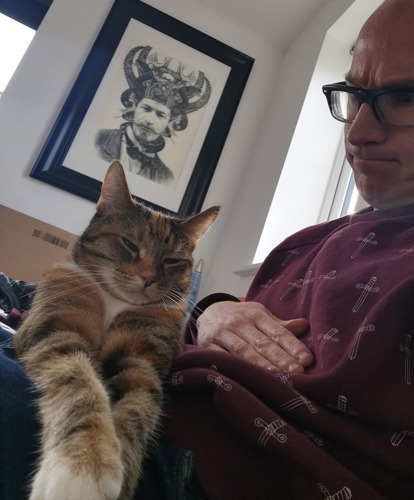 Puddin settled in her new home as a lap cat
"I believe every cat should be given a chance but the right home is so important for each individual cat," said Puddin's new owner, Bryn Evans from Lancashire. "I met Puddin a couple of times to ensure we got on and hopefully be a suitable home for her. Having experienced nervous cats come out of their shells previously, I hoped we would be a good match. 
"Puddin is settling in surprisingly well. Inevitably very anxious at first, a few hours left alone in the kitchen and then she set-up-shop on top of the fridge. After a couple of hours reading in the room with her, she ventured down and said hello... And then the house adventure began.
"The first evening she was comfortably wandering around all the rooms in turn and even chilled out in the sitting room with the TV on. I was expecting this to take days not hours! My wife said hello and within five minutes, no joke, was comfortably picking her up. I'm still amazed how relaxed she's been.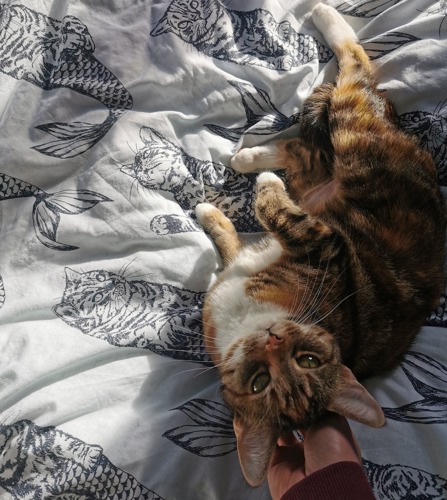 Puddin now enjoys a fuss from her new owners
"She's so well-natured and I was well prepared for her going back a few steps. It's still early days but all seems to be going extremely well so far.
"I have to say such a big thank you to the team at Warrington as the work they've done to support Puddin but also to stick with it, is so commendable. She's a lovely feline but this couldn't have been without the help of the centre."
Purina, which is long term supporter of Cats Protection, has donated an incredible £100,000 this year to fund the equivalent of one day of care for over 5,400 cats like Puddin who come through our centres.
Calum Macrae, Purina's Regional Director for the UK & Ireland said: "At Purina we passionately believe that every bond between a pet and their owner is unique. As part of our commitment to help create and strengthen more of those unique bonds, we're delighted to be a long-term partner of Cats Protection and are so pleased that this donation will continue to help support the vital work they do, giving many thousands of cats the best chance to live happy and healthy lives in their new forever homes."