Sweet-natured Winnie has found her forever home after recovering at Bridgend Adoption Centre in Wales
Three-year-old Winnie came into the care of our Bridgend Adoption Centre as her owners were unable to afford the vet treatment required after her leg got caught in her collar.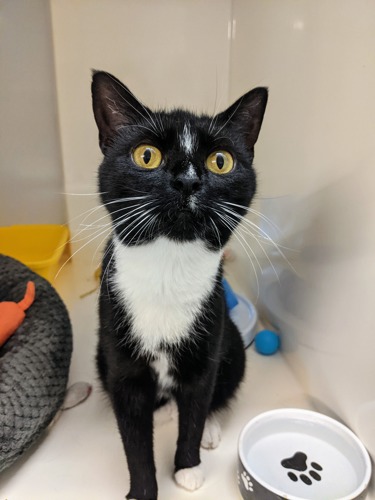 Winnie once she had recovered from her injuries and was ready to find a home
The location of injuries like this can make the healing process quite tricky and Winnie underwent intensive surgical and medical treatment for her wounds.
"Winnie is a super friendly cat and was so accepting of all the medication she was on, while purring away!" said Centre Manager Sue Dobbs. "It wasn't an easy recovery, and she had some set-backs along the way, but she did amazingly well and we were thrilled to see her go to a new home. I'd like to say a huge thank you to players of People's Postcode Lottery, whose support helps us take care of cats like Winnie."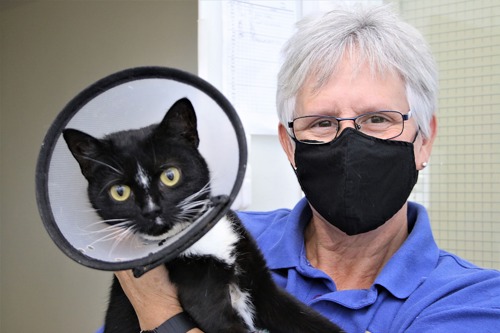 Winnie with one of her carers at Bridgend Adoption Centre
Support from players of People's Postcode Lottery has funded the care of around 52 cats at the centre over the past year. 
Winnie's new owner, Sarah Marshall from Penarth, says that Winnie has settled in really well. "We sadly lost our previous cat in February and when I spotted Winnie on the centre's Facebook page I just felt that the time was right to welcome a new cat into the family. She seemed like the perfect match for us and with our children both now at university, we knew we could offer her the calm, quiet household she needed.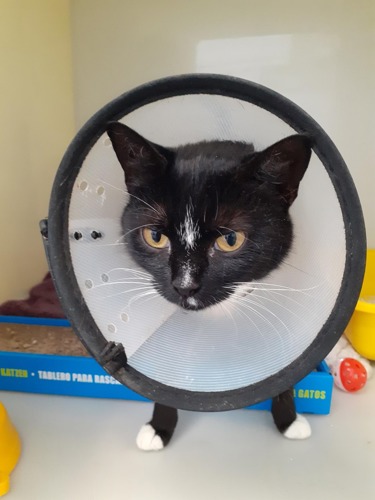 While recovering from her injuries, Winnie had to wear a cone collar to help her wounds heal
"We're so glad we could give her a fresh start after all she went through with her injury and she's already making herself at home – she even jumped on my lap within the first hour! She's such a friendly, chatty little girl and it's great to see her confidence with us growing day by day."
Sarah Elliott, Cats Protection's Central Veterinary Officer, warns again the use of potentially dangerous collars, saying: "We have seen too many injuries caused by collars, where cats have got caught while playing, hunting or trying to escape from danger.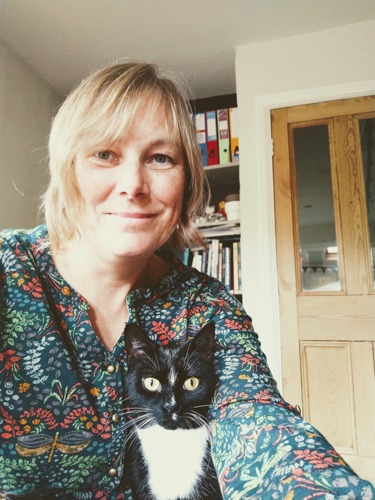 Winnie with her new owner Sarah Marshall
"A cat's leg or jaw may become caught in an elasticated or ill-fitting collar and this can result in serious injury. In their desperation to get clear, their legs can get stuck under the collar or the collar can travel down around their chest, getting tighter and biting into their body and causing open sores."
At Cats Protection we believe that all owned cats should be identified in order to trace their owner should they become lost or injured. The preferred method of identification is an implanted microchip as this is permanent and safe.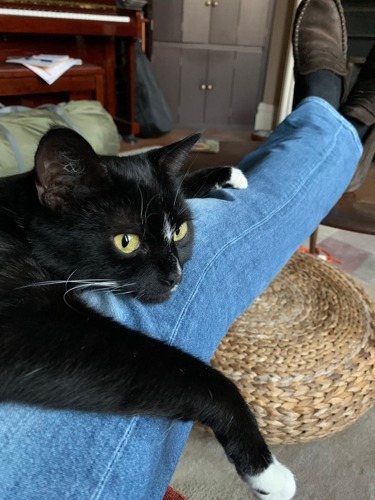 Winnie making herself at home on her new owner's lap
If an owner also chooses to fit a collar with their contact details attached, we advise that only a 'quick release' or snap-opening collar is ever used - not an elasticated one. Then the cat would be less likely to be trapped should the collar become caught or tangled, keeping them safer from injury or death.
Making sure the collar fits correctly is also important. Two fingers should fit snugly underneath the collar to ensure safety and comfort and any damaged collars should be replaced immediately. More advice can be found in our guide to choosing a cat collar.