White cat Queenie who showed 'difficult' behaviour, finds a home with a patient new owner understanding of her needs.
This post has been written by Roz Buckley, Cat Care Assistant at our Taunton Homing & Information Centre
Queenie arrived at Cats Protection Exeter Axhayes Adoption Centre in late 2015. She was a beautiful long haired white cat, who could resist her elegance and charm?!
Queenie was checked over by a vet and was in good health. However, she had unfortunately had a sheltered existence in her early life and now as a seven-year-old cat, she was nervous of everything and would show aggression to her carers and potential adopters. Many visitors to the adoption centre would fall for her good looks and on three occasions Queenie was rehomed to new owners after being provided with full details on her temperament and behaviour – and on the basis that her new owners wanted to work with her to try and resolve some of her issues. Unfortunately Queenie was returned to us on all three of those occasions when her new adopters were unable to cope with her behaviour.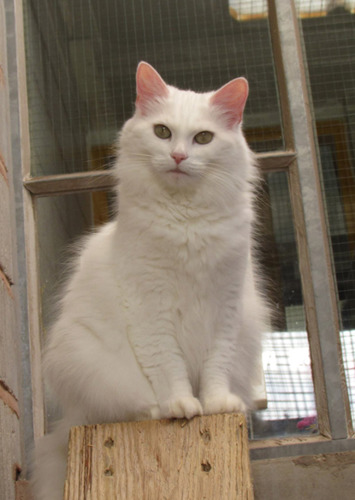 Beautiful Queenie
I met her in June 2016 and like many others I grew intrigued and endeared by her shiny white coat, beautiful hazel eyes and affectionate blinking. She was not as straightforward as I thought and after hearing many stories of her early days at the centre I decided to take her on as my project cat.
Initially she would hiss and spit and grumble at my presence, as I sat quietly distancing myself from her in her pen reading away she gradually became accustomed to my presence, a real breakthrough was when she fell asleep on my lap.
After her third failed rehoming, I was truly curious to see what this wolf in sheep's clothing was like in a home. So I decided to take her home to foster her temporarily. The cat was not the only curious creature!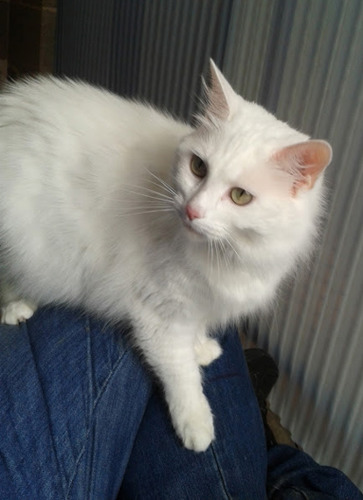 Queenie became more settled after time and patience
On day one our spare room was set up in line with Cats Protection's fostering guidelines to provide Queenie with the right environment for her needs while she was being fostered. The room was intended to be her safe space. Queenie grumbled like a gremlin as I entered the room but was able to hide away if she needed to. The grumbling subsided on the second day and by day three I was able to spend lots of time in the same room with her as she purred herself to sleep. She would also give me a gentle head-butt now and then! All Queenie needed was a loving owner who saw not only her stunning exterior but her true inner beauty and who could dedicate some time to help her overcome her issues.
When Queenie had become more confident she was moved to our Homing & Information Centre in Taunton. Luckily an amazing homing opportunity came up and her new owner came to meet her with a Golden Retriever called Millie. We spent lots of time ensuring their bond and that her new owner understood Queenie's background and needs. Finally Queenie went home with a great family.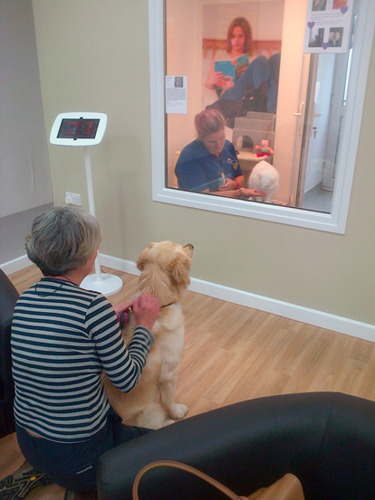 Queenie gets a special visit from her soon-to-be new owner and dog, Millie
Although there were some 'teething issues' in homing Queenie, spending some time with a fosterer who was able to work with her helped her settle and change her behaviour so that she was then able to be rehomed again. Queenie has now begun her new adventure in her new home. I often get updates from her new owner too, the progress she has made is in incredible, stories include; opening the door to a miaowing Queenie presenting the family with a mouse and Queenie and Millie the dog asleep on the bed together.
If you would be interested in fostering and providing help and care to cats like Queenie and the thousands of other cats which come into our care, please visit our website: https://www.cats.org.uk/support-us/get-involved-volunteering