An amazing volunteer vows to run a half marathon every month this year for his local Cats Protection branch.
This post has been written by supporter Adrian Keeble
As a cat lover, I have always been surrounded by cats. There has never been a day when there hasn't been a cat in our family. This year I am combining my love for cats with my passion for running and raising money for Cats Protection by running an organised half marathon every month throughout 2015.
I've been playing various sports since I was old enough to stand up and I get involved in anything, especially running, swimming and football. I took up running seriously in my 20s as I find it is the best form of exercise to improve your fitness. Your joints may not think so but to get and stay fit it has to be running.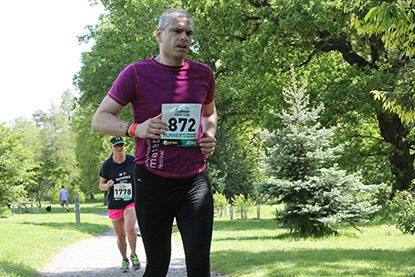 Adrian running the recent Bedgebury half marathon
In my 30s I started to suffer with back problems. Yes, all that sport, military service and a sedentary job took its toll. Eventually my back said 'enough' and about four years ago I ended up with three prolapsed discs. I spent four months hunched over and unable to stand up straight or walk without the aid of walking sticks. I was only 41.
A year of therapy finally resulted in an operation to repair the damage. The long road to recovery was about to begin… although I didn't have too much time to spend on that specific road. In 2013 I was deployed as an Army Reservist to Afghanistan, based at Camp Bastion. I had a six-month tour ahead of me. Luckily I was able to concentrate on my fitness during some downtime and found my running ability starting to improve.
I returned home and in 2014 started running again seriously – something I hadn't been able to do for about five years. At the end of the year I completed both the Bournemouth and Las Vegas marathons. Something I thought I would never be doing again after my injuries. I was thankful for the second chance I had been given and decided to use my good fortune for the benefit of others.  I therefore came up with my current challenge. I wanted an event that would be both physically and mentally challenging. A half marathon didn't seem enough, I wanted one every month for a year. As well as having to keep myself physically fit I also have the logistical challenge of making sure I can actually achieve the challenge; enter each event, get to each event and be prepared when things go wrong.
The problem with a challenge like this is that if I miss one race the whole challenge has failed. So far I am half way through and everything has gone well without too many problems. It is actually quite difficult to find a half marathon being run somewhere every month! The summer months aren't too bad but January and December have proved problematical. The race in January was in Kent, it was a trail race for 13.1 miles. That means hills and tracks… and mud, lots of it. What a way to start! But I finished it and I haven't looked back since.
I'm hoping to raise £1,000 for Cats Protection this year, specifically the Haslemere Branch. I am paying all my expenses and race fees myself. Therefore any money raised is going straight to Cats Protection. You can donate via my JustGiving page at www.justgiving.com/adrian-keeble or text AKCP96 £5 to 70070. Any donation is gratefully received.
As I stated earlier I love cats and anything I can do to help improve the lives of cats is fantastic. I have two fantastic adorable moggies myself; Dylan and Daisy. Cats Protection is a fantastic organisation in my view and I hope the small sum I can raise will go a long way to improving the welfare of our feline friends.
This post has been written by a guest blogger. The views expressed in this post do not necessarily reflect the views of Cats Protection.