'Noisy' cat Sandy finds the purrfect new owner!
In March, we blogged about Sandy, a 16-year-old deaf cat looking for a home and an understanding owner.
We're pleased to share the happy news that in April, our Caterham, Redhill & East Surrey Branch found Sandy a home with Diane Lee.
Diane has lots of experience of looking after cats, particularly elderly felines. While browsing Cats Protection's rehoming pages, Diane spotted Sandy's details.
"Sandy had the dubious title of Most Overlooked Cat and had been in foster care for more than four months, with barely a sniff of interest," says Diane. "Her only crime was to be deaf and old. At 16 years old, she deserved a permanent home.
"Within three days I had gone to see her, armed with a cat basket and some cotton wool in my ears – ok, no actual cotton wool, but I was told she was a yowler! I took her home on a trial, knowing full well she wasn't going back.
"She is my first deaf cat, so I prepared myself for an education and some sleepless nights. I've studied cat behaviour for some years now and thought that this new challenge was going to need every ounce of behaviourism that I knew. But to be quite frank, she's been a doddle."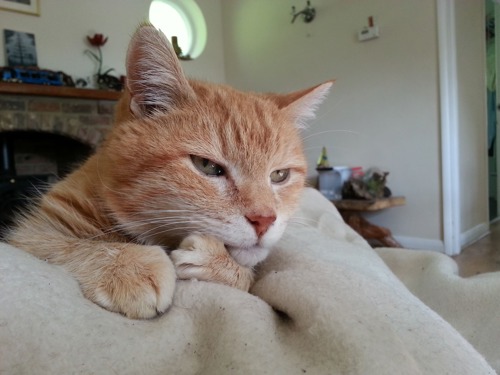 Sandy: one contented cat, now she's found her forever home
Diane says she's adapted to Sandy's deafness in a couple of ways. Sandy can't hear her approaching, so can be caught off guard. Diane has adjusted to this by being heavy-footed as she walks around, and also making a shadow or flicking a light switch as she enters the room where Sandy is.
Diane adds: "The second thing is that she can be loud when she meows and, like deaf people, it sounds a little distorted. In fact, Sandy only yowled during the night once – her first night with us. After that, she yowled briefly at 4am, then 5am, then 6am, then she finally realised that breakfast happened when the long-haired two-legs rose, and not before!"
Because Sandy has settled well into her new home, she doesn't meow more frequently than any other cat, Diane adds.
Letting deaf cats out into the garden can be a concern. Diane kept her inside for a week and then closely supervised her first visit to the garden. Now, Sandy simply walks around the house then comes straight back in.
Diane adds: "Deaf cats know their limitations. While females are known to have smaller ranges than males, hers is literally around the house! Sometimes there's an element of trust involved, or a leap of faith. I'm certainly glad I took mine."
Read our guide to caring for deaf cats.
To support Cats Protection's work, which includes rehoming unwanted cats, neutering cats and educating on their welfare, please visit: www.cats.org.uk/support-us